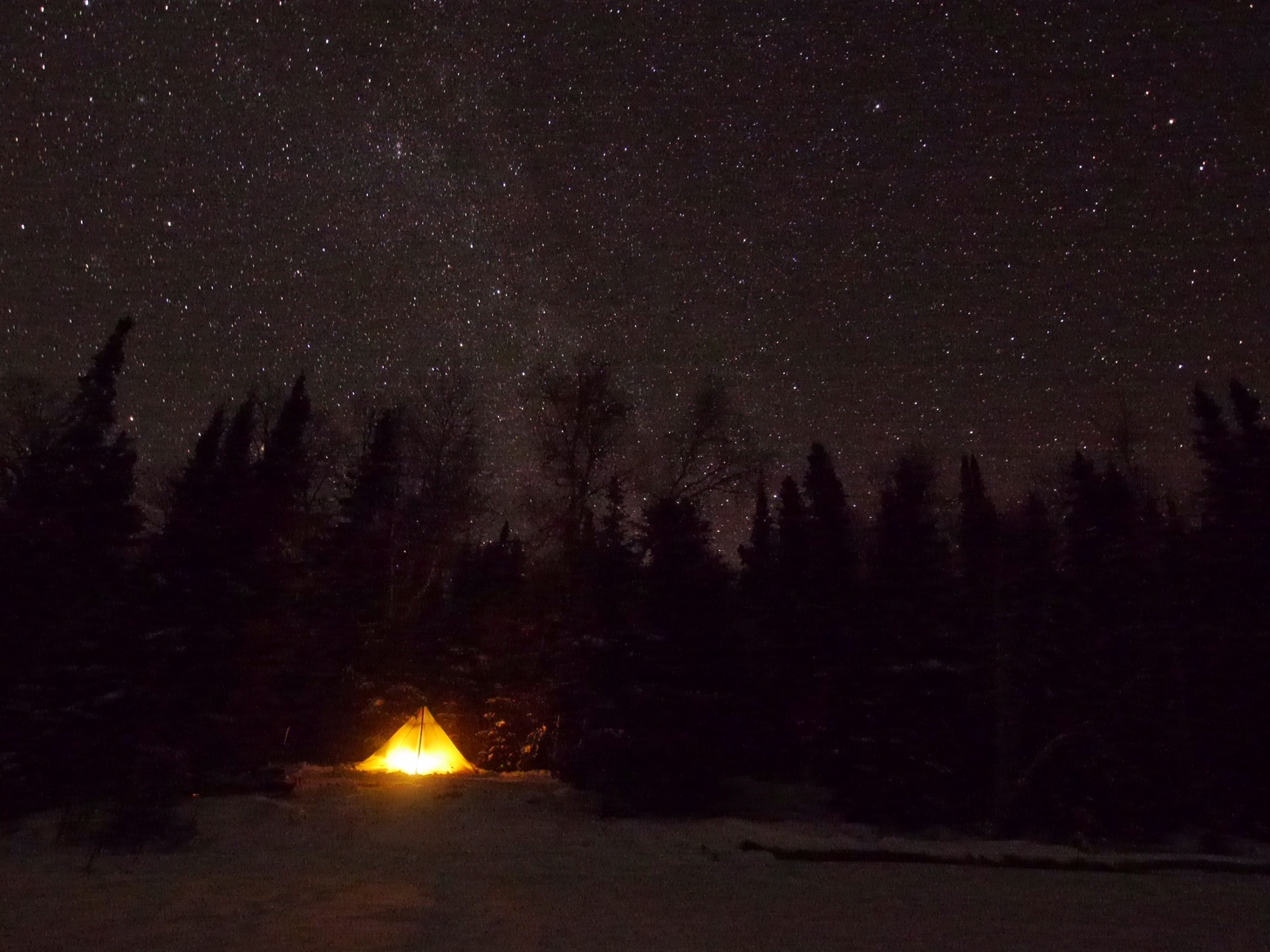 It is the heart of the winter in the Wilderness. I just finished wading through thigh-deep snow while gathering firewood from a spruce bog near our campsite. Last week the temperature barely rose over freezing during the heat of the day and plunged to -15 to -25 at night. Some of the questions we hear most often revolve around how we "survive" out in the Wilderness in the winter. I would say we are not just surviving out here, we are thriving. I would like to share some of the things that allow us to live and travel comfortably in the winter woods.
This isn't our first rodeo. Amy and I have more than 20 years of combined experience leading winter camping and dogsledding trips in the Boundary Waters. We have worked for Wintergreen Dogsled Lodge for many seasons and over the years we have learned many tips and tricks for staying happy and healthy in the winter Wilderness.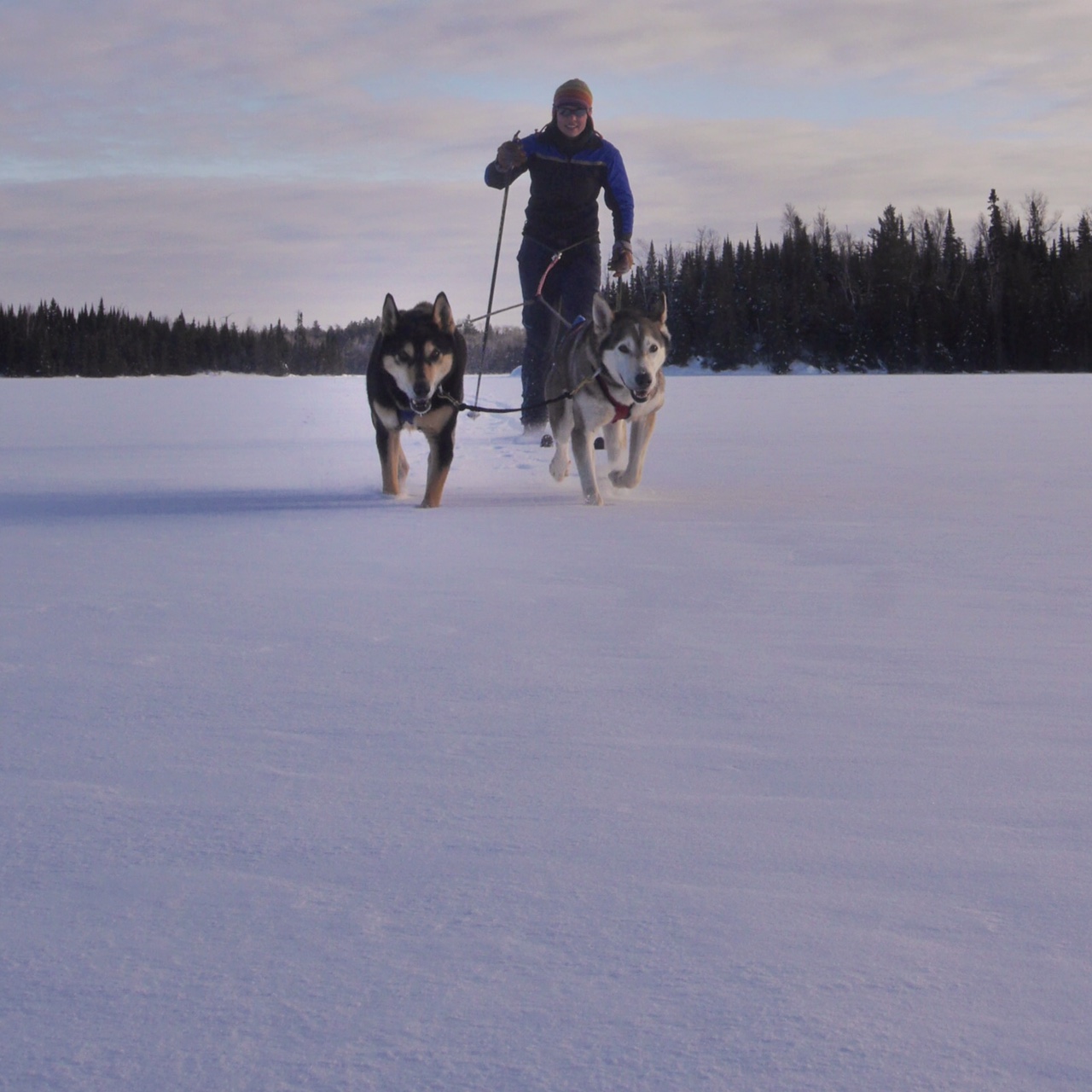 Good clothing is extremely important and we layer our clothing so that we can add a layer if we get cold, or remove a layer if we get too hot. Believe it or not, our biggest challenge is overheating. When we are skiing with the dogs we do not need to wear very many clothes because we are working hard. When we stop, we put on a down jacket or our anorak to help trap in our body heat. In the winter, we wear clothing that is breathable so that any moisture that our body produces can pass through our clothing. We wear Merino Air long underwear that was donated by Patagonia, and on top of that we usually wear one or two fleece layers to help trap our body heat. Our outer layer consists of pants and an anorak made by Wintergreen Northern Wear. When it is cold, and we stop for lunch or stop moving for a while, we can throw our Outdoor Research down parkas over the rest of our clothing to help us stay warm.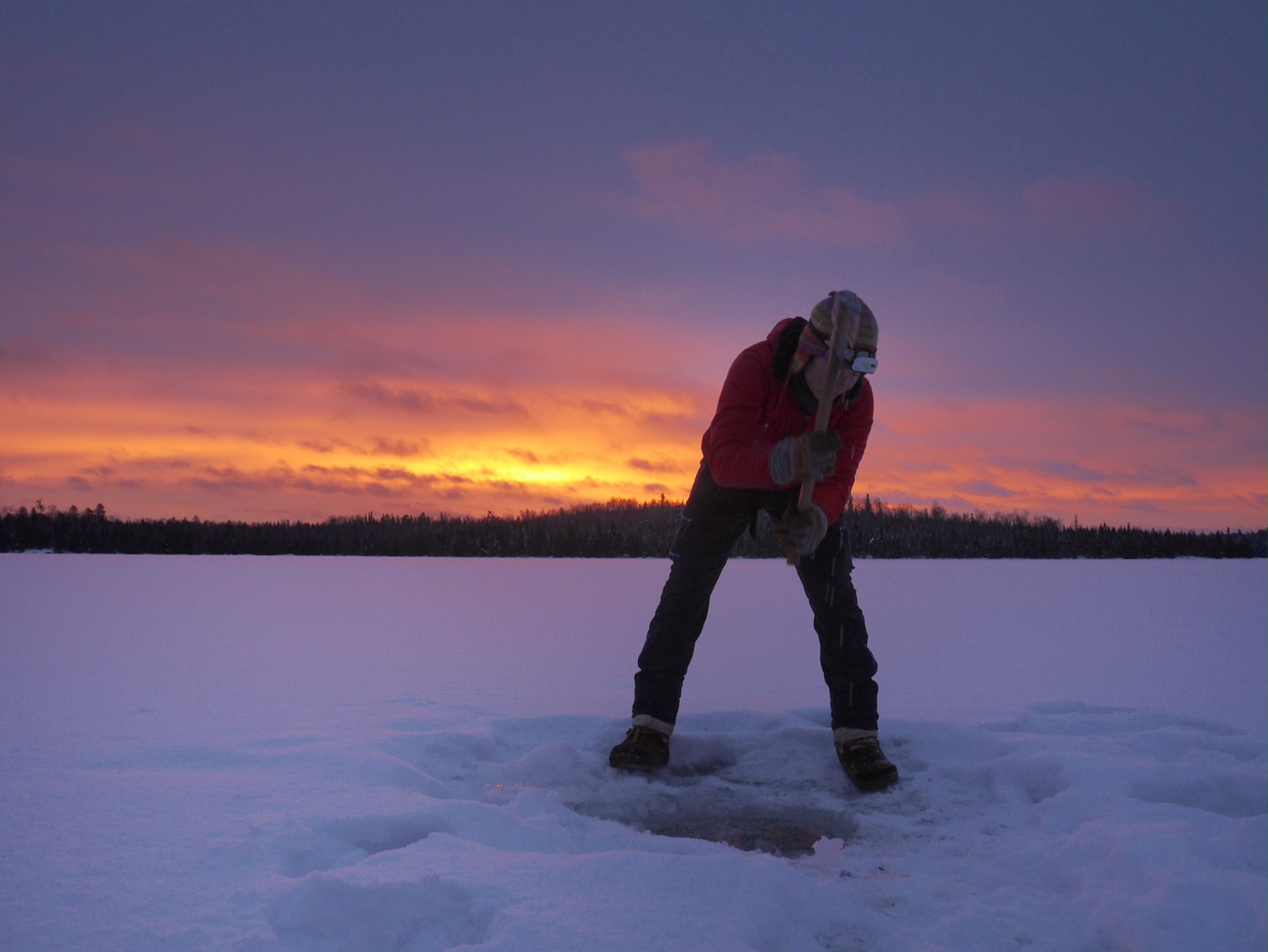 Another way we stay warm is by gathering and burning a lot of firewood. There is an old saying that firewood warms you twice, once when you cut it and then again when you burn it. Each day, Amy and I spend about an hour gathering, cutting and splitting firewood. We gather dead wood that is well back from the lake and away from summer campsites. It is hard work carrying the logs through deep snow back to our campsite, cutting it into 14-inch pieces, and splitting it with our axe. The benefit is that we can relax in our Seek Outside tipi tent and soak in the heat from the wood stove. The wood stove is in the center of our tipi tent. We have a drying line that runs around the top of the tent, from which we hang socks, mittens and other clothing to dry. We also hang our ski boots and other heavy items off of the center pole. With good wood burning in the stove, it is easy to keep the tent 50 or 60 degrees at head level and 80 or 90 degrees at the top of the tent where the drying lines are. The ability to dry out our clothing using the heat of the wood stove makes it much easier to stay warm and comfortable out here in the winter.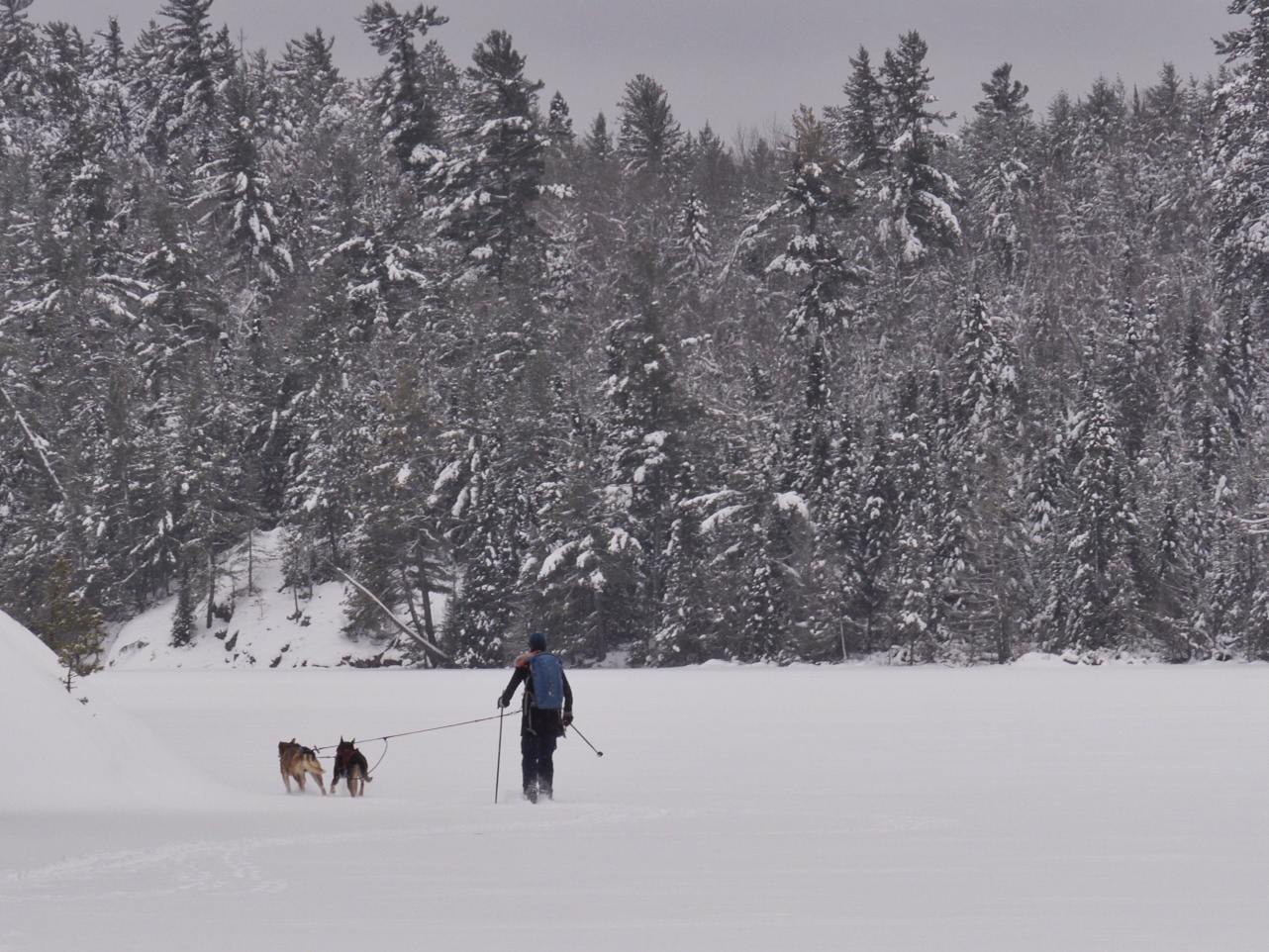 Good food, and plenty of it, also helps us stay warm and comfortable. In the winter we eat about 3,500 to 4,000 calories each day. Our diet contains a lot of butter, olive oil, coconut oil, nuts, cheese and other foods that are high in fat. I know it's pretty rough adding an extra dollop of butter to our pasta, a big spoonful of peanut butter to our oatmeal or an extra helping of chocolate after dinner, but we will manage. In reality, being able to eat as much as I want without thinking twice is one of my favorite parts about extended cold weather trips. On some of our winter trips, we have eaten as many as 5,500 calories each day! We are thankful for the steady stream of volunteers who trek into the Wilderness every week or two with supplies for us. They often bring brownies, chocolate, cookies, fresh fruit and other special treats. Thanks to the cold and our active lifestyle, we can polish off a batch of cookies in one sitting without thinking twice!
Luckily we have about six weeks of winter left, so there is still plenty of time for us to eat as many treats as we want. February and March are some of my favorite months in the Boundary Waters. The days are getting longer and the sun is getting higher in the sky each day. Winter's bite is slowly fading and spring will be here before we know it. We are approaching the halfway mark of A Year in the Wilderness. We are so thankful for all of the support we are receiving from the staff, volunteers and Campaign to Save the Boundary Waters supporters. Thank you for helping us bear witness to this national treasure and be a constant reminder of what is at risk.