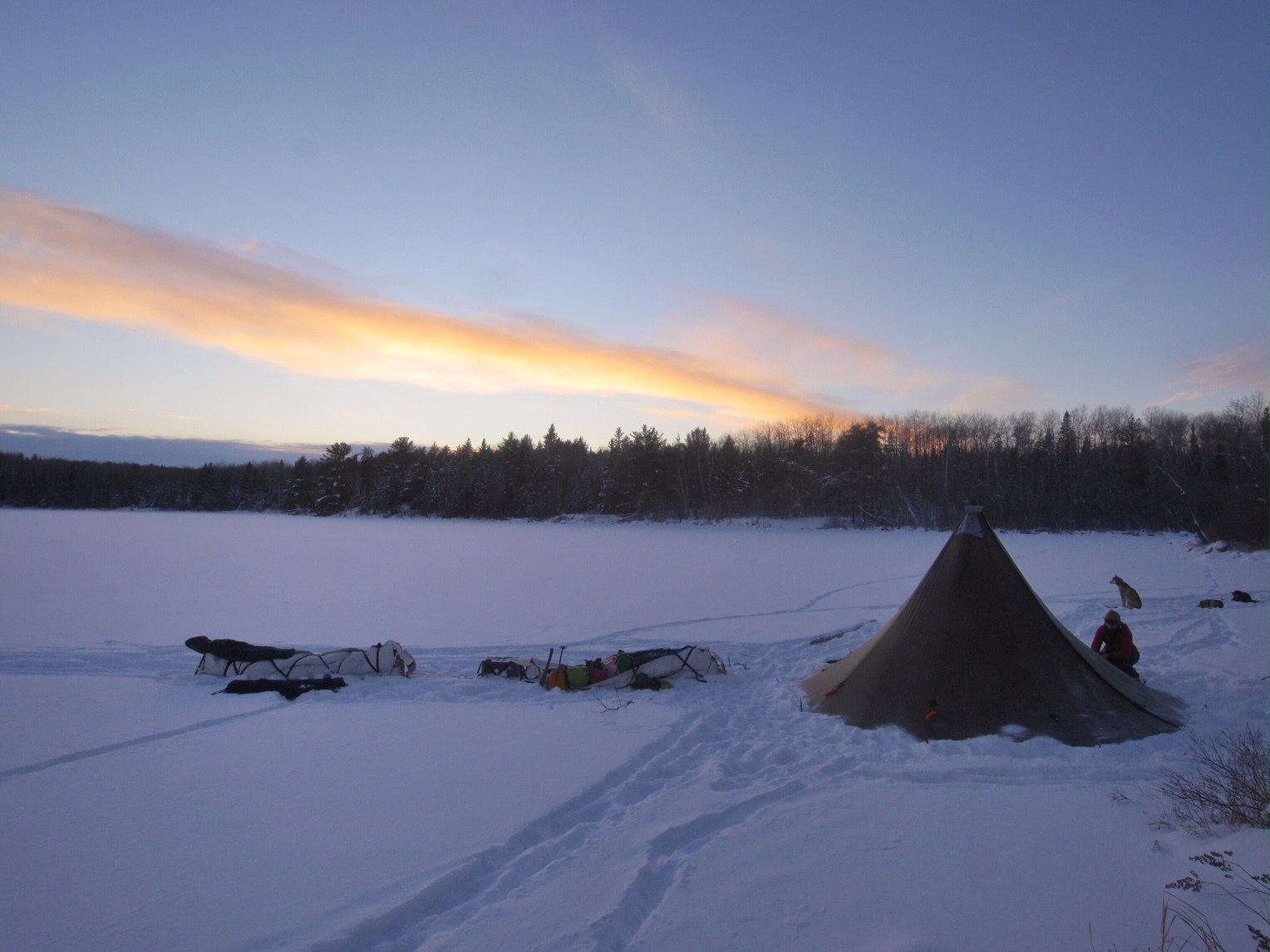 A hint of dread is probably the normal reaction for a weather forecast that calls for a week where the temperature hardly ever climbs above zero and brisk -20 F sunrises are the norm. However, Amy and I had been hoping for a blast of Arctic air for more than a month and last week we finally received some of the subzero temperatures that we hoped for and desperately needed.
Why, oh why, would anyone "need" cold weather you might ask. Well, with the help of Acorn, Tina and Tank we have been planning to spend December, January, February, March and hopefully a good chunk of April exploring a Wilderness blanketed in snow and ice. Winter didn't really materialize around Thanksgiving when it normally does; it waited until Christmas to arrive and didn't bring the crisp, clear polar nights that make the ice sing and the bogs freeze until last week.
Amy and I have been enjoying a slower pace for the last two months, traveling less, but often seeing more. It has been a wonderful chance to slow down, soak in the silence, and appreciate details that often go unnoticed even at the relatively slow pace that typical Wilderness travel affords. With last week's blast of cold behind us, Amy and I are headed west to explore a beautiful and wild region between Basswood Lake and Lac La Croix.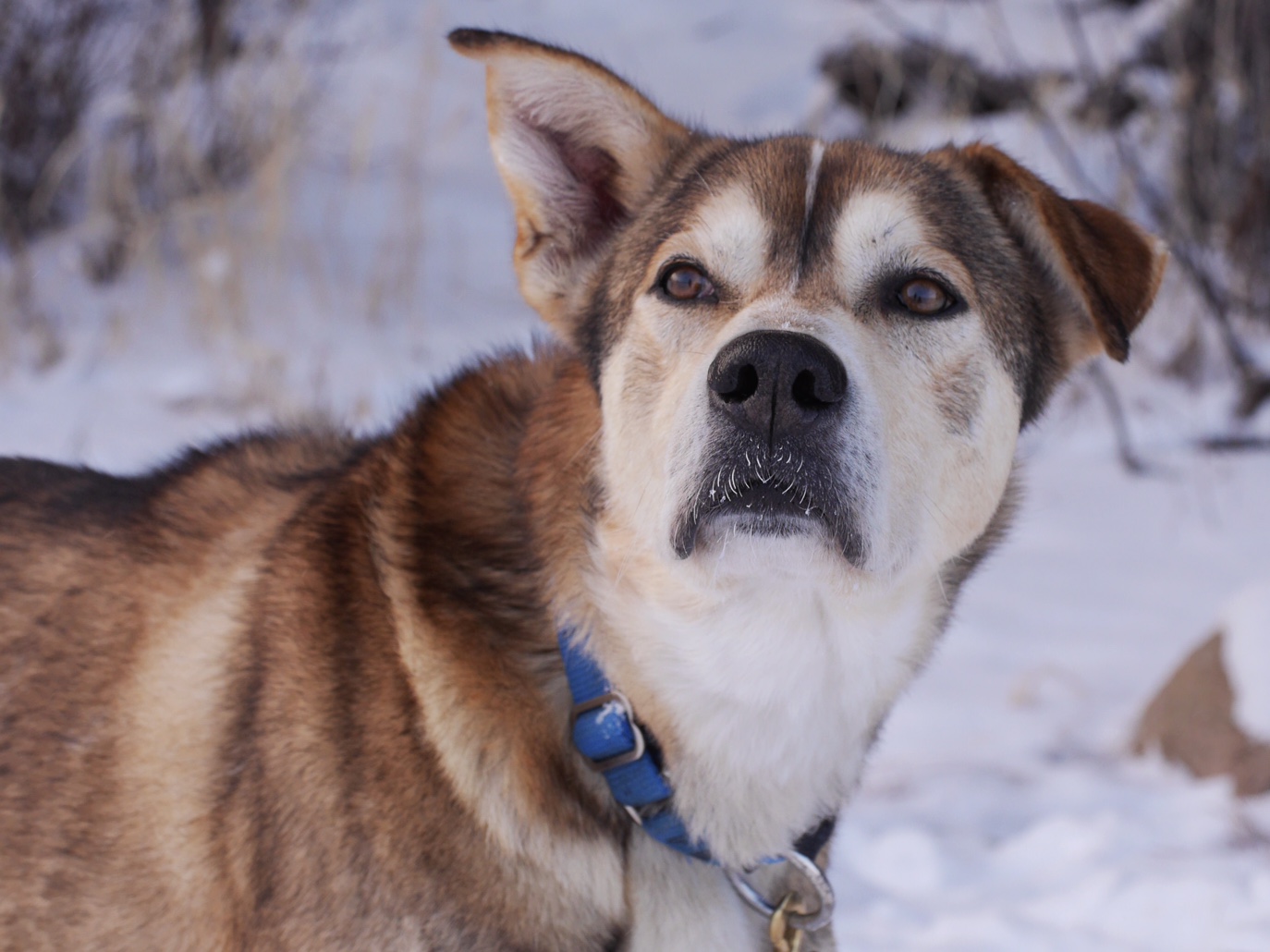 I think people often wonder how we cope with the cold. The short answer is lots of practice. Amy and I have about 25 years of combined experience leading dogsledding and winter camping trips in the Boundary Waters. Plus, we have completed a variety of extended dogsled treks where the temperatures were often colder than are typical in the Boundary Waters. For many years, our job has been to help people have safe and rewarding experiences in the winter woods. We are using the strategies, tips and tricks that we have picked up over the years working at Wintergreen Dogsled Lodge to keep ourselves and our dogs happy and healthy.
Getting a good night's sleep is important no matter the season. In the winter, proper insulation and plenty of food are the keys to staying warm. Amy and I each have two sleeping pads to insulate us from the cold. First we place a Ridgerest closed cell foam pad on the snow. Then we inflate our Exped down-filled mats, which have an R value of 8 and place that on top of the Ridgerest. Then we climb into our double sleeping bags. We both use our 15-degree Sea to Summit Talus II down sleeping bags as an inner bag. Amy uses her old North Face Darkstar as her outer bag. I use an outer bag rated to about 30 degrees made by Wiggy's. Most of the time we don't zip the outer bag all the way closed, but on colder nights we have the option of zipping and cinching up tight. We have found this system to work really well, and it helps us stay comfortable on both warm and cold winter nights.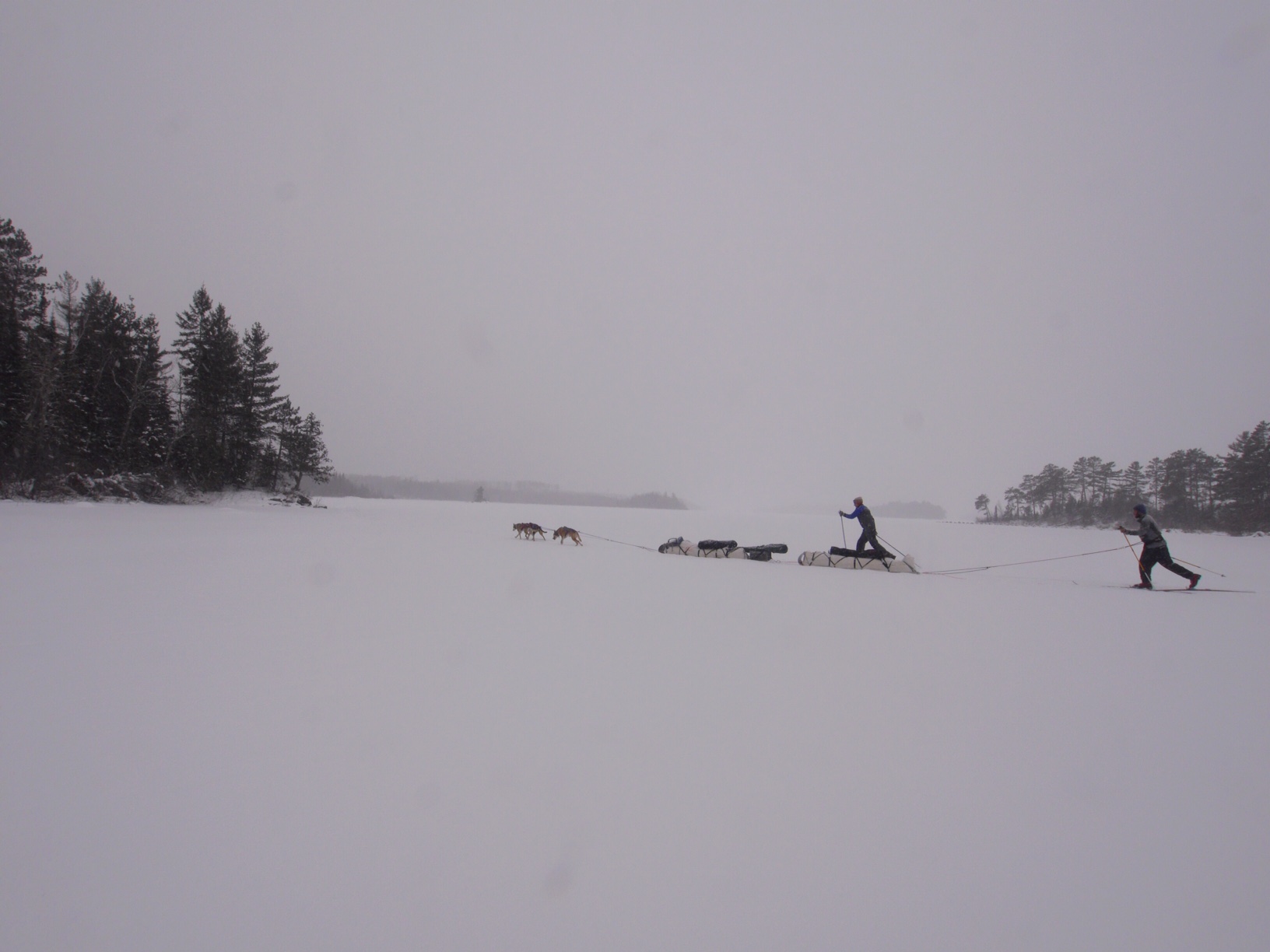 Keeping the dogs warm at night is also important. Like most sled dogs, Acorn, Tina, and Tank have lived outside all their lives. They have thick winter coats, which help keep them warm. At home they have a dog house, but these dogs typically don't actually sleep in their house, they curl up in the snow in front of their house. They are comfortable outside in the winter. However, for added comfort and to help them stay warm on below-zero nights, we have several pieces of equipment to help them have a good night's sleep. Each dog has a thick rectangle of closed cell foam, which we lay on the snow. The foam insulates them from the ground. Outside of the wilderness, mushers use straw, or cut balsam bows to make beds for the dogs. This is not allowed in the Wilderness, so we use foam mats, which I think provide more insulation. We also have special jackets and blankets for the dogs to provide extra warmth. Typically, when we stop for the day we set up a stakeout line on the ice along shore, out of the wind, and in a sunny spot if we can. There is a spot for each dog along the line and we place their foam pad down on the snow. They usually curl up on their foam pad and go to sleep. If it is cold, we put their jackets on them and use a blanket for extra insulation. They have shown no signs of being cold or uncomfortable. We have room in our tent for them if they get cold on a -40 night, but typically they are warm and happy just like we are.
We all eat more food when it is cold to help us stay warm. Our diets are high in fat. Fat burns slowly, so it helps us stay warm all night while we sleep.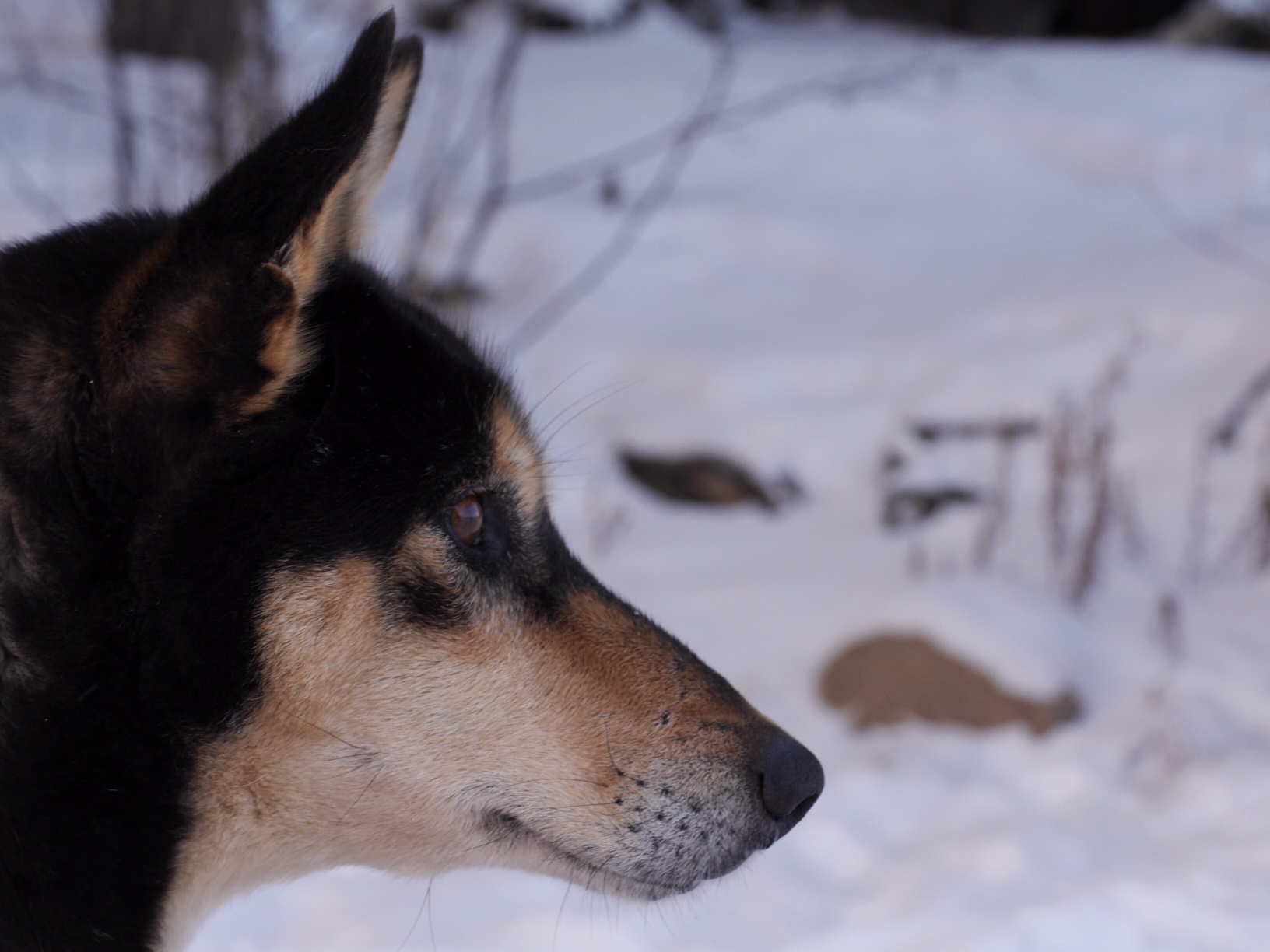 Clothing is also very important. We have learned over the years that it is important to try and stay comfortably cool when on the move. We dress in layers, avoiding cotton. We wear a wool/synthetic long-underwear blend on the bottom and then additional layers on top of that. When we are skiing, gathering firewood, hauling the toboggans over portages, and staying active, which represents most of the time we are outside our tent, staying warm is not a problem and we do not need to wear a lot of clothing. When we stop for lunch, or if it is really cold and windy, we add additional layers like our Outdoor Research down jackets, and Wintergreen Northern Wear Anoraks. The key is to keep from sweating, because if we sweat we will get cold when we stop moving.
The only clothing the dogs need when running are booties on their feet. When it is cold, the snow is more abrasive. To help protect the dogs's feet on cold days, we put booties on them before they run. We also have a salve called Patch-N-Go, which we can put on their feet in place of booties under certain conditions. We can also use this salve on their feet if they get a minor abrasion or sore.
People often ask us how we go to the bathroom, as well. Usually we get this question from kids when we do school assemblies, or by email through the Wilderness Classroom, but I am pretty sure there are plenty of adults wondering the same thing. Going to the bathroom in the winter can be a bit of a challenge, but once you have done it a few times, it's not a big deal (except when its -20 or colder your hands get cold while fumbling with the TP).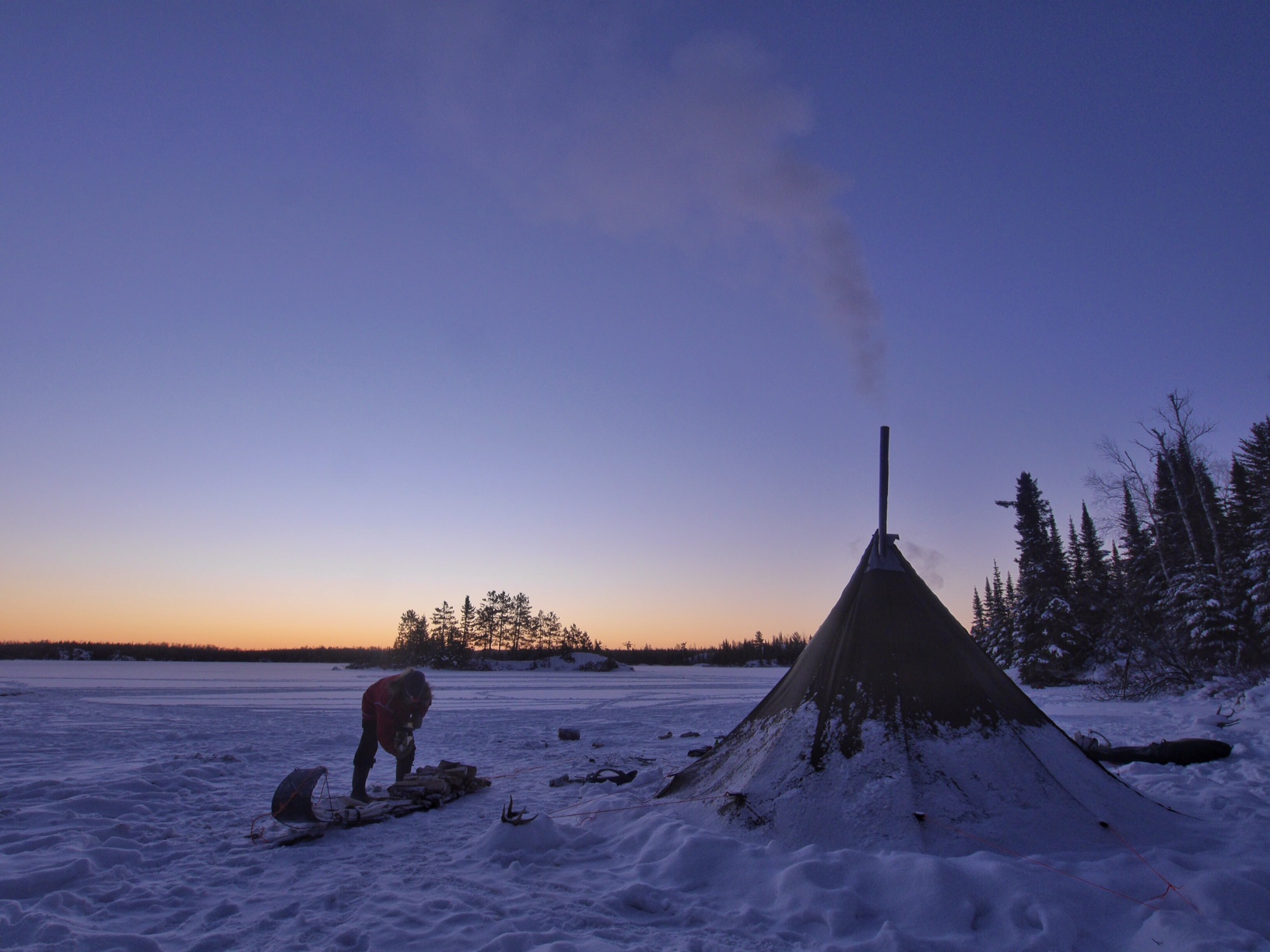 It is important to go to the bathroom well away from the water, so when we set up camp we pack a trail back into the woods at least 150 feet from the water. That way, when we have to go, we have a trail already made and a good spot picked out. When it is time to go, we carry our TP and hand sanitizer back to our spot, dig a hole in the snow, go to the bathroom, cover it up with snow, mark it with a stick, and then burn the TP in our wood stove.
Another key to comfort when it is cold is using a pee bottle. We each have a 1 liter bottle which we pee in a night without having to leave the tent. Then in the morning we can empty it back in the woods. Each morning we use a shovel to scoop up the dogs frozen poop so that we can dispose of it back in the woods as well.
I hope this blog post helps you understand how we stay warm and comfortable out in the winter woods. It's not all fun; there are moments of cold fingers and toes. Everything is a little harder in the cold, but in many ways this is our favorite time to experience the Wilderness, in part because we love working with the dogs.
---
Dave and Amy Freeman, 2014 National Geographic Adventurers of the Year, are dedicated to protecting the Boundary Waters from sulfide-ore copper mining proposed on its wilderness edge. In 2014, they paddled and sailed 101 days and 2,000 miles from Ely, MN, to Washington, DC, on the Paddle to DC. They are now spending a year in the Boundary Waters on A Year in the Wilderness. Follow their journey on social media (#WildernessYear) and by tracking the trip on their map. More A Year in the Wilderness blog posts.