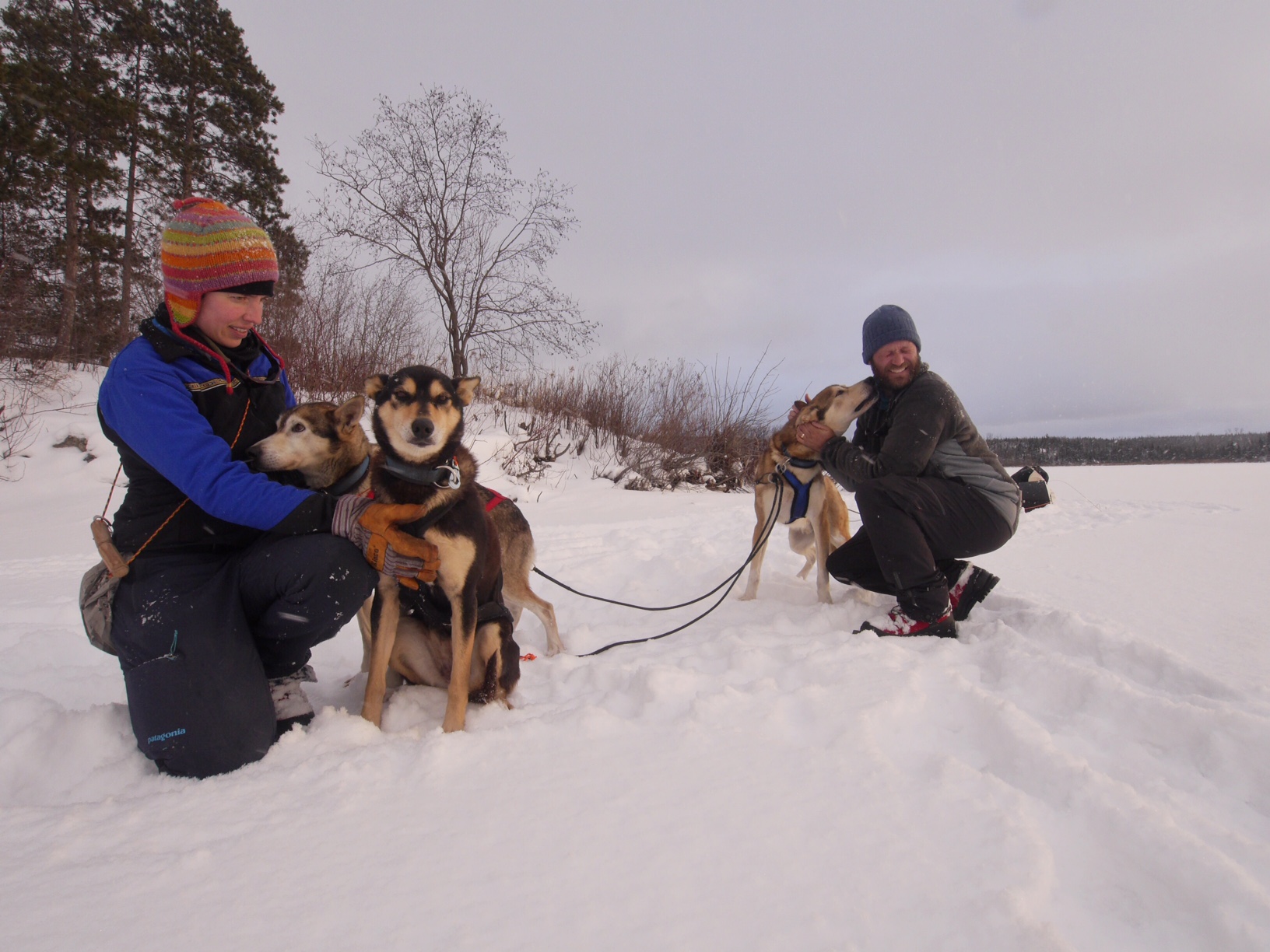 It feels like so much has happened since our last blog post. Our friends Jason and Sarah walked into the Wilderness on New Year's Eve with a sled full of goodies. For about six weeks during freeze-up we were totally isolated and had to ration our food so that our supplies would last until more supplies could be brought in. Now, it is like the floodgates have opened and visitors have been stuffing us full of treats for the past several weeks. Jason and Sarah packed in a whole roasted chicken, baked potatoes, lots of fresh fruits and vegetables, and fudge, cookies, and other homemade holiday treats. Along with a feast, they brought silly hats and games which made for a festive New Year's Eve in the Wilderness.
Then on Saturday, January 2, Frank Moe pulled up to our campsite with eight of his sled dogs. Last summer, when Frank and Sherri Moe found out that we were looking for a few sled dogs to join us for the winter, they decided they had a few dogs that would be perfect team members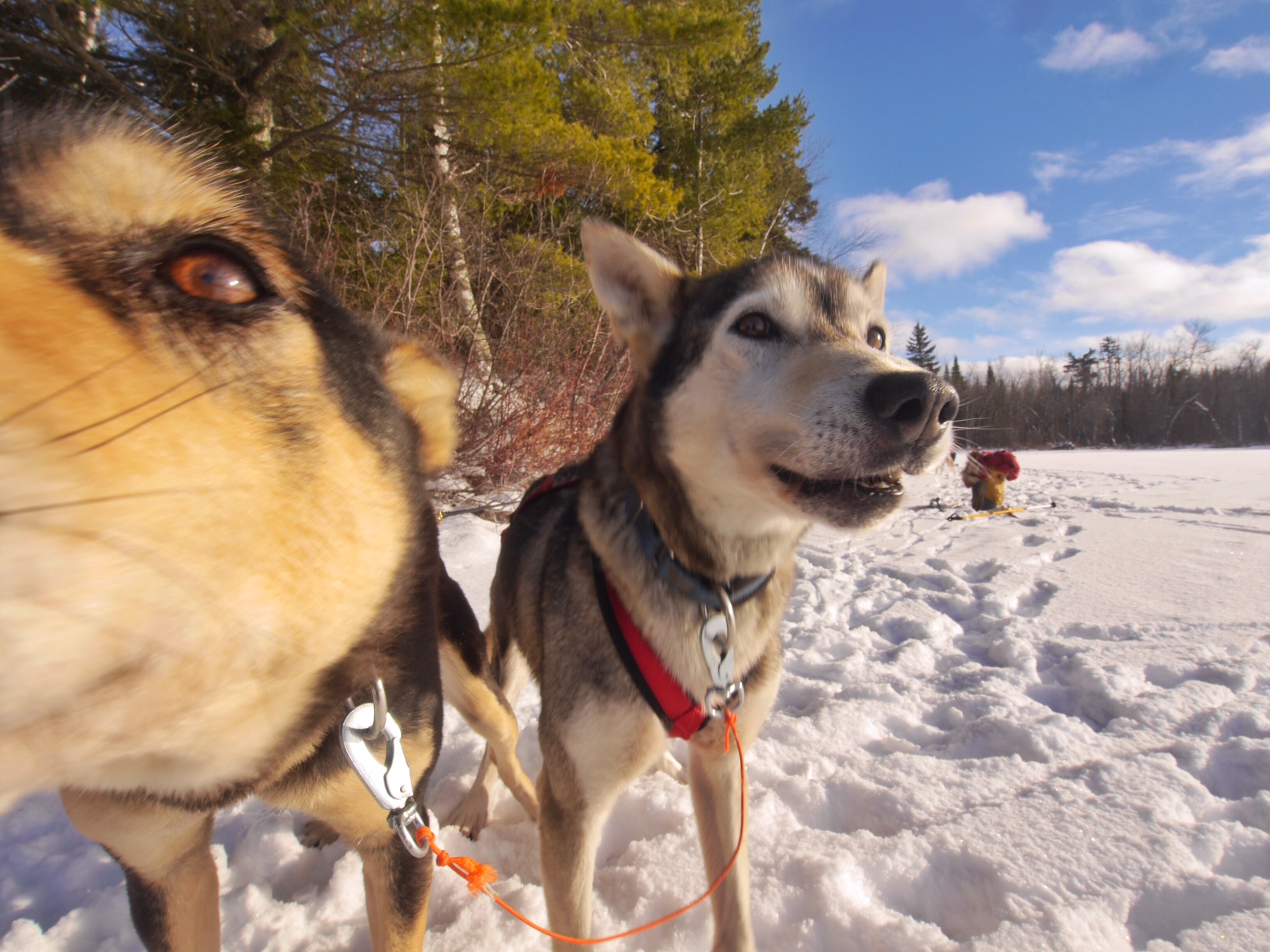 Frank dropped of Tank, Tina and Acorn, the newest members of our team on Saturday. We had been looking forward to their arrival for a long time and finally there was enough snow and ice to starting using sled dogs. Tank, Tina and Acorn are seasoned Alaskan huskies with many dogsled races, including the Bear Grease, under their harnesses
Acorn has been Frank's lead dog for many years. She was in lead when Frank dogsledded up to the Minnesota State Capitol in Saint Paul with a sled full of petitions signed by thousands of people who were concerned about the proposed sulfide-ore copper mines in northern Minnesota in 2012 (which he wrote about in Sled Dogs to Saint Paul). It seems fitting that Acorn, Tina and Tank are joining us now as we work to educate people about the Wilderness and protect the Boundary Waters watershed from sulfide-ore copper mines that are being proposed along the southern edge of the Wilderness
A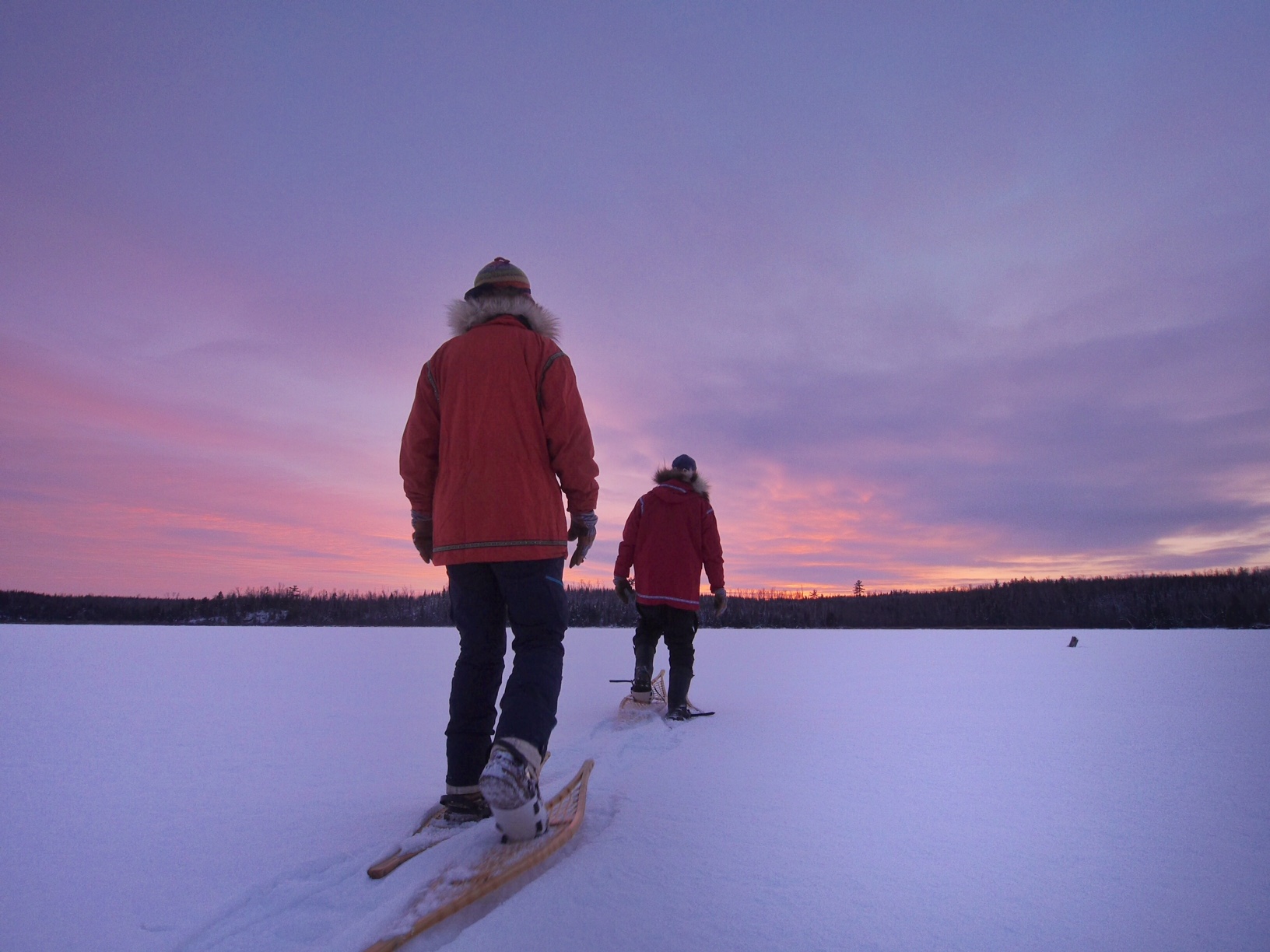 fter Frank left our campsite on Newfound Lake, we were excited to take the dogs out for a run. We quickly put on our ski boots, harnessed up Tank, Tina and Acorn, and headed out skijoring. Amy was hooked up to Tank and I was hooked up to Tina and Acorn. It was a little tricky getting our skis on with the dogs barking and lunging in their harnesses, but as soon as my boots were clipped into the bindings, Acorn and Tina shot off down the lake. The lake was covered in just a couple inches of snow and the dogs easily pulled me along at seven or eight miles an hour. It was faster than we had gone in a long time and it really felt like we were flying across the lake. Tank was right on my heels pulling Amy with his ears and tongue flopping as he trotted along. It was obvious the dogs were having as much fun as we were and we were excited be working with dogs again. They require extra care and attention, but they each have their own personality and are a real joy to work with.
We had been following Frank's dogsled track back towards the Wilderness boundary and the Moose Lake landing. As we approached the boundary, I wondered if it was going to be hard to get the dogs to turn around. However, when I said "Acorn gee, Acorn gee," she left the trail and turned to the right. A few more "gees" and we had looped around and were headed back to our campsite.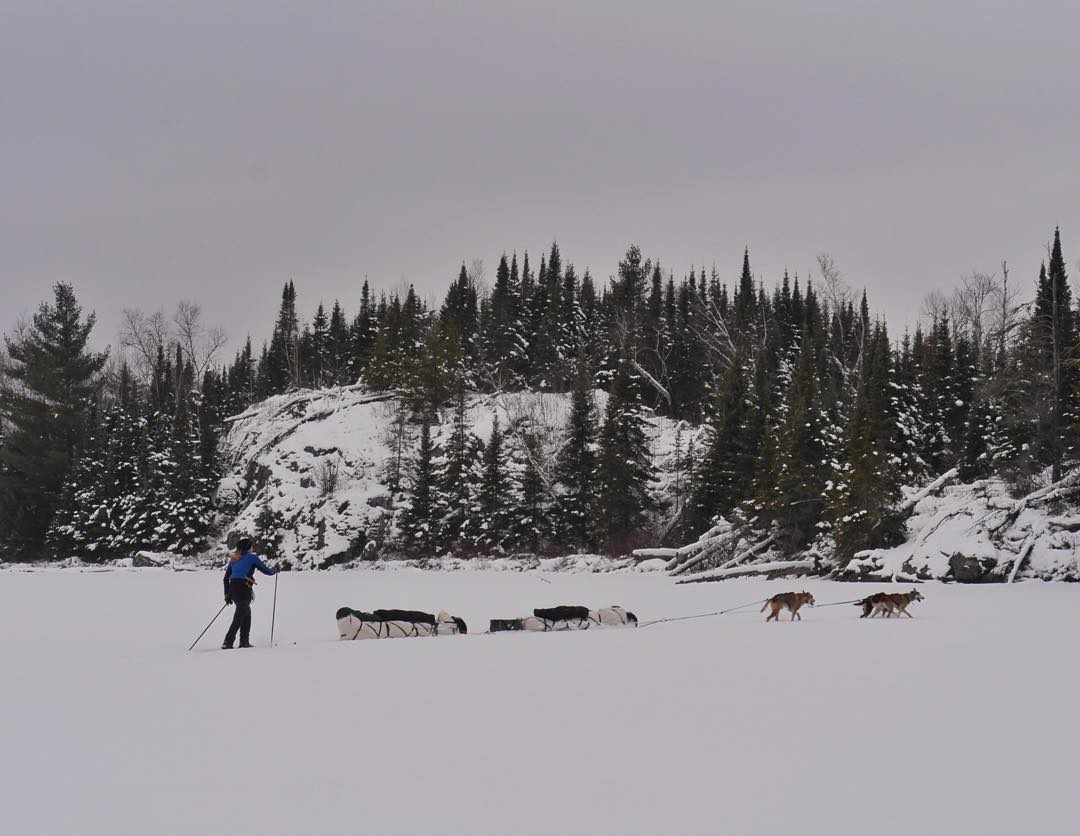 Acron and Tina are both lead dogs and respond to "gee," which means right, and "haw," which means left. Yesterday we packed up our campsite and moved about six miles to a new site on Basswood Lake. Today, we headed out skijoring again and for much of the day there was no trail for the dogs to follow. In the beginning, Tina and Acorn were hesitant to leave the trail and lead across the unbroken expanse, but slowly they grew more comfortable and by the end of the day they led us across the untracked bay to our campsite without a hitch.
We are looking forward to getting to know the dogs better over the coming weeks and I am sure there will be many more stories about them in future blog posts and on social media.
We are so happy that snow and ice are now covering the Wilderness and we are enjoying traveling and working with sled dogs again. We look forward to sharing more of our adventures with you soon. We are also very thankful to be joined by three furry Wilderness ambassadors who will help us explore the Boundary Waters all winter long.
---
Dave and Amy Freeman, 2014 National Geographic Adventurers of the Year, are dedicated to protecting the Boundary Waters from sulfide-ore copper mining proposed on its wilderness edge. In 2014, they paddled and sailed 101 days and 2,000 miles from Ely, MN, to Washington, DC, on the Paddle to DC. They are now spending a year in the Boundary Waters on A Year in the Wilderness. Follow their journey on social media (#WildernessYear) and by tracking the trip on their map. More A Year in the Wilderness blog posts.