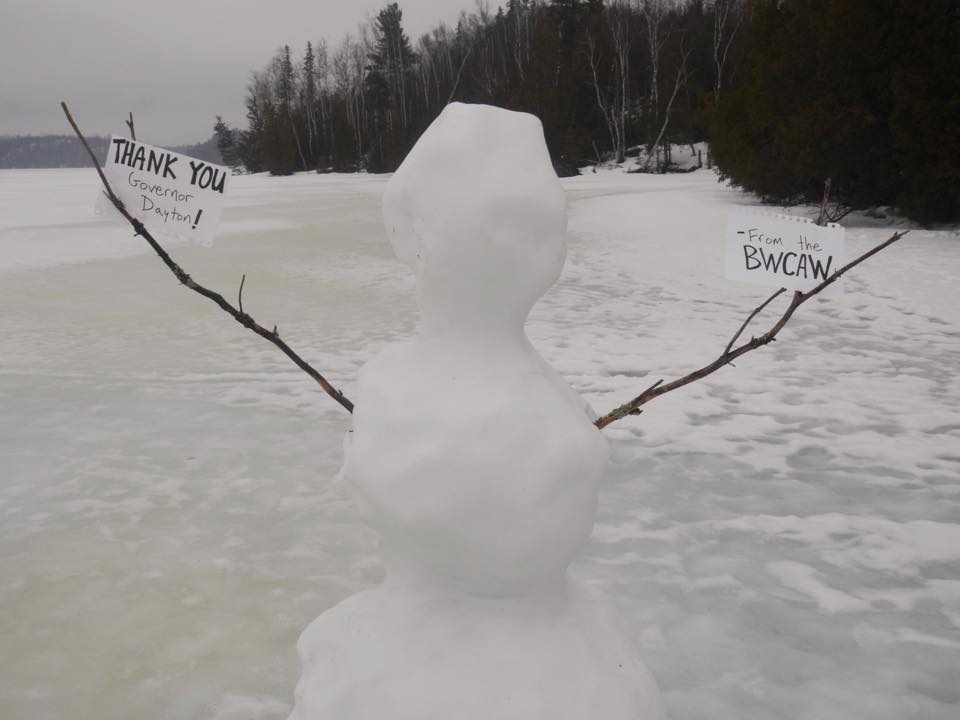 Greetings from Snowbank Lake on our 179th day in the Boundary Waters Canoe Area Wilderness. It has been amazing to be out here while catching snippets about recent developments in the news. First, Governor Dayton's letter, then news from the Department of Interior, then former Vice President Mondale's op-ed, not to mention the latest round of polling results! Dave and I are honored to be one small part of this massive effort made by so many people.
The best part is that we have been out here, and will continue to be out here, bearing witness to this special place. In the last week or so, spring seemed to arrive and then winter made a resurgence. We experienced several days in a row of significant melting and it was fun to travel during this thaw and make observations along the way. We made a move from Newfound to Knife Lake, passing through Ensign and Vera along the way. We've had many visitors in the midst of this weather roller coaster. A journalist, Conor Mihell, traveled with us on that route (he wrote about the Campaign for Canoeroots last year).
We then set up camp in our favorite spot on Knife Lake. Dave and I were reminded of our significant chunk of time spent on that campsite as we celebrated Thanksgiving and awaited the freeze up. It was fitting that we would spend a couple nights here during the beginning of a significant spring thaw.
The red squirrels, pileated woodpeckers and gray jays have certainly been out in force on these abnormally warm days. During our first night there, the temperature dipped below freezing under a cloudless sky and the lake cracked and boomed all night.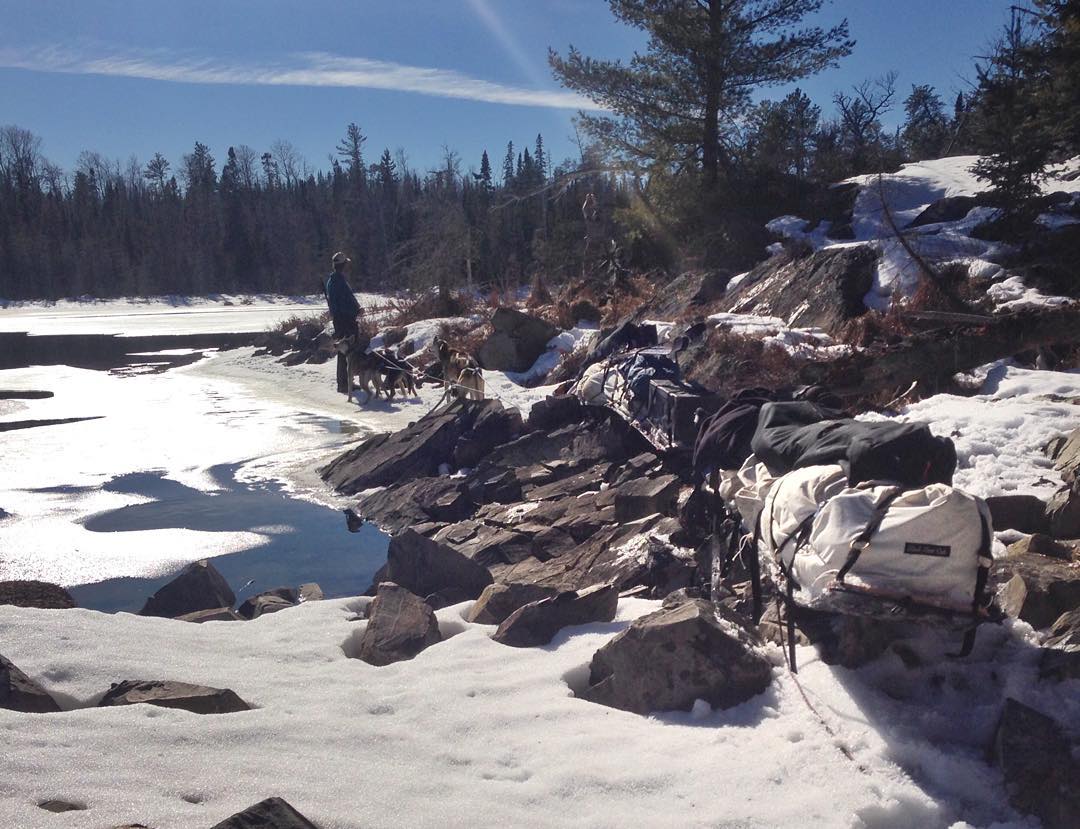 The next morning provided a perfectly smooth skating rink to travel on. We headed out towards Thunder Point and up into the North Arm of Knife. The three of us would do a skijoring day trip that would take us in a loop through Ottertrack, Gijikiki, Rivalry, Lake of the Clouds, Lunar, Cherry, Topaz, and Amoeber, then back to Knife. We cruised in the shade of the north-facing sides of most lakes.
The portages were untracked and we post-holed our way from lake to lake. Tina and Acorn were sort of swimming in the deep, untracked snow, so they ended up following in our tracks. Tank, who is a taller dog, developed a bounding leap technique to work his way through the deep snow.
On Topaz, we found a moose carcass frozen in the lake. Only a small section of the moose's side was exposed. Back on the wide open ice surface of Knife Lake, we slowly skijored back to camp. The wind was against us and the upper inch or two of ice had taken on a squishy snow-cone like consistency.
The next day, we arose early, making our way to Ensign, then Boot to Snowbank. The ice surface was again good and solid in the morning and soggy and rotten by the time we reached Snowbank in the afternoon. Our toboggans took on a few new scratches on rocky portage trails. Briefly, our dog team parted with the toboggans and Dave chased after them while Conor and I hauled the toboggans the rest of the way to Ensign Lake. It was a nail-biter until the dogs stopped in the shade to eat snow. Good thing it was a warm day!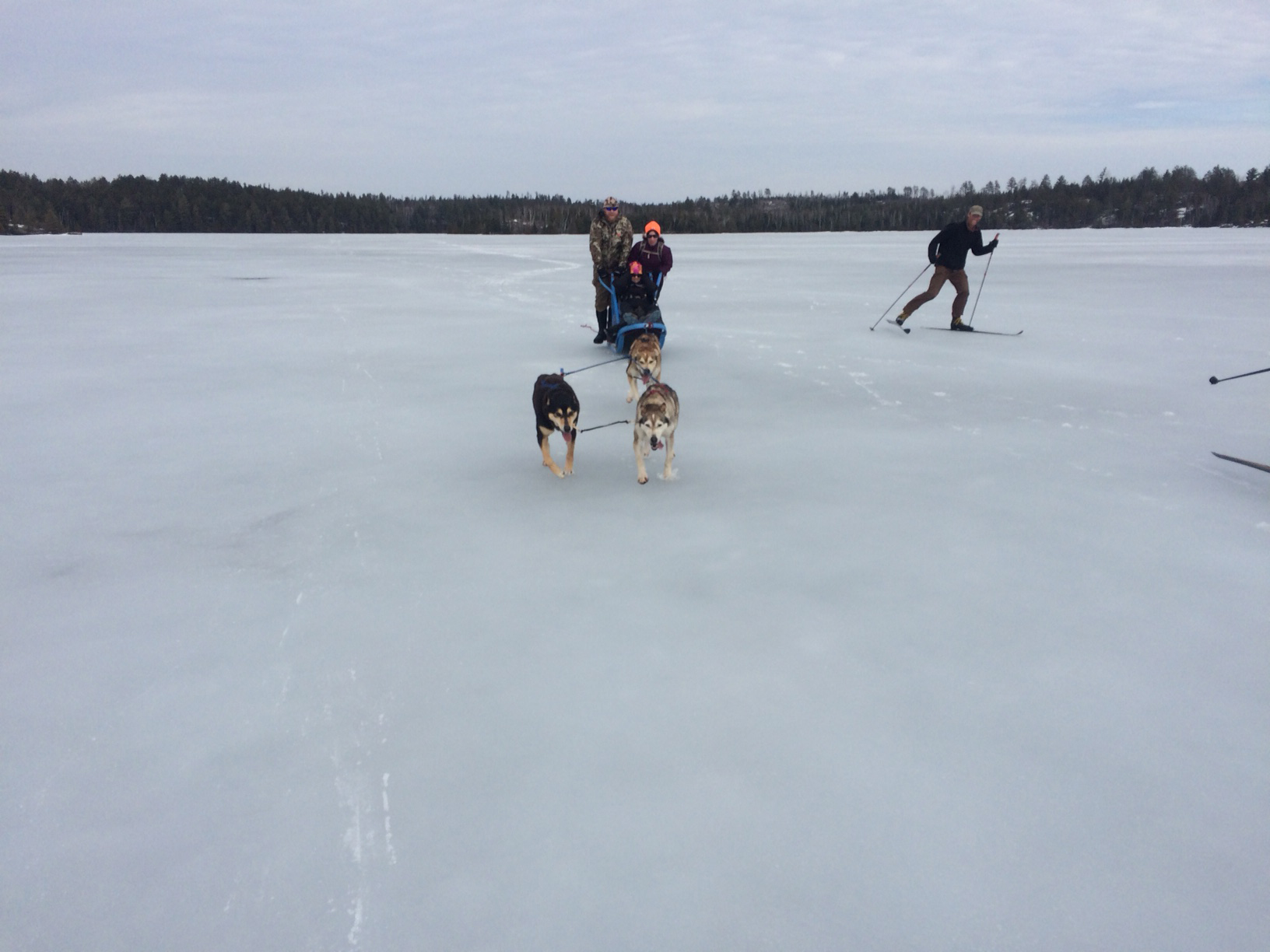 We proceeded to skirt open water in the little ponds between Boot and Snowbank, leading the dogs on convoluted routes over rocks and muskeg. We were relieved to reach Snowbank, and after a good rest in the shade for the dogs and a chance for us to shovel snow under our baseball caps to cool ourselves, we made our way to a south-facing campsite amidst tall red pines.
We set up camp on land, watching the lake surface deteriorate in front of our eyes. Most of the forest floor was exposed, revealing a carpet of wintergreen and red pine needles. Although I haven't seen a nest yet, bald eagles must be nesting nearby, because we have seen and heard them regularly here. A couple of days ago, a thick fog provoked Dave to say "It reminds me of the Amazon" upon emerging from the tent. Indeed.
We've hosted many visitors at our campsite on Snowbank Lake. The various groups have all seen different faces of the Boundary Waters Wilderness as the weather changed daily over the past week. First came a crew with Land Tawney, CEO of Backcountry Hunters and Anglers. They arrived in the sun and departed in a thick fog. Next came a group of dogsledders from Wintergreen Dogsled Lodge. Folks from Chicago and St. Paul Patagonia stores arrived just in time for a good soaking rain. The rain turned to snow and we met musician Ben Weaver and DJ Bill Deville from The Current in a blizzard, guiding them to our campsite with a compass bearing in a total whiteout. Then Kevin Timms from Seek Outside, the maker of our tent, witnessed several gloriously sunny days.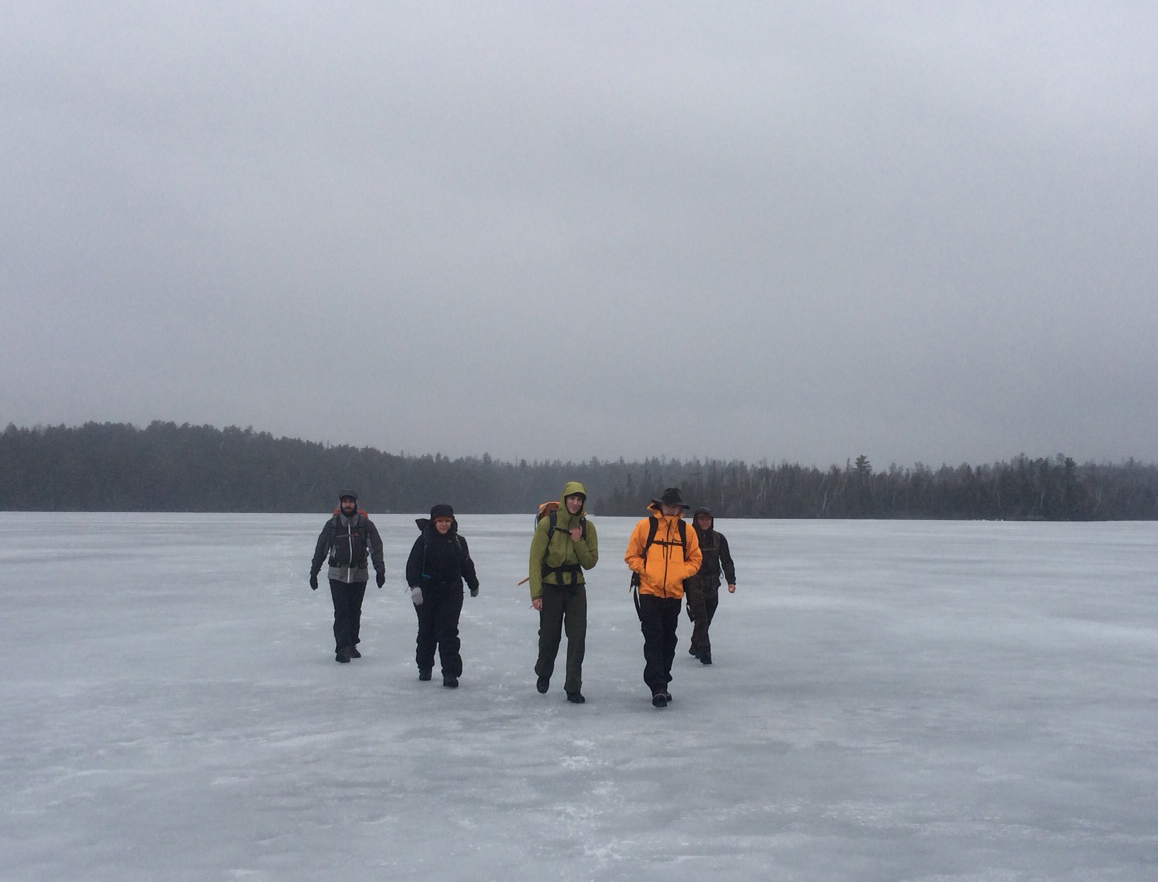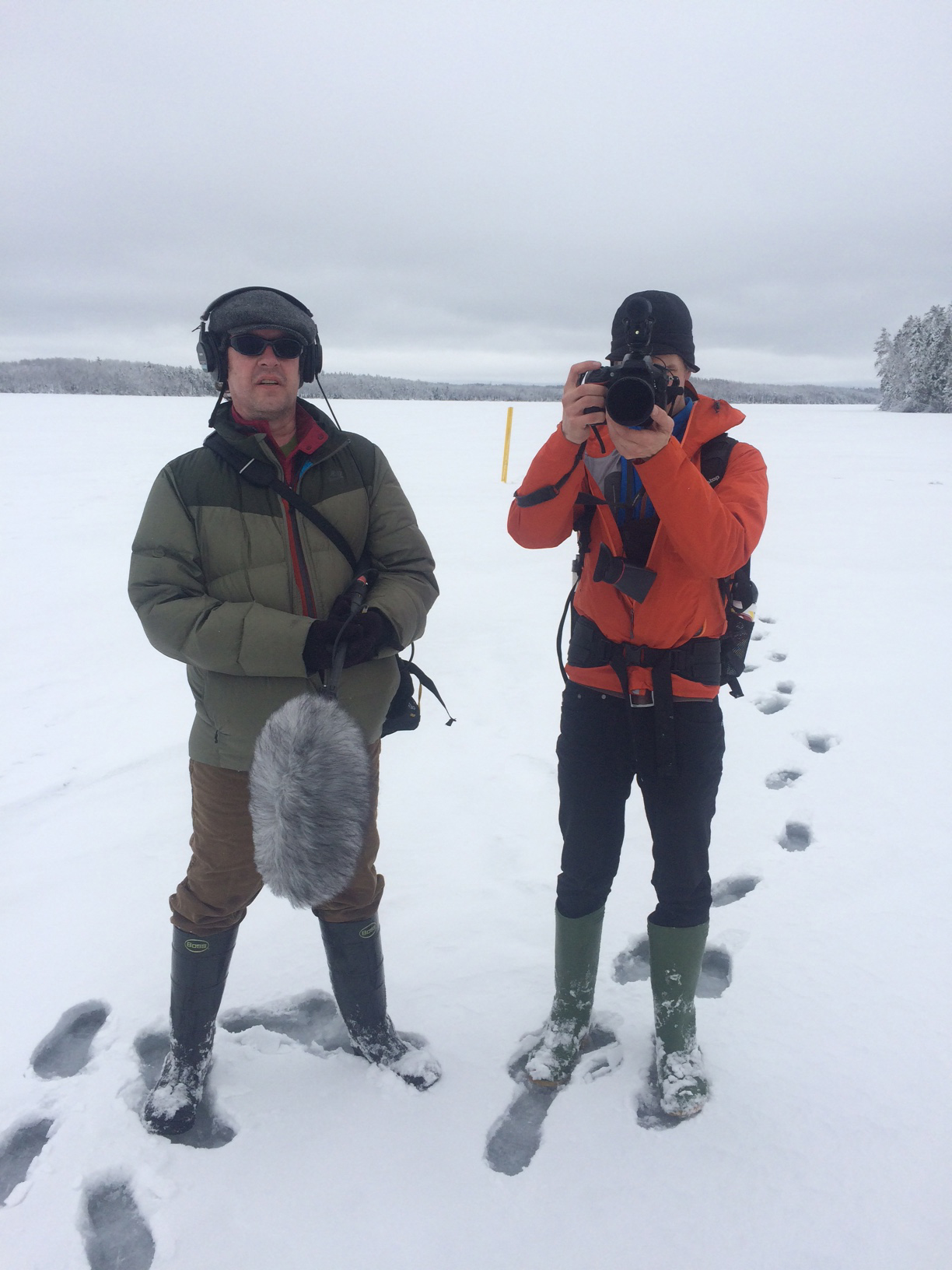 The Boundary Waters Wilderness revealed a different face to each group of visitors, etching distinct impressions of this wild landscape. The memories of time spent in the tent or lounging out in the sun, having in-depth conversations and even hearing music and poetry will nourish us just as much as the food in our resupplies. We are grateful to be a part of this and humbled every time we see how many people care about this place.
---
Dave and Amy Freeman, 2014 National Geographic Adventurers of the Year, are dedicated to protecting the Boundary Waters from sulfide-ore copper mining proposed on its wilderness edge. In 2014, they paddled and sailed 101 days and 2,000 miles from Ely, MN, to Washington, DC, on the Paddle to DC. They are now spending a year in the Boundary Waters on A Year in the Wilderness. Follow their journey on social media (#WildernessYear) and by tracking the trip on their map. More A Year in the Wilderness blog posts.