Recent polling results show that Minnesota voters want to protect the Boundary Waters Canoe Area Wilderness from proposed sulfide-ore mining. This news comes alongside this week's important news about Twin Metals Minnesota's proposed sulfide-ore mining operation in the watershed of the Boundary Waters Wilderness.
On Monday, Minnesota Governor Mark Dayton released a letter to Twin Metals' COO calling the Boundary Waters Wilderness "a crown jewel in Minnesota" and stating his "strong opposition to mining in the proximity of the BWCAW." The next day, the federal government confirmed its authority to either deny or approve Twin Metals Minnesota's request to renew its outdated and expired federal mineral leases. This decision opens the door for a thorough and necessary environmental review of the leases, which has never been performed before. 
The statewide poll, conducted by the research firm Anzalone Lizst and Grove, shows that 67% of Minnesota voters oppose sulfide-ore mining near the Boundary Waters Wilderness, including 61% of voters in Minnesota's Eighth Congressional District where proposed sulfide-ore mines would be located.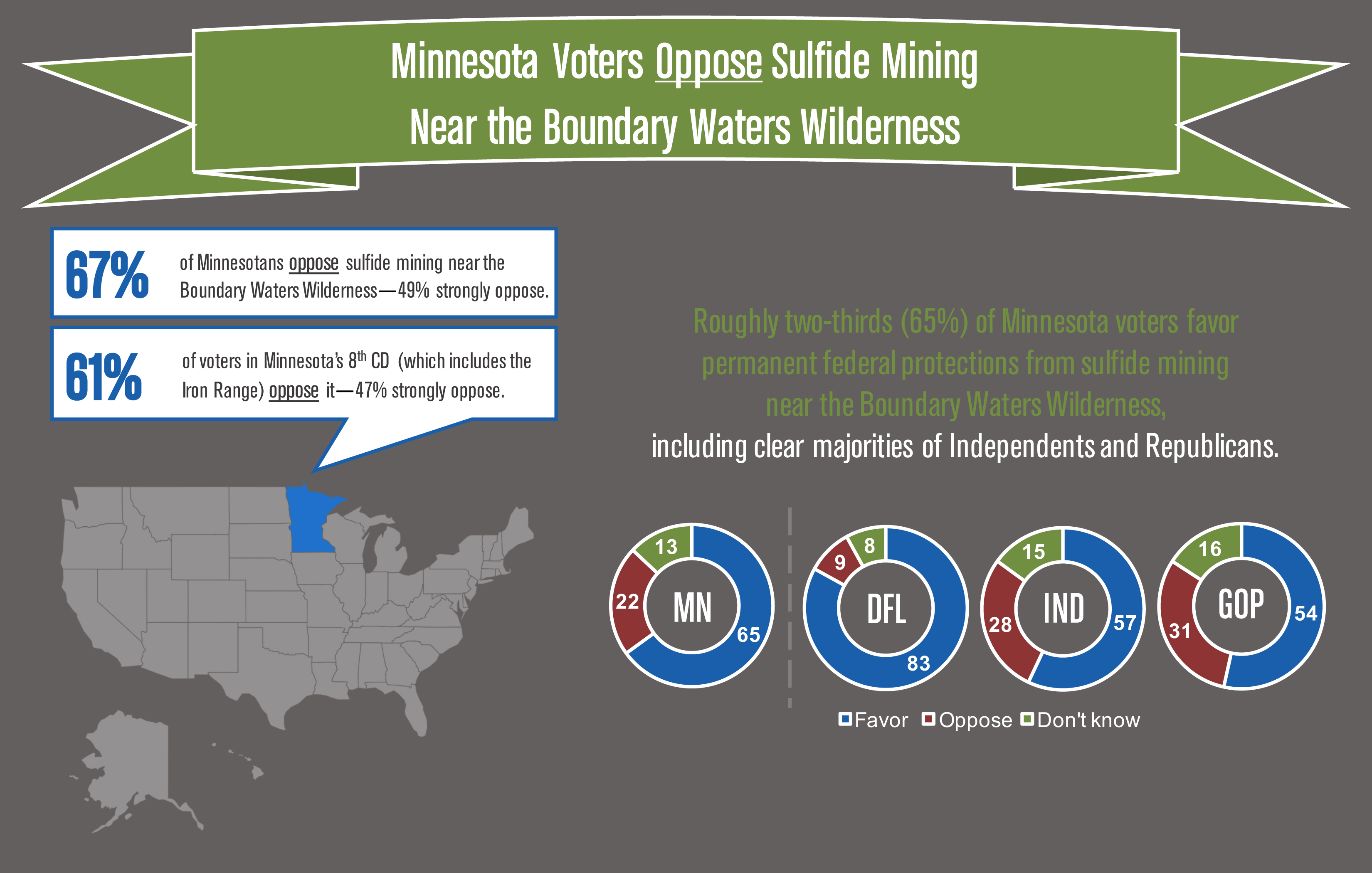 This broad statewide opposition coalition includes eight-in-ten DFL voters, more than 60% of Independents, and a 30-point majority in opposition among Republicans.
In addition to the large number of people opposed to sulfide-ore mining in areas near the Boundary Waters Wilderness, an additional 65% of Minnesotan voters believe the Boundary Waters watershed should be afforded permanent protection, including 59% of voters in the Eighth Congressional District.
Twin Metals, owned by South American mining giant Antofagasta, has proposed to mine sulfide-ore on lands next to the Boundary Waters Wilderness and along rivers and lakes that flow directly into the Wilderness. This kind of metal mining is known as "America's most toxic industry." Preliminary drilling has already occurred within one-quarter mile of the Wilderness boundary.
Read the Governor's letter and send him thanks for his support of protecting the Boundary Waters Wilderness.