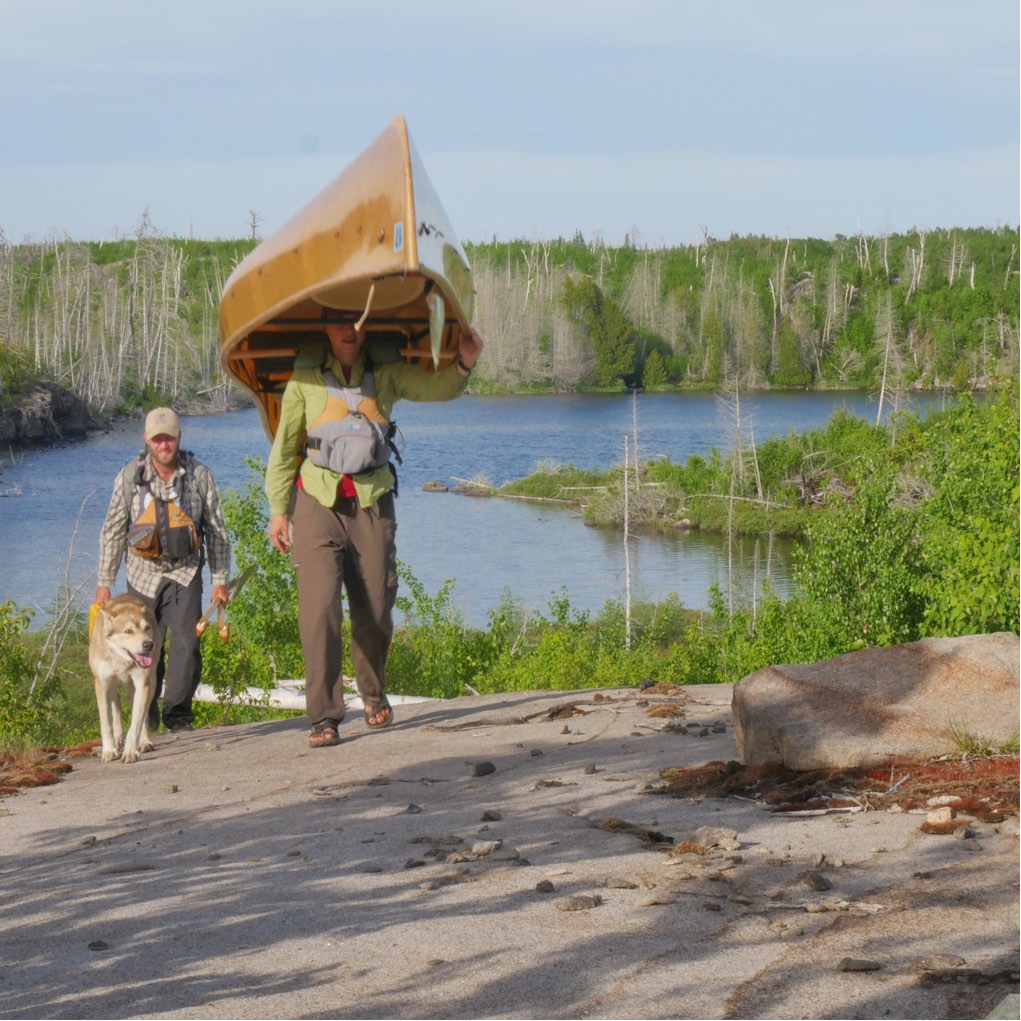 I think people often wonder what we do out here in the Wilderness. This blog post walks you through a typical day during A Year in the Wilderness. Our days are varied and there is always plenty to do. What's the weather like? Is it just Amy and me, or do we have visitors? Are we headed out on a long day trip, packing up camp and moving to a new lake, or spending the day close to home? Well, today we are staying close to our campsite.
By 5:30 a.m. the chickadees and white-throated sparrows are singing and the sun is beginning to light up the land. This is when I typically wake up. If an idea pops into my head, or I have something pressing I need to finish writing, I quietly get up, trying to let Amy sleep. If there is nothing urgent to dom I often lay in bed listening to the birds and the wind until Amy's watch alarm beeps at 6:30 a.m.
Once I am up and dressed, I grab my Helinox chair and iPad and leave the tent. Down by the water's edge I fill our pot and set up our BioLite stove. I grab the tiny, dry kindling I set aside the night before and build a small fire in the BioLite. While waiting for the water to boil, I take some photos and video if the light is good, or answer emails, edit photos, or work on a piece we will share on social media. I take a break every few minutes to place a few more tiny pieces of wood into the stove. I enjoy this quiet time when I am alone in the morning. It is a good time for me to jot down ideas and elaborate on things that floated through my head as I lay awake listening to nature. Once the water is boiled, I make a cup of coffee for myself. Once I hear Amy rustling in the tent, I brew a cup for her. While sipping my coffee, I add a cup of grits and several cups of hot water to our Fry-Bake, and put it on the stove to simmer for 15 minutes. I watch a pair of loons feeding off our campsite as I sip my Stone Creek Coffee and tend to the grits. Butter and cheese finish off the grits and Amy emerges from the tent to enjoy coffee and grits with me.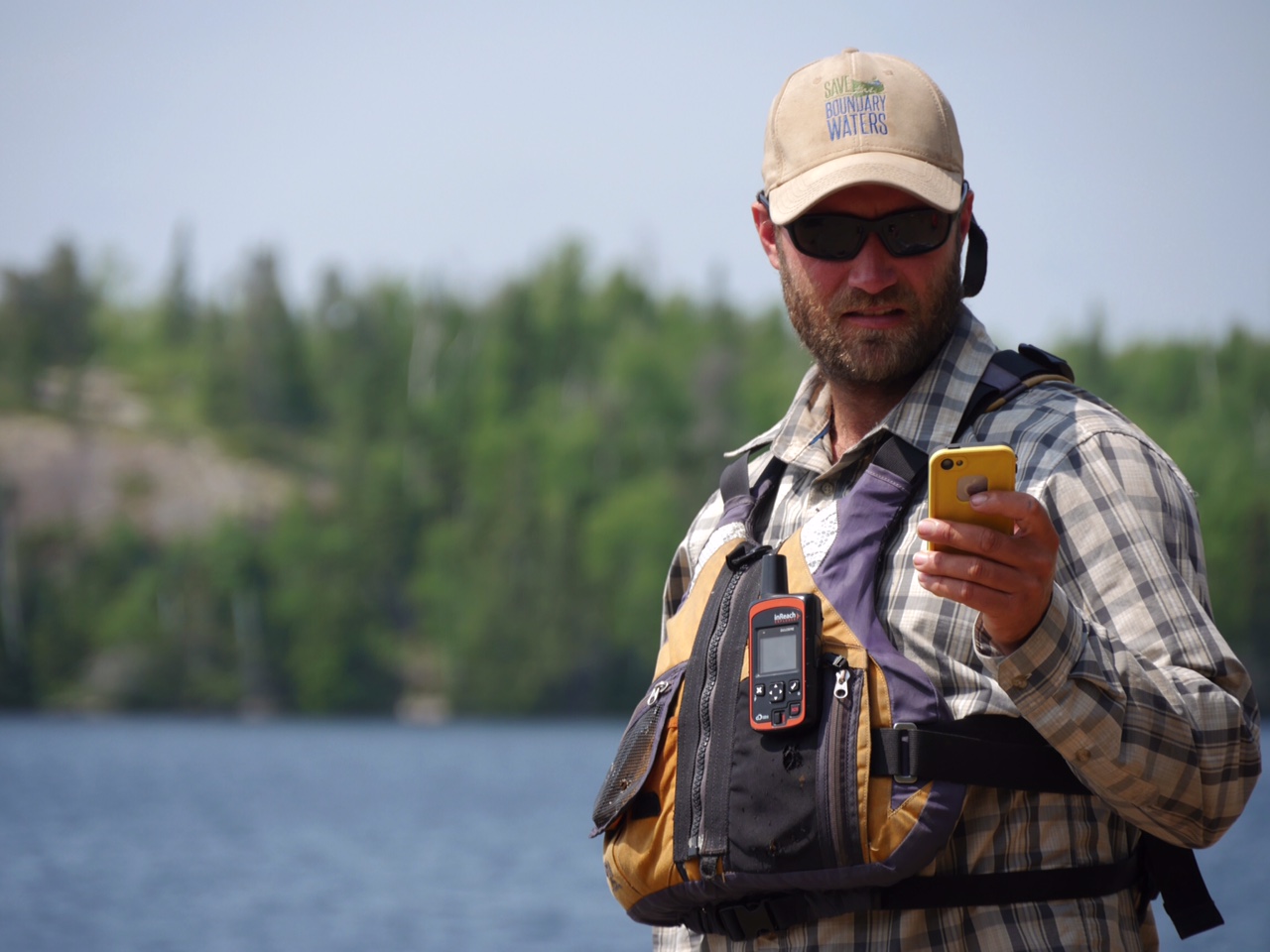 After breakfast, Amy cleans our bowls and the Fry-Bake while I set up the solar panels and the satellite terminal. Amy finishes the dishes as I finish sending and receiving email and packing up the satellite terminal. We sit by the lake and make a list of the things we hope to accomplish today. We have had a lot of visitors lately so there are a few things we need to catch up on.
Amy finds a nice spot in the sun and spends most of the morning catching up on her journal. It is supposed to be sunny and our batteries are nearly all charged, so I turn on our laptop and spend an hour backing up photo and video files on our external hard drives and importing them into our media catalogue. Afterwards I work on blog post for National Geographic Adventure and finish up our daily social media post. After Amy finishes writing in her journal she edits and proofreads everything I have written.
By now it is lunchtime, so we take a break to cook some Patagonia Provisions Tsampa Soup and quesadillas. We munch of GORP and Clif Bars while the food cooks. After lunch, Amy uses the Scrubba, which is like a combination drybag/washboard to wash some of her clothes. She squeezes a few drops of biodegradable soap into the Scrubba and places a T-shirt, two pairs of underwear, and a pair of socks into the bag. Then she pours several liters of lake water into the bag, seals it, and kneads it like bread dough for about five minutes. She then walks at least 150-feet back into the woods to dump the dirty water. She repeats this process two more times without adding soap to finish cleaning and rinsing her laundry before hanging everything out to dry.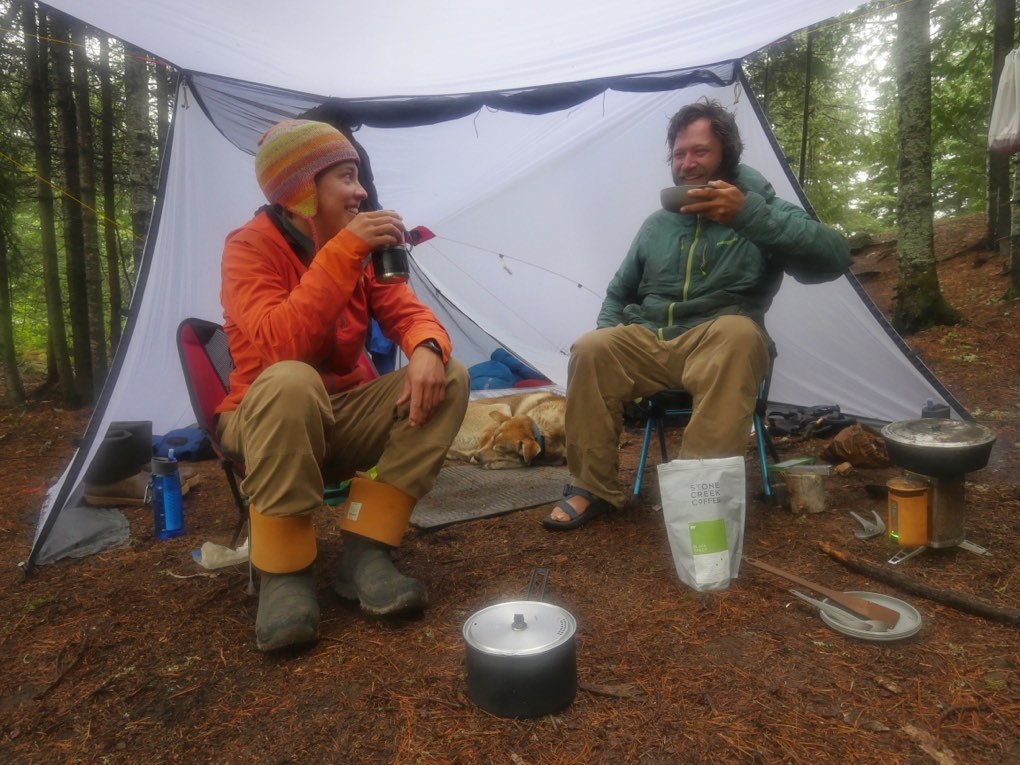 While she is doing laundry, I set up the satellite terminal and email the blog post and social media content so that it can be published on the web. After Amy is done I take a turn doing a small load of laundry, which will dry in the afternoon sun that is baking our campsite.
We haven't done any water testing on Snipe Lake yet, so in the afternoon we launch our canoe and paddle to the deepest part of the lake. Snipe Lake is over 60-feet deep so it takes us over half an hour to take measurements at 1-meter increments from the surface to the bottom. Amy lowers the probe and records all of the data while I mark our location with our DeLorme InReach and work to keep the canoe from drifting off our mark. We are measuring dissolved oxygen, temperature, conductivity and turbidity. When the lake is perfectly calm, it is easy to hold our position. Unfortunately, today a stiff wind is blowing so staying in place requires constant adjustments. On lakes less than 40 feet deep we can use an anchor bag with a rock in it to hold us in place, which makes collecting data much easier.
After we finish take measurements, we spend a few minutes paddling around the lake and pull over along shore to gather some firewood. Our BioLite stove only requires a few handfuls of wood per meal, but we prefer to gather our firewood well away from campsites. When we find an easy place to land we just walk back into the woods until we are out of sight from the shoreline and gather the firewood we need.
After we return to camp, Amy inventories our food and supplies while I answer a few emails. After she has a list of the food we have, we compile a list of the food and supplies that we will need brought in by a group of volunteers in about a week. It's about 5 p.m.by the time our list is complete so we take a break before making dinner. Amy reads while I take a few photos and a few casts. Instead of snagging a bass, I snag a log, so I place my rod down, launch the canoe, and paddle out to unsnag my lure.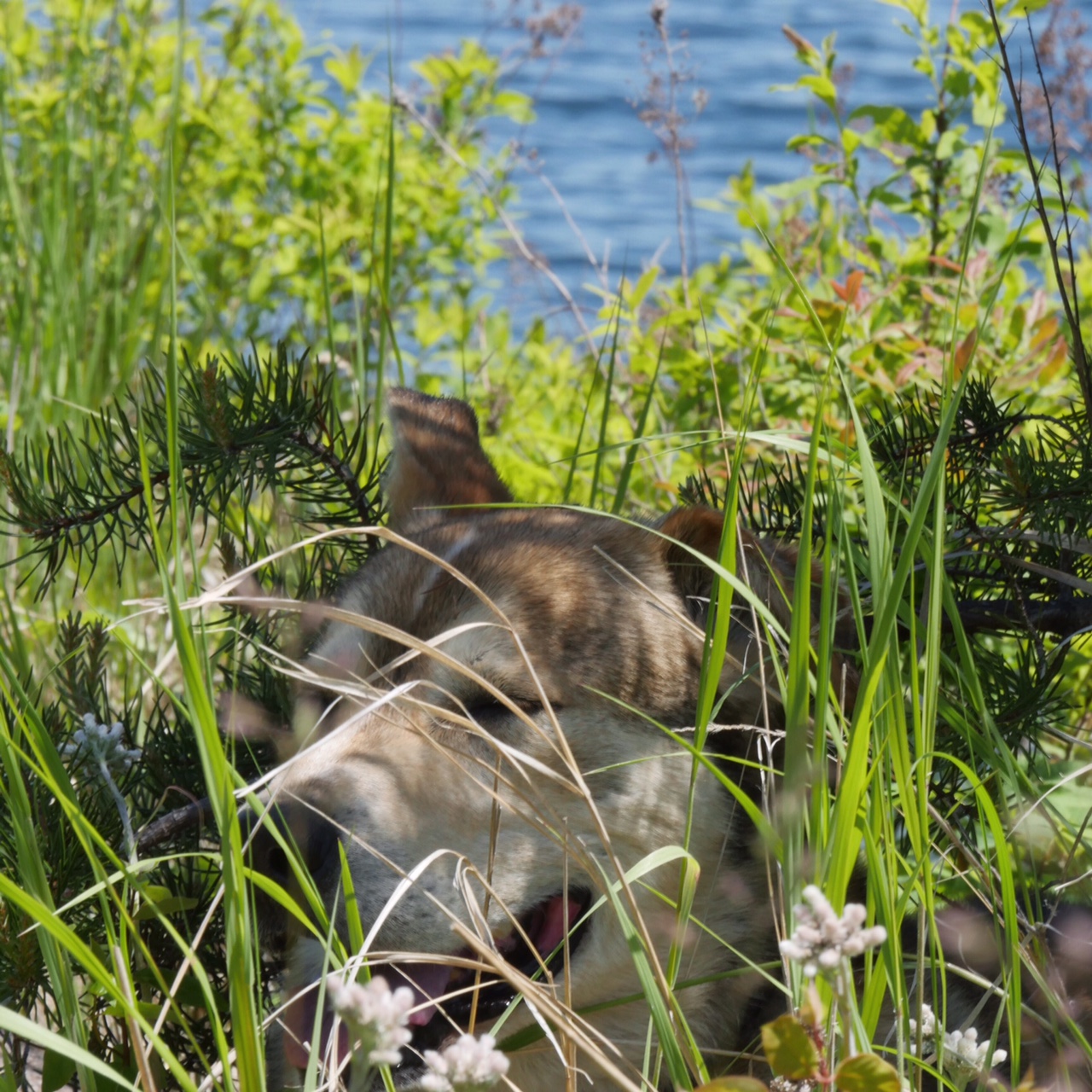 Around 6:30 p.m. we light a fire in our BioLite stove and boil water for dinner. After the water boils, I fill Amy's coffee cup with hot water, which will be used for washing dishes. Then Amy adds lentils and wild rice to the pot and lets it simmer for 10 minutes. Then she adds a handful of dehydrated veggies and lets our dinner simmer for another 20 or 30 minutes.
It's still light at 8 p.m. when we finish dinner. We enjoy the cooler evening air, sitting by the lake. The sun casts a golden glow over our camp so I take a few photos while Amy washes our dishes. A gentle breeze blows across the rocky point where we are camped, keeping the bugs at bay. We sit on the end of the point relaxing and talking about the day before retiring to our tent.
My eyes are closed before it is dark enough to need a headlamp on a June evening in the Boundary Waters. Amy will stay up for another hour reading before switching off her headlamp and calling it a day.
Tank has spent the day napping, moving from shady spot to shady spot as the sun slid across the sky. He became active when the rustling of bags signaled meal time, but mostly he was content to sleep in the shade. Since it is a clear night he is curled up under a tree not far from our tent. If it was raining he would be curled up next to us in the tent, but he seems to prefer to be outside on clear nights.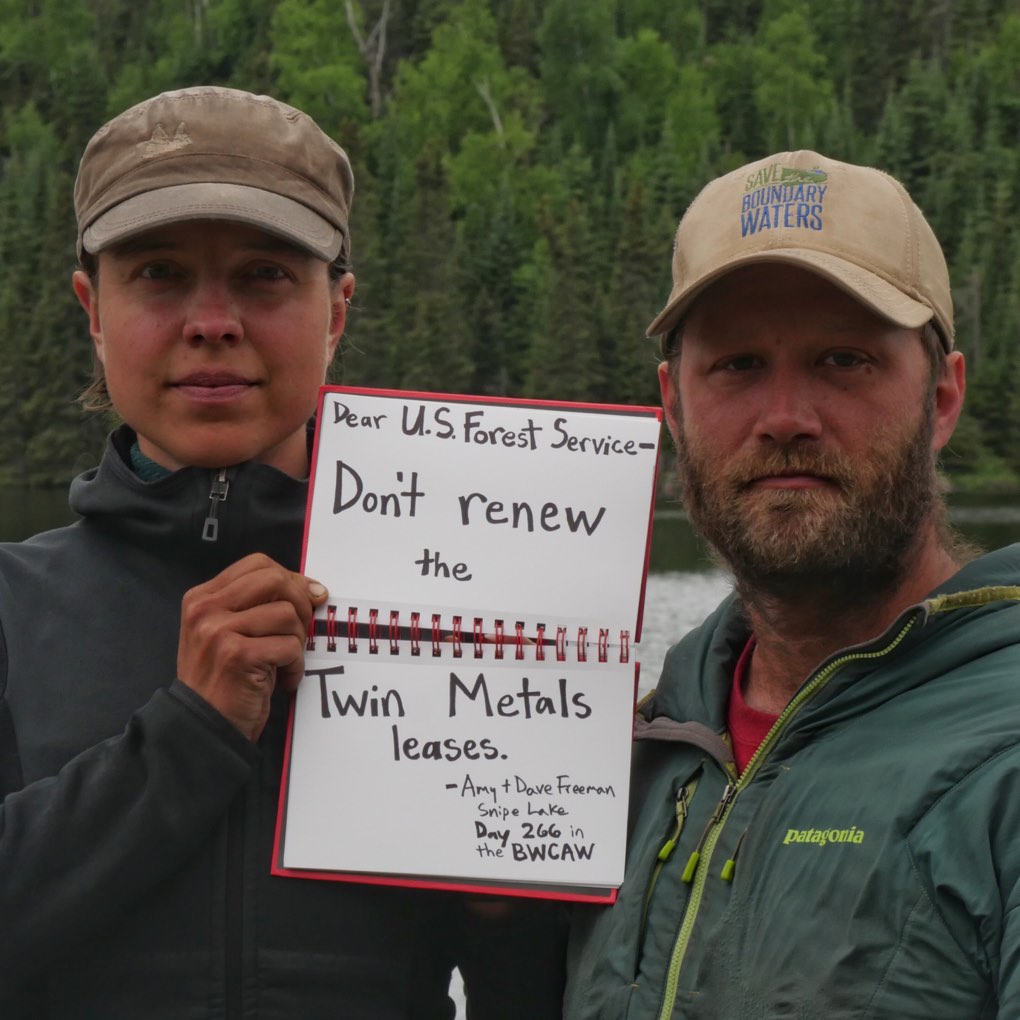 So that's a pretty typical "rest day" during A Year in the Wilderness. Not much traveling, but still plenty to do and see. Probably a little different than the average Wilderness visitor's day, but a typical day for us during A Year in the Wilderness. We are out here bearing witness to this very special place and working to protect it from Twin Metals and other proposed sulfide-ore copper mines that threaten this maze of Wilderness lakes and rivers. Please join us in our efforts to protect the Boundary Waters.
We are so excited about the announcement the U.S. Forest Service made on Monday. The U.S. Forest Service is "considering withholding consent for lease renewal" of Twin Metals leases. This would be a huge step forward in our efforts to permanently protect the watershed of this beloved canoe country.
Please urge the Forest Service to deny those leases! Speak up today! Share this with your friends, family, and neighbors and urge them to take action as well.
---
Dave and Amy Freeman, 2014 National Geographic Adventurers of the Year, are dedicated to protecting the Boundary Waters from sulfide-ore copper mining proposed on its wilderness edge. In 2014, they paddled and sailed 101 days and 2,000 miles from Ely, MN, to Washington, DC, on the Paddle to DC. They are now spending a year in the Boundary Waters on A Year in the Wilderness. Follow their journey on social media (#WildernessYear) and by tracking the trip on their map. More A Year in the Wilderness blog posts.
Save