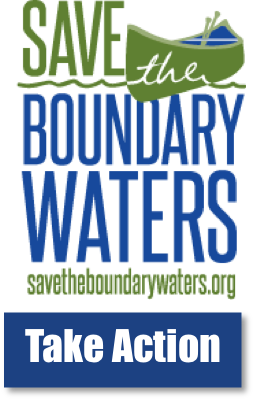 The U.S. Forest Service announced on June 13 that it is "considering withholding consent for lease renewal" of Twin Metals' request to renew two 50-year-old, expired federal mineral leases on the edge of the Boundary Waters Wilderness. The Forest Service said a final decision will be made after a public input period.
"The Boundary Waters Wilderness is a one-of-a-kind natural wonder and key driver of the economy of Northern Minnesota," said Becky Rom, National Chair for the Campaign to Save the Boundary the Waters. "In recognizing the incredible value of the Wilderness and the dangers posed by sulfide-ore copper mining, the Forest Service's announcement is an important acknowledgement about the need to protect the Boundary Waters." Read our full press release.
If the Forest Service denies renewal of these expired mineral leases held by Twin Metals (owned by Chilean mining giant Antofogasta), it would be a huge step forward in our efforts to permanently protect this beloved canoe country from risky sulfide-ore copper mining. These two expired mineral leases are located right next to the Wilderness, along waterways that flow into the Boundary Waters. They expired more than two years ago on December 31, 2013, and the federal government has the legal right to grant or withhold consent to renew them.
In the Forest Service announcement, they said, "A final determination on consent has not been made. However, the Forest Service is deeply concerned by the location of the leases within the same watershed as the BWCAW, and by the inherent risks associated with potential copper, nickel and other sulfide mining operations within that watershed. Those risks exist during all phases of mine development, implementation and long-term closure and remediation. Potential impacts to water resources include changes in water quantity and quality, contamination from acid mine drainage, and seepage of tailings water, tailings basin failures and waste rock treatment locations. Based on these concerns, the Forest Service is considering withholding consent for lease renewal."
Your incredible support and hard work across the country has brought us to this critical moment. Take action today to make sure we win permanent protection for this beloved, one-of-a-kind Wilderness. And stay tuned for details about the listening session hosted by the Forest Service to be held at the Duluth Entertainment Convention Center on July 13.
Save
Save