The Boundary Waters Canoe Area Wilderness is a breathtaking wild landscape of lakes, streams and woods that covers 1.1 million acres along the Canadian border. International mining companies have proposed building sulfide-ore copper mines right on the edge of the Wilderness, threatening to contaminate its pristine waters and disrupt its quiet wilderness character.
Through the Science Desk series, we try to describe the importance of the Boundary Waters, its watershed and the different ways sulfide-ore copper mining would fundamentally change the landscape. Instead of a written account this month, we invite you to take a virtual tour and see what's at stake.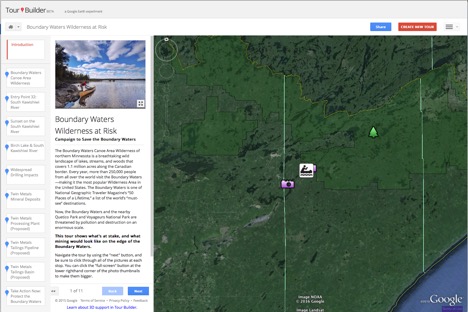 This tour uses the Google Earth platform to guide you through the beautiful Boundary Waters in a geographically grounded context. You can see pictures of the South Kawishiwi River and Birch Lake, as well as check out the locations of the sulfide-ore copper mining facilities proposed by Twin Metals Minnesota.
Check out this one-minute preview:
View the Google Earth tour here.
Technical Suggestions:
The tour works best using Firefox or Safari with the

Google Earth Plugin

installed.

You can still view the tour using Chrome, however it will be in 2D rather than 3D.

If you prefer to see the tour in the

Google Earth program itself, you can download this KMZ file and open it using Google Earth.

Click "Play Tour" in the My Places window,

Use the play/pause button in the bottom left hand corner of the map window to start and stop the tour after reading the information windows and scrolling through pictures.
---
Rachel Garwin is the Campaign's policy director. She holds an M.S. in Natural Resources from the University of Vermont. Every month, Science Desk will include our latest scientific support and share a deeper understanding of the potential environmental impact from sulfide-ore copper mining near the Boundary Waters.