Last week a severe storm buffeted northern Minnesota. A ship making its way under the lift bridge in Duluth clocked the wind at 90 knots (109 mph) and winds gusts were estimated to have reached 70 mph over much of the Northland. This was the worst storm Amy and I have ever experienced in the Boundary Waters and one of the few times we have been really scared in the BWCA. We are thankful to have survived the storm unscathed and were so sad learn that the storm claimed the lives of several people and injured several more.
The Wilderness is not normally a scary place, it is a wonderful place to learn and grow, relax and contemplate. In the morning, after the storm had passed and another beautiful day had begun, we talked about strategies for weathering a big storm and other safety procedures. The goal of this post is to help you feel better prepared and confident by sharing a few things we've learned through our adventures.
Wearing Your Lifejacket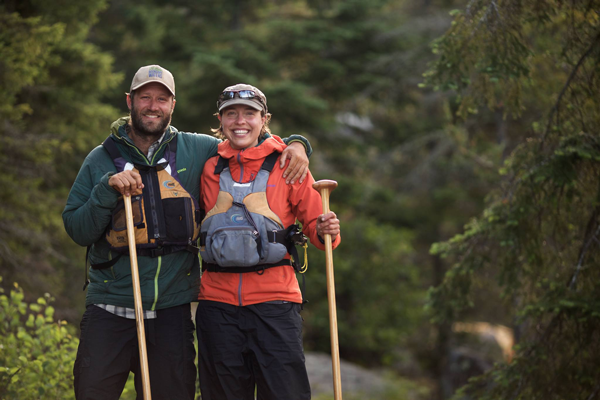 Like wearing your seatbelt in a car, it is best to get in the habit of wearing your lifejacket all the time when you are on the water. Lifejackets, or PFDs (personal floatation devices), will keep you afloat in an unexpected emergency. Don't get lulled into complacency, thinking you don't need a PFD because the weather is nice or you're a good swimmer. Amy and I typically adjust the straps on our portage packs so that we can carry the pack comfortably without taking our lifejacket off. When it is really hot, or for portages over a half mile, we often take our lifejacket off and strap it to the pack for the portage, but always put our lifejacket back on before getting back into the canoe.
Lightning = Get Off the Water
It can be tempting to just cross the lake to the next portage, or try to make it to your favorite campsite, which is only a mile away, but when a thunderstorm approaches it's important to get off the water before the storm hits. We typically keep our tarp easy to access so that if a squall moves through we can quickly get off the water pitch our tarp. It's best to avoid waiting out storms on points and ridges, or under the tallest trees, because lightning can strike a tree and then travel down the tree and through the roots or along the ground. Luckily, most of these storms do not last very long so you are often treated to clear, calm weather before and after a storm moves through.
Cold Water Safety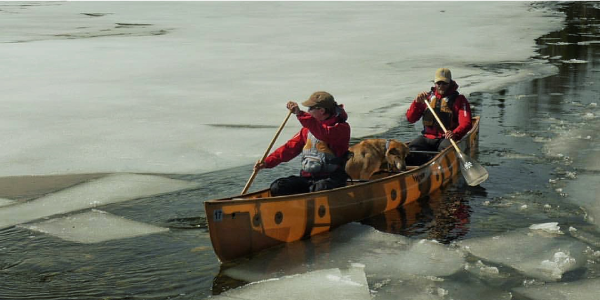 For most of the canoeing season in the Boundary Waters, the water is relatively warm. From the middle of June through the middle of September, swimming is a real joy. However, for a few weeks after the ice goes out and as fall turns to winter in October and November, an accidental dunk can be very dangerous and quickly lead to hypothermia. In the early spring when the water temperature is in the 30s and 40s, Amy and I typically wear drysuits just in case, especially on large lakes and windy days. Cold water can be deceptive and it is important to use caution when the water is cold. I have gone swimming in 11 months so far during A Year in the Wilderness and I don't anticipate that swimming in August will prove to be difficult. Swimming in April, May, October and November has helped us understand how quickly the cold water causes you to shiver.
Once in a Lifetime Storms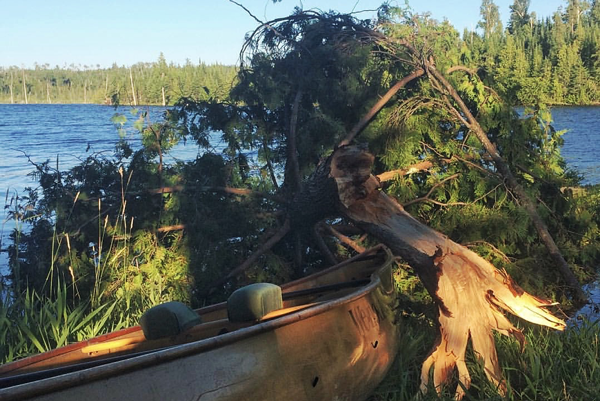 Amy and I have spent hundreds and hundreds of nights in the Wilderness, well over 1,000 nights in the BWCA and similar locations across Canada. Last week's storm was the only time we have had multiple trees fall on our campsite. This is extremely rare, but there are a few things that we learned from the storm that may be good to keep in mind, just in case. Most of the trees broke off 5 to 10 feet off the ground and we were surprised that they came to rest 10 to 20 feet downwind from where they broke off. Our main concern was to get out of our tent when we heard trees or branches cracking because we were worried something might fall on our tent. Our reasoning was that if we remained in our tent we would have no way to try and dodge a falling object. We moved to the edge of the lake that was upwind from as many trees as possible to reduce the risk of being hit by a tree and we remained alert looking up at the nearby trees so that we could try to avoid any branches or trees that broke off. We did not have to dodge any falling objects and nothing fell on our tent, but we were worried that this could happen. Every situation is different, but looking back we felt good about our decision to leave the tent and would certainly do that again if we ever encounter a similar storm. The one thing we would do differently is we would exit the tent even earlier.
Last night another thunderstorm rumbled through our camp. Because of last week's storm we were acutely aware of its presence, but like hundreds of other storms we have listened to from our warm dry sleeping bags, it quickly passed and a damp rainfly was the storm's only reminder when we awoke in the morning. This article is not intended to scare you; our goal is to provide some tips that will help you have a safer and more enjoyable experience the next time you head into the Wilderness.
---
Dave and Amy Freeman, 2014 National Geographic Adventurers of the Year, are dedicated to protecting the Boundary Waters from sulfide-ore copper mining proposed on its wilderness edge. In 2014, they paddled and sailed 101 days and 2,000 miles from Ely, MN, to Washington, DC, on the Paddle to DC. They are now spending a year in the Boundary Waters on A Year in the Wilderness. Follow their journey on social media (#WildernessYear) and by tracking the trip on their map. Read more: A Year in the Wilderness blog posts.
Save
Save