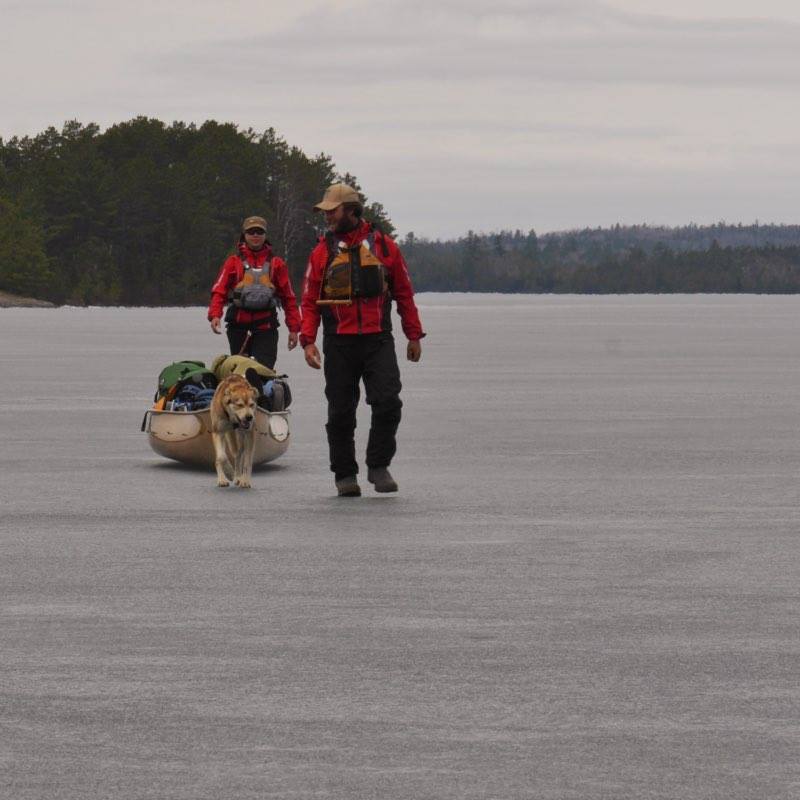 We have invented two new sports during ice-out here in the Boundary Waters Widerness: canoe-bobsledding and canoe-joring. While camped on Knife Lake, we made explorations to patches of open water. The canoe-bobsledding seems to work well for launching the canoe off an ice sheet into open water. The canoe-joring is ideal for smooth ice where Tank can easily pull the canoe.
Several days ago a small lake south of Knife– Bonnie– had a swath of open water along the north shore. We took Tank for his first canoe ride there. With lots of treats and encouragement, he did great. We hadn't gotten our fill of canoeing for the day, so we walked down to the narrows near Robbins Island and Isle of Pines on Knife. Here we scratched our heads as we debated how best to reach the open water directly from the thick ice that we stood on.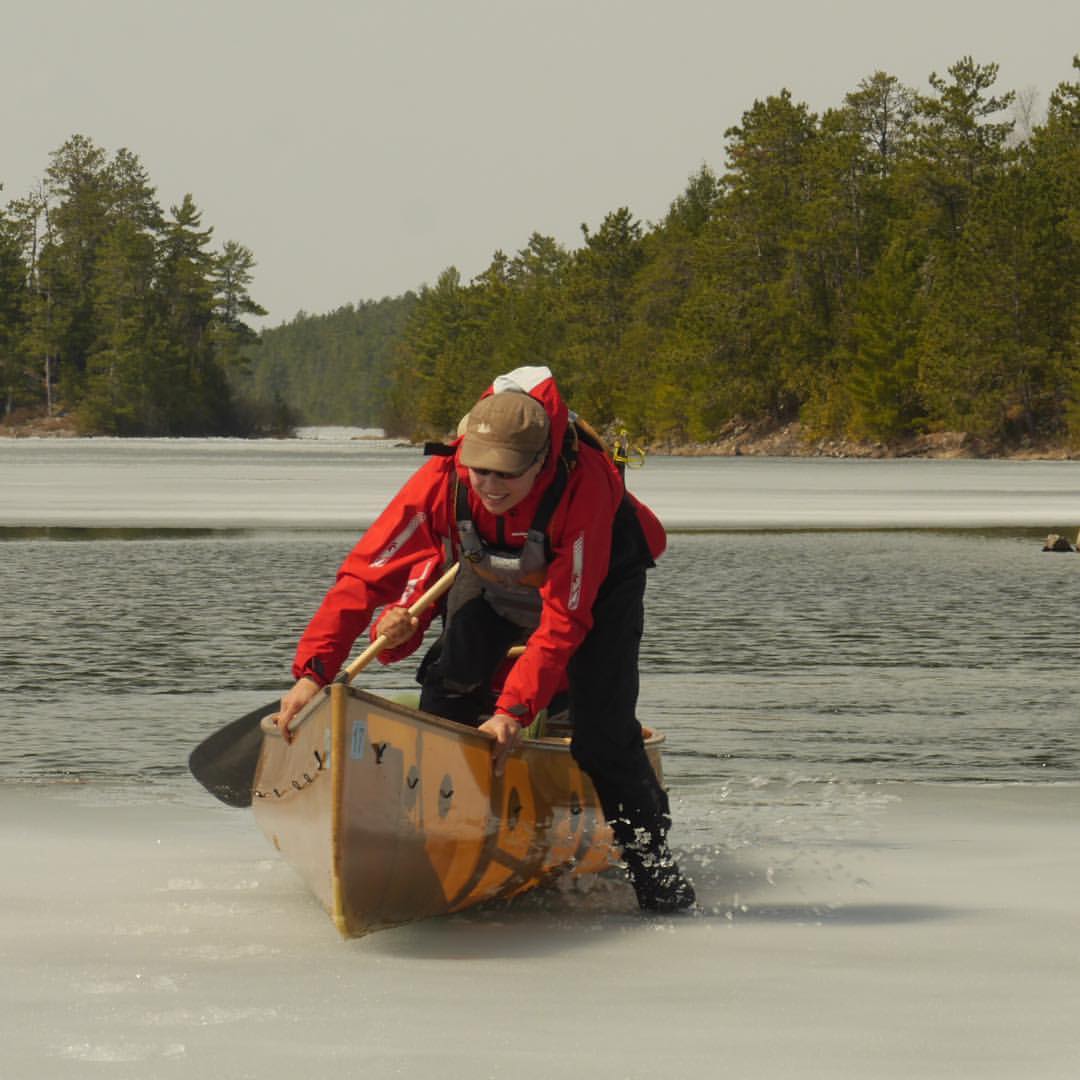 We determined that the canoe slid quite easily on the ice, so I could jump in before reaching questionable ice. Dave sort of straddled the canoe while he continued to propel it with his feet. Once the bow touched the water, he hopped in as the edge of sketchy ice crumbled under the weight of both of us in the canoe. And then, in an instant, we were floating. There was a stark contrast between the noisy bobsled ride of the canoe scraping on the ice to the canoe silently gliding through the water.
We honed our canoe-bobsledding skills over the next couple of days, making one more trip to the narrows and then to Portage Lake. At this point, I should probably share with you that we were exercising extreme caution while walking on the ice and scoping out patches of open water. The temperature of the water is still darn close to freezing and immersion would mean a quick onset of hypothermia for someone not dressed for it. We are drawing on years of cold water kayaking experience on Lake Superior as we horse around on the ice fringes now.
We were wearing drysuits, with wool long underwear, polar fleece tops and bottoms, and thick wool socks underneath. We were wearing our trusty MTI Adventurewear PFDs (personal floatation devices). We had ice picks strung around our necks in case we unexpectedly punched through while walking on the ice. We had a throw bag at the ready in case one of us needed to assist the other. We drilled test holes and measured the ice thickness with a ski pole periodically as we walked. We never stood or walked very close together– so if one of us went in, most likely the other wouldn't. Also, we've practiced rescues in cold water. I'll never forget the first intentional dunk I took in Lake Superior while practicing sea kayak rescues or the time I skied into a hole in the ice (and pulled myself out) on White Iron Lake as part of a dogsled guiding initiation. While it was scary the first time and the cold water quite literally took my breath away, I'm glad I have that experience to draw on now.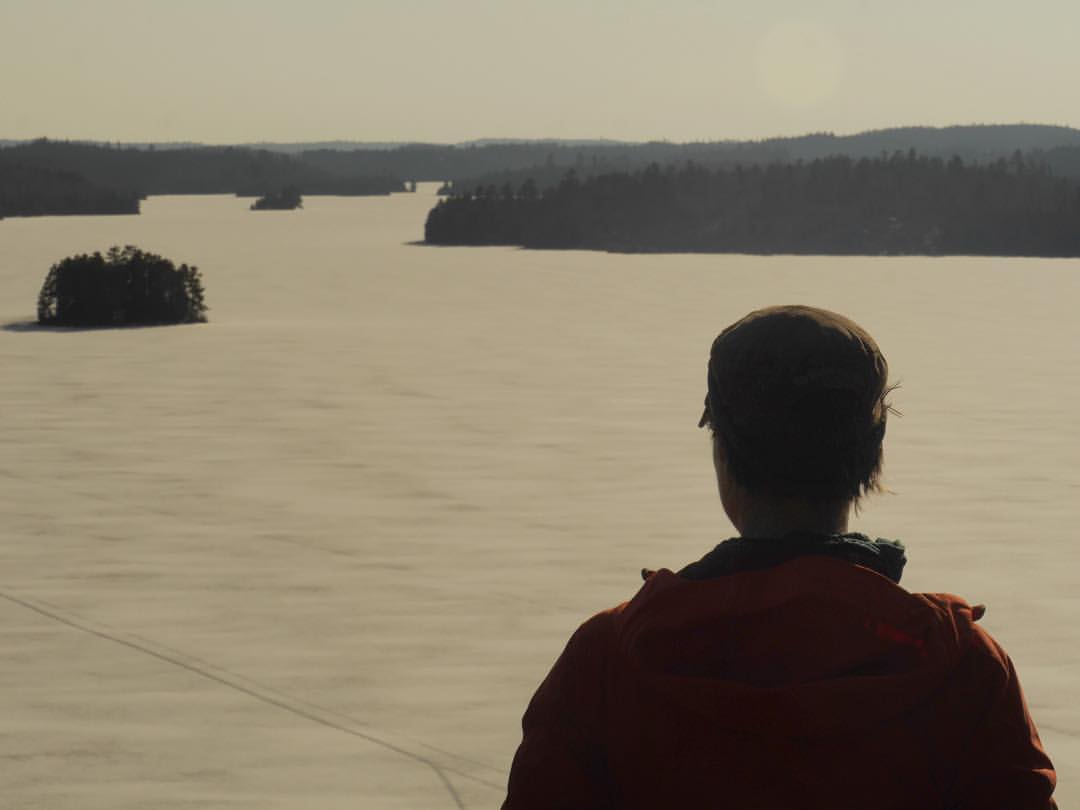 Over the past week, we have watched the ice conditions on Knife Lake deteriorate. Being such a massive, deep lake, it will still be quite a while until it is ice free, but we knew our days of walking on the ice were numbered. That is why we packed up and headed south yesterday and we discovered canoe-joring. I was intending to assist Tank with pulling our loaded canoe across the ice, while Dave scouted out a safe route in front. However, it quickly became apparent that Tank could easily pull this load on the nearly frictionless surface. So I relocated to the back to serve more as a brake– keeping Tank from overtaking Dave as he trotted across Knife Lake.
That was the end of our ice-walking though. Once we got to the portage into Bonnie Lake, we canoe-bobsledded to reach shore. We completed our first portage of the season in two trips– an amazing feat given the absurd amount of stuff we have with us. Dave came up with the concept of wedging the 11 foot Black River Sled toboggan into the bottom of our 19 foot Wenonah Itasca canoe. The toboggan remained in place even while portaging! The skis and poles were easy enough to carry while bundled up. Our Granite Gear packs are totally full, but not very heavy as they contain bulky winter clothes.
Reaching the first view of Bonnie Lake brought a smile to my face. A wide open expanse of water with a loon placidly floating across the surface greeted my eyes. We loaded the canoe and paddled across half the lake. When we reached the remaining bit of ice that stood between us and the portage into Spoon Lake, it crumbled in front of the bow of the canoe. We plowed through the ice and portaged into Spoon.
More ice greeted us here and it was slow going after our narrow lane of water on the south-facing shore ran out. Although we didn't travel very far, all three of us are enjoying camping on a new lake. We're positioned to keep making progress to the west after a little more melting takes place. For now, we are content to sit back and observe more of spring as it unfolds.
There are a few sure signs that canoe season is not far off. Several mosquitoes lazily drifted in the air around us last evening. (We're eager to get our Cooke Custom Sewing Lean with our next resupply so we can cook in a zone sheltered from the hoards of mosquitoes that are sure to come.) This morning was the first time I was awakened by the call of a loon. Trees are beginning to bud and the grass is looking greener. What a wonderful time of year to be in the Wilderness!
---
Dave and Amy Freeman, 2014 National Geographic Adventurers of the Year, are dedicated to protecting the Boundary Waters from sulfide-ore copper mining proposed on its wilderness edge. In 2014, they paddled and sailed 101 days and 2,000 miles from Ely, MN, to Washington, DC, on the Paddle to DC. They are now spending a year in the Boundary Waters on A Year in the Wilderness. Follow their journey on social media (#WildernessYear) and by tracking the trip on their map. More A Year in the Wilderness blog posts.