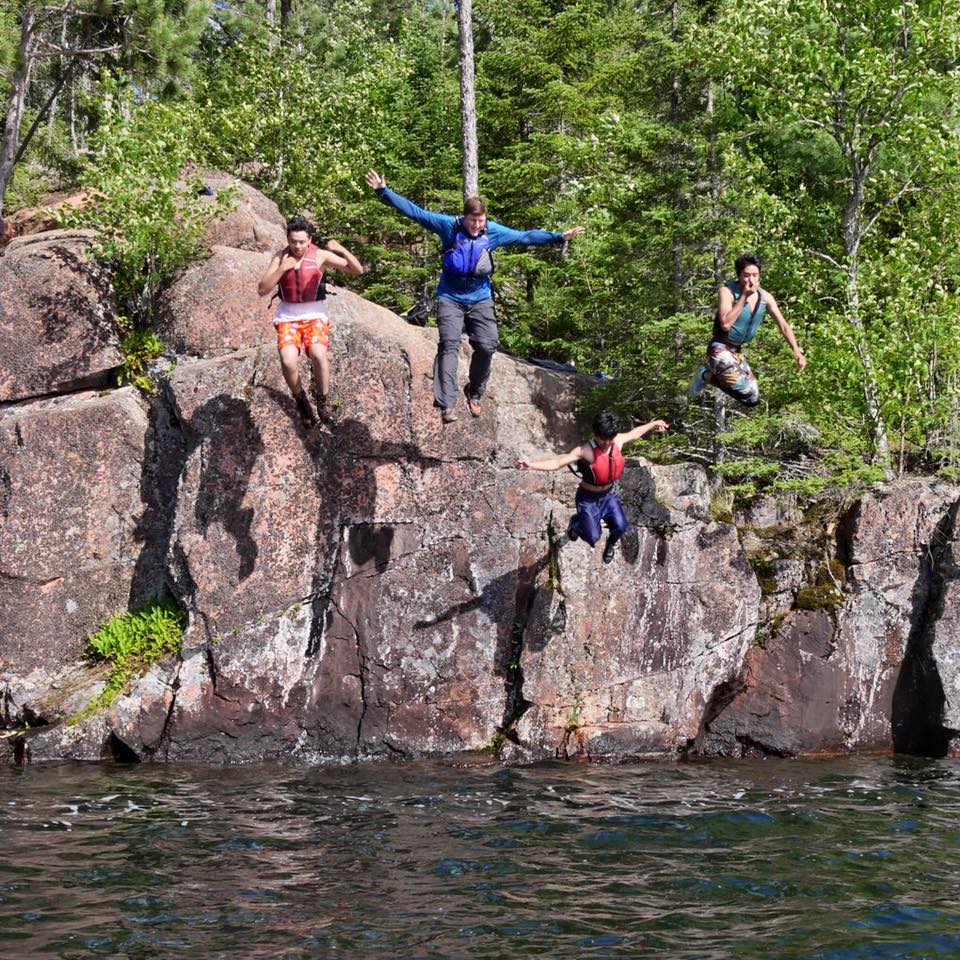 "One more time!" said a familiar voice from the clifftop. Dave and I found ourselves repeatedly hurtling off a small cliff into the deep, cool water of Cherokee Lake. On such a hot, sunny June day we probably would have been doing this activity anyway, but this time it was for the camera. Matt Van Biene was stationed on top, running behind us right up to the brink with his camera, while Nate Ptacek floated in a canoe below. A moment of exhilaration passed as we propelled ourselves out from the cliff face and we hit the water with a splash.
Once we shot up to the water surface and reoriented ourselves, we waited to hear the all too familiar phrase from Nate or Matt (or both): "That was great! Let's do it one more time." Someone would reposition as Dave and I clambered back up to the top. Then our three-second countdown and we launched ourselves into the air yet again. Once Nate and Matt were satisfied that all the angles of the jump had been covered, Dave and I would have kept jumping were it not for a looming blanket of gray clouds heading our way. Back in the canoes, we made our way back to our campsite on Long Island Lake.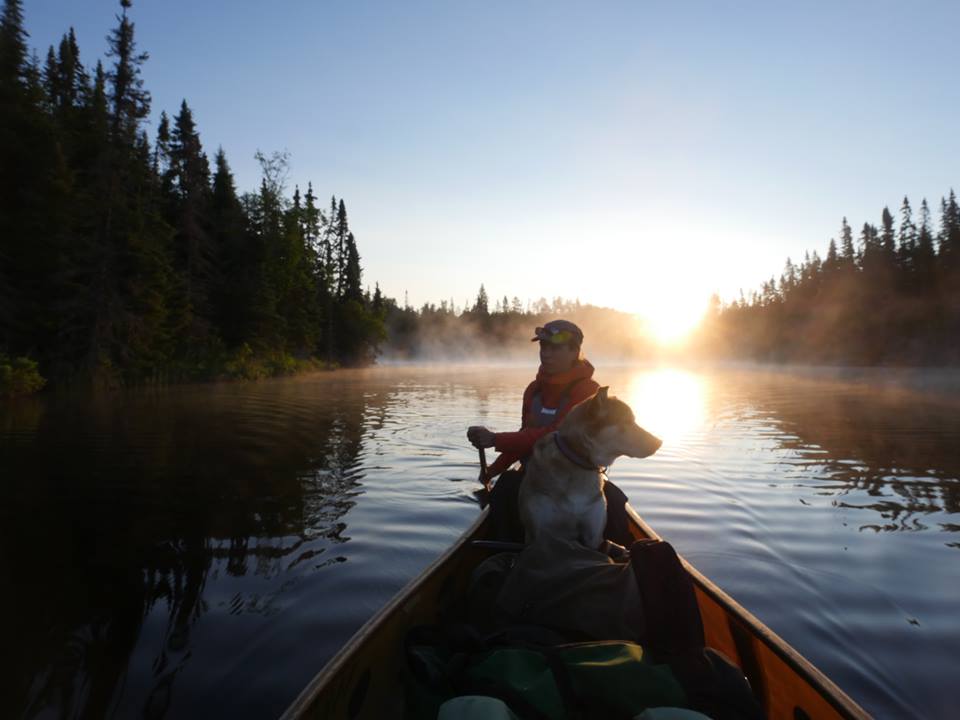 Nate and Matt are the filmmakers we're working with throughout A Year in the Wilderness. Dave has been filming, too. Duct Tape Then Beer is going to produce a short film about our expedition, which is made possible by a grant from Patagonia. Our hope is that this film will amplify the impact of A Year in the Wilderness. In case anyone is wondering: yes, you do need a film permit from the Forest Service to film in Wilderness Areas and we have one.
This was Nate and Matt's third and final trip for this expedition. They had paddled with us in the fall and then plodded along on skis in the slush and below zero temperatures in the winter. What a contrast to be out here now in the warm sunshine, with all the deciduous trees fully leafed out and wildflowers blooming in the woods. Their fall shoot had been gray and stormy for the most part. The week they spent with us in February was actually the coldest week of the winter. When we were preparing for them to come this time around, we were all braced for rain and intense bugs. You can imagine our sense of relief on this glorious June day. The weather made all of our jobs just a bit easier.
I continue to be amazed by the way Nate and Matt work. Not only do they need to get all the shots on their shot list and hope the weather cooperates, but they have to paddle a canoe and portage along with us. It's remarkable to think about how video equipment has changed in the past 10 years. Sure, multiple camera bodies and lenses added weight to their packs, but Nate and Matt were by no means encumbered by their gear. Passing them on a portage or on the water, no one would know that their portage packs contained all the equipment needed for capturing astoundingly high quality and high-resolution footage.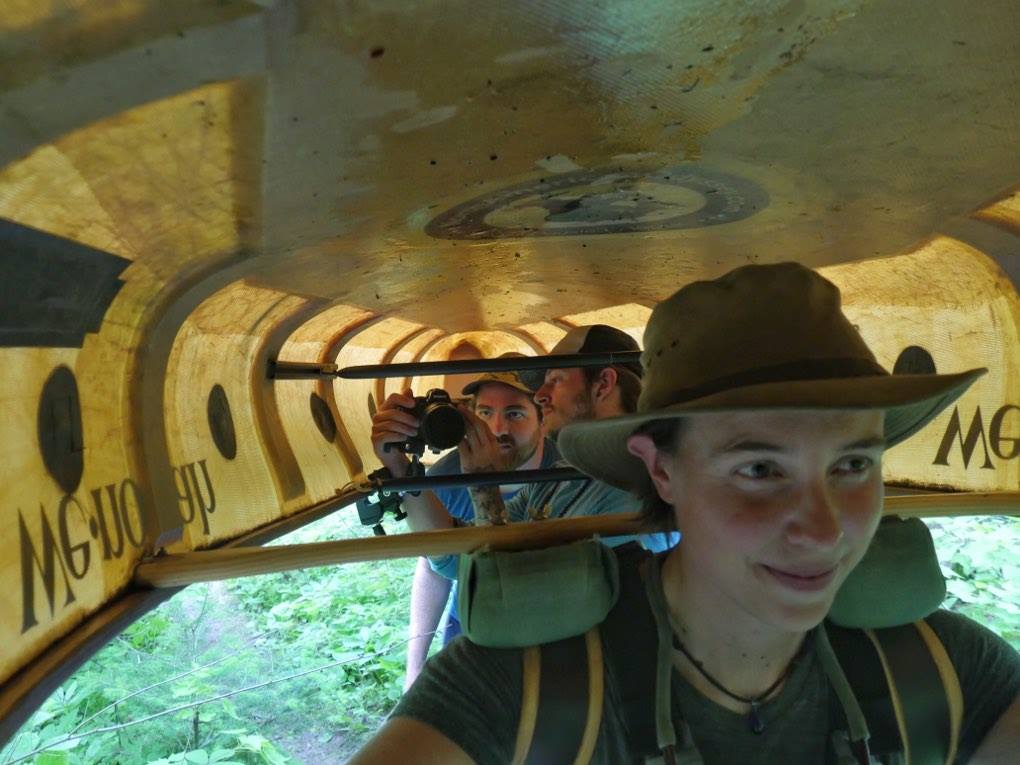 We've learned a lot from these guys and I hope it shows in our footage that ends up in the finished product. Getting behind the lens has helped us see the Boundary Waters Wilderness in a whole new way. We've looked closely at intricate details of frost on tree branches and leaves floating on the water. We're continually seeking out new vantage points for various scenes. We're also enamored with the quality of light at sunrise and sunset.
Nate and Matt joined us for two sunrise paddles to capture the ethereal moment as a morning fog burned off and the sun rose higher in the sky. Since the summer solstice occurred while they were out here with us, we had several super early mornings. While camped on Snipe Lake, our alarms beeped at 4:45 a.m. Matt poked his head out of the tent to assess the conditions. He determined it was a go, so we all groggily emerged from our tents and launched our canoes. Although Tank is an early riser, this was still a couple hours before he would normally commence his daily patrol of the campsite. We called him and he sleepily blinked at us. By about the third call Tank knew we meant business, so he trotted down to the water's edge and assumed his position in the canoe.
There was indeed fog. There was a narrow passageway between two islands that we poised ourselves near, ready to pass through when the light was just right. Dave was anxious, declaring that the light was already amazing. Then it got better. Rays of sunlight streamed through the channel and Matt gave the signal to paddle. We silently glided across the water's glassy surface and marveled at how the light made the moss-covered rocks glow. This was well worth the early wake-up call. In fact, I've never seen Nate and Matt so excited before. A loon popped up on the surface of the water and the full moon still hadn't set behind us. What more could one ask for?
Moments like these will be forever etched in our memories. Moments like these make enduring the portages and the rain and the bugs all worth it. Moments like these are why so many people fall in love with the Boundary Waters Wilderness. Sigurd Olson called it the "Singing Wilderness" and this particular morning was the epitome of that concept. The Wilderness was indeed singing a sweet song and all of us floating in our two canoes felt honored to have the opportunity to hear it. And this is why we are compelled to stand up for the Wilderness. If you have heard its song too-- or if you haven't yet, but want to hear it someday-- please speak up in its defense. Your voice is needed now more than ever. Please sign the petition to deny the Twin Metals leases. You have until July 20 to do so. If you are able, please go to Duluth on July 13 to speak up for the Boundary Waters. If you need a little dose of Wilderness right now, check out the Paddle to DC video made by Nate and the Bear Witness trailer made by Duct Tape Then Beer:
---
Dave and Amy Freeman, 2014 National Geographic Adventurers of the Year, are dedicated to protecting the Boundary Waters from sulfide-ore copper mining proposed on its wilderness edge. In 2014, they paddled and sailed 101 days and 2,000 miles from Ely, MN, to Washington, DC, on the Paddle to DC. They are now spending a year in the Boundary Waters on A Year in the Wilderness. Follow their journey on social media (#WildernessYear) and by tracking the trip on their map. More A Year in the Wilderness blog posts.
Save