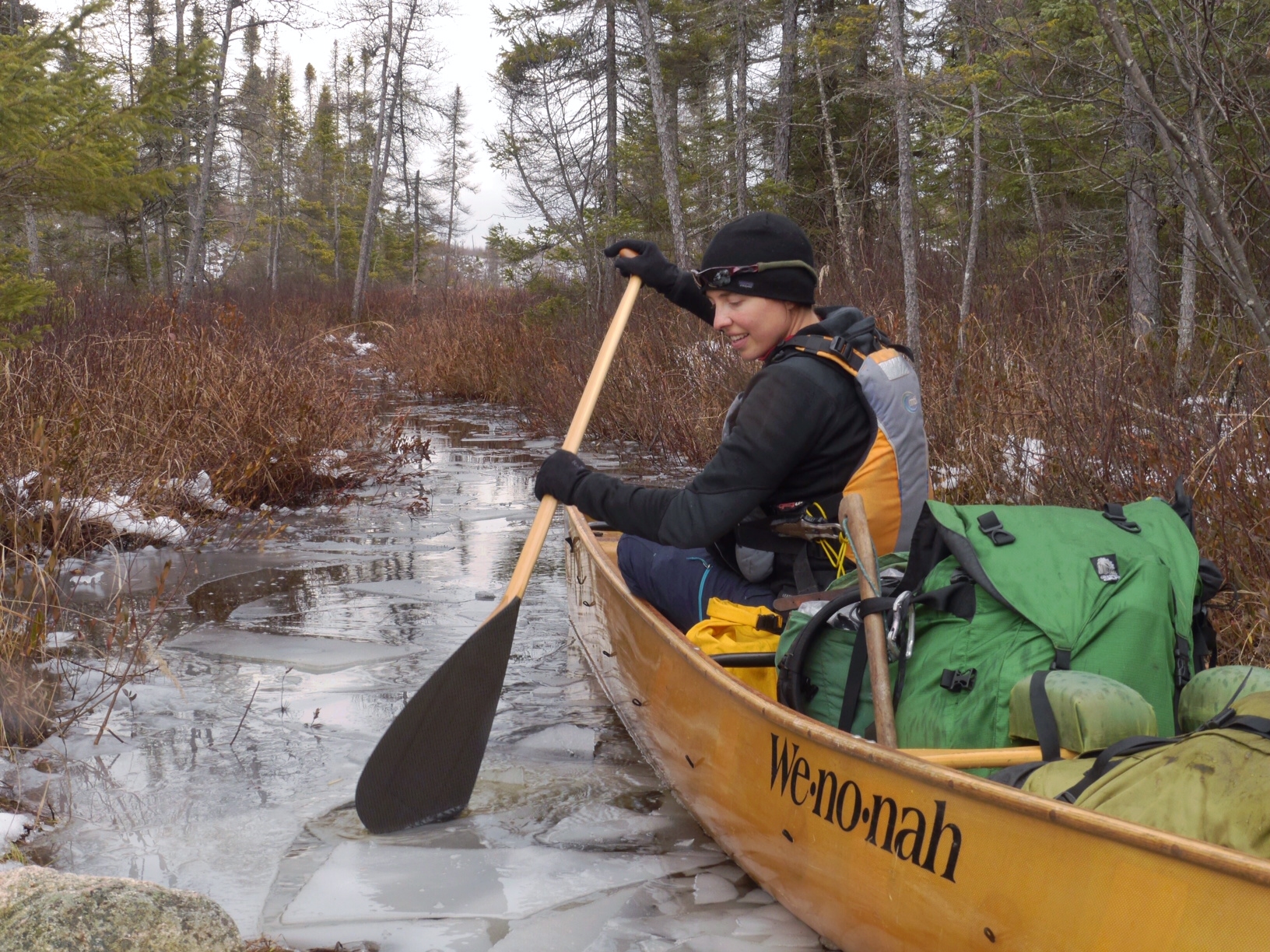 The wind is howling and big fluffy snowflakes tumble down the steep walls of our Seek Outside tipi tent. The radiant heat from our wood stove and an ample supply of dry, split firewood neatly stacked along the edges of the tent add to our sense of comfort and the homey feel of our surroundings. The strong northwest wind that is churning up Knife Lake blew in colder weather. We're hoping that the lows in the teens and twenties will cause the lakes to start freezing soon.
It is hard to know when exactly the lakes will freeze or how long the tenuous season, when the lakes are covered in ice too thick to paddle through but too thin to walk on, will last. On a shorter trip into the Wilderness this could be a nerve-wracking time to be out, fearing that the forecasted cold nights could freeze the lakes unexpectedly. Luckily for us, we are here for the long haul, with nearly a month's worth of food stock piled in our two 60-liter food barrels. Not to mention we have snowshoes, sleeping bag liners, and winter clothing neatly packed in a Granite Gear pack, tucked under our tarp, waiting for winter to arrive in earnest. 
On November 8, we were especially thankful that a hardy group of volunteers paddled up the snowy Moose Lake chain into the Wilderness to bring us our critical last resupply before freeze-up. Sitting in our tent, we are secure in knowing we have plenty of food and the proper equipment to wait for the lakes to freeze.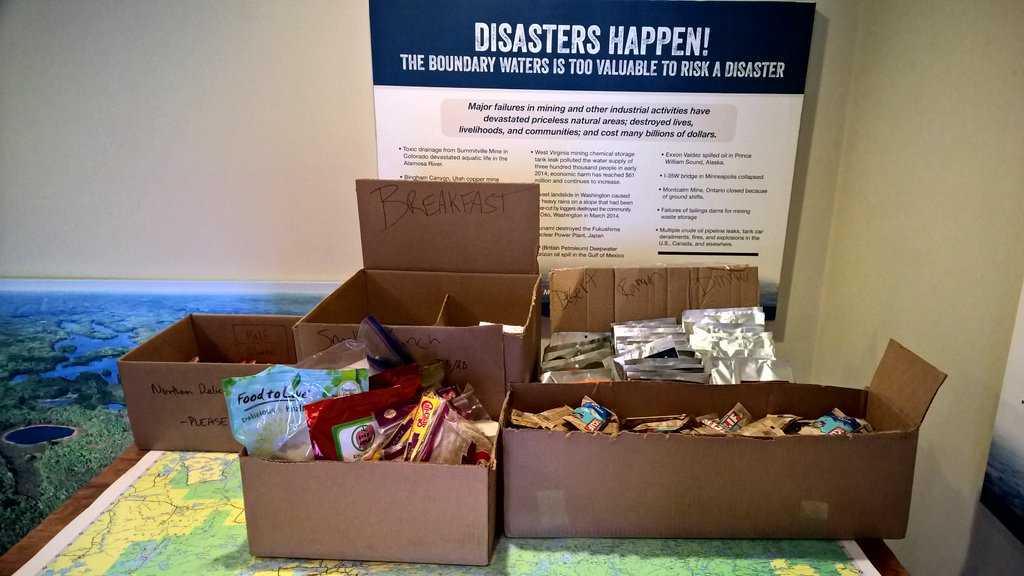 Levi Lexvold is the mastermind behind this extremely important aspect of A Year in the Wilderness. Levi runs Sustainable Ely, which is also an important hub of A Year in the Wilderness activity. Part of Levi's job is to purchase and organize all of the food that is brought in with each resupply and organize groups of volunteers who bring in those supplies. He also organizes all of the equipment that is brought in and out with different resupplies as the season change. 
A Year in the Wilderness would not be possible without the critical support that we receive from Levi and the volunteers who physically bring in our resupplies and help in many other ways. Volunteers have sent in honey from their beehives, homemade granola, baked goods, chocolate and other goodies. Several uber-volunteers are busy dehydrating fruits and veggies that are sent in with each resupply. Others are helping to organize A Year in the Wilderness parties, entering the scientific data we are collecting into spreadsheets, and a variety of other supportive tasks.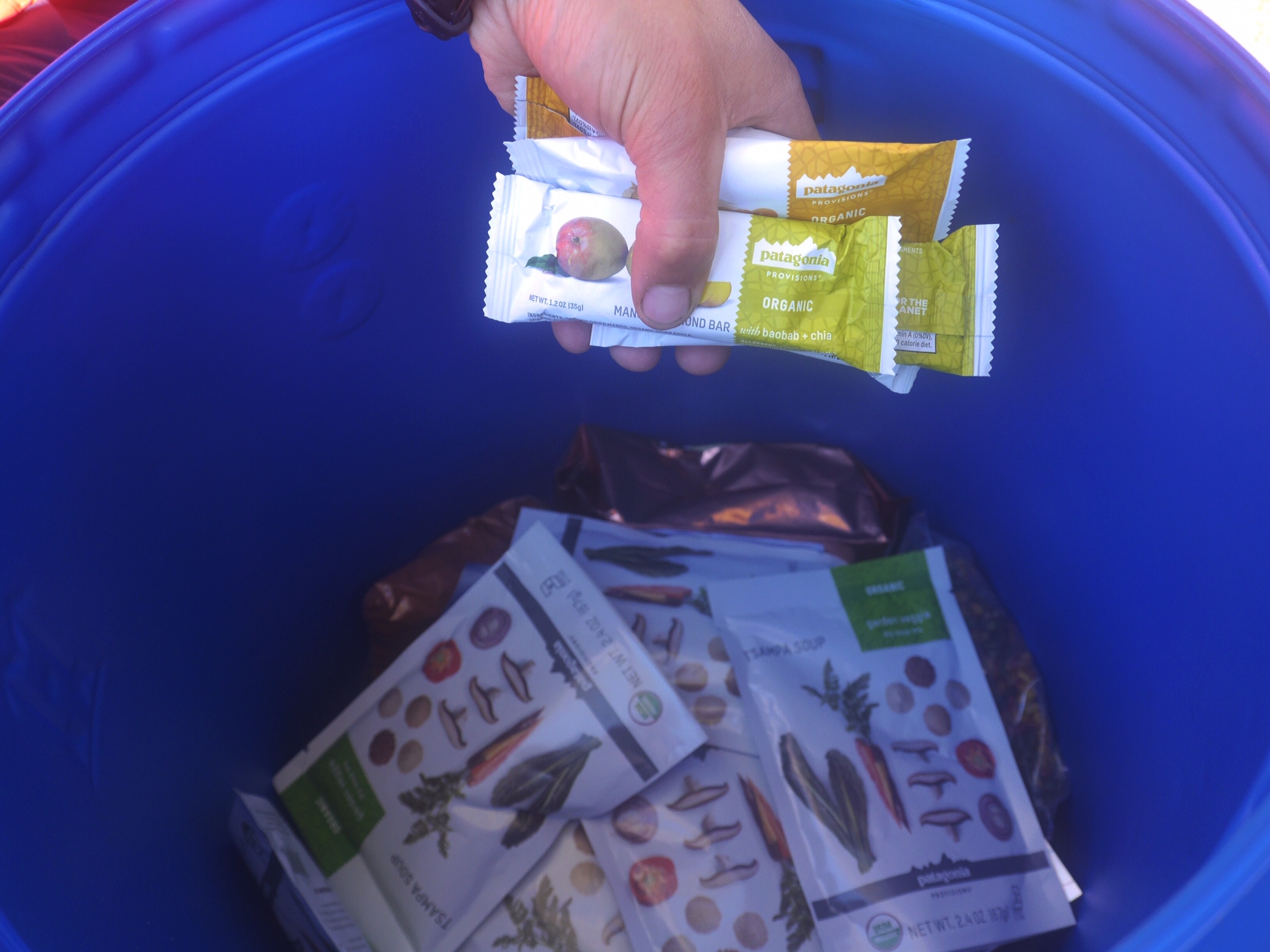 Amy and I are physically very alone and isolated out here in the Wilderness as the lakes begin to freeze, but we are comforted and inspired to know that we are a part of a much larger team working towards our shared goal of permanently protecting the Boundary Waters from sulfide-ore copper mining in the Boundary Waters watershed. 
You may wonder what is packed in those giant blue barrels, brimming with so much food they are hard to lift onto our backs. Levi packed our supplies in 10-day increments so that it is easier for us to manage our food, and we don't use up our chocolate, toilet paper, or other coveted items too quickly. Below is an example of the items packed in a typical 10-day re-supply. We have found that simple foods packed in bulk, like flour, oats, rice, cheese, milk powder, nuts, butter, dehydrated fruits and veggies and olive oil are nutritious, cost effective, pack well and store well. We are also very lucky that several companies have donated some delicious food to supplement our regular supplies. Patagonia Provisions, Trailtopia, Clif Bar, and Kakookies have all donated a wonderful assortment of food, which add nutrition and variety to our diet. We are also very excited to welcome our newest food supporter Stone Creek Coffee, which has offered to donate all the coffee we will drink for the remainder of our year in the Boundary Waters.
Our 10-Day Supply List

1 quart size bag of dehydrated apples
1 lb. grits
1 lb. granola
1 lb. oatmeal
1 lb. hot flax/whole grain cereal
1 lb. carrot cake mix
1 cup egg powder
2 lb.  whole wheat flour
8 oz. Klean Kanteen jar of honey
1 lb. coffee
1 lb. whole milk powder
1 quart size bag of herbal tea
1 lb. walnuts
1 lb. sunflower seeds
1 lb. fruit leather (made by Dave's mom)
4 lbs. Patagonia Provisions bars/Clif Bars
4 lbs. spaghetti
2 lbs. Basmati rice
1 lb. brown rice
2 lbs. lentils
0.5 lbs. tomato sauce powder
3 quart size bags dehydrated veggies
3 lbs. cheese
1 small container of olive oil
0.25 lb. butter
1 container parmesan cheese
1 lb. peanut butter
2 packets Patagonia Provisions salmon
1 lb. coconut oil
3 chocolate bars
2 Trailtopia ramen
6 Patagonia Tsampa soups
1 lb. turkey lunchmeat
2 packets of tortillas
8 oz. Klean Kanteen jar pesto
2 rolls of toilet paper
1 pack Sea to Summit Wilderness Wipes
Note: Before sending out our supplies, Levi removes any excess packaging and repackages anything that comes in a glass container or can into a durable, reusable container. He also reuses plastic bags and other containers whenever possible to help reduce the amount of waste we are producing. We send out all trash, recyclables, bags and containers to be reused, recycled or disposed of properly.
---
Dave and Amy Freeman, 2014 National Geographic Adventurers of the Year, are dedicated to protecting the Boundary Waters from sulfide-ore copper mining proposed on its wilderness edge. In 2014, they paddled and sailed 101 days and 2,000 miles from Ely, MN, to Washington, DC, on the Paddle to DC. They are now spending a year in the Boundary Waters on A Year in the Wilderness. Follow their journey on social media (#WildernessYear) and by tracking the trip on their map. More A Year in the Wilderness blog posts.