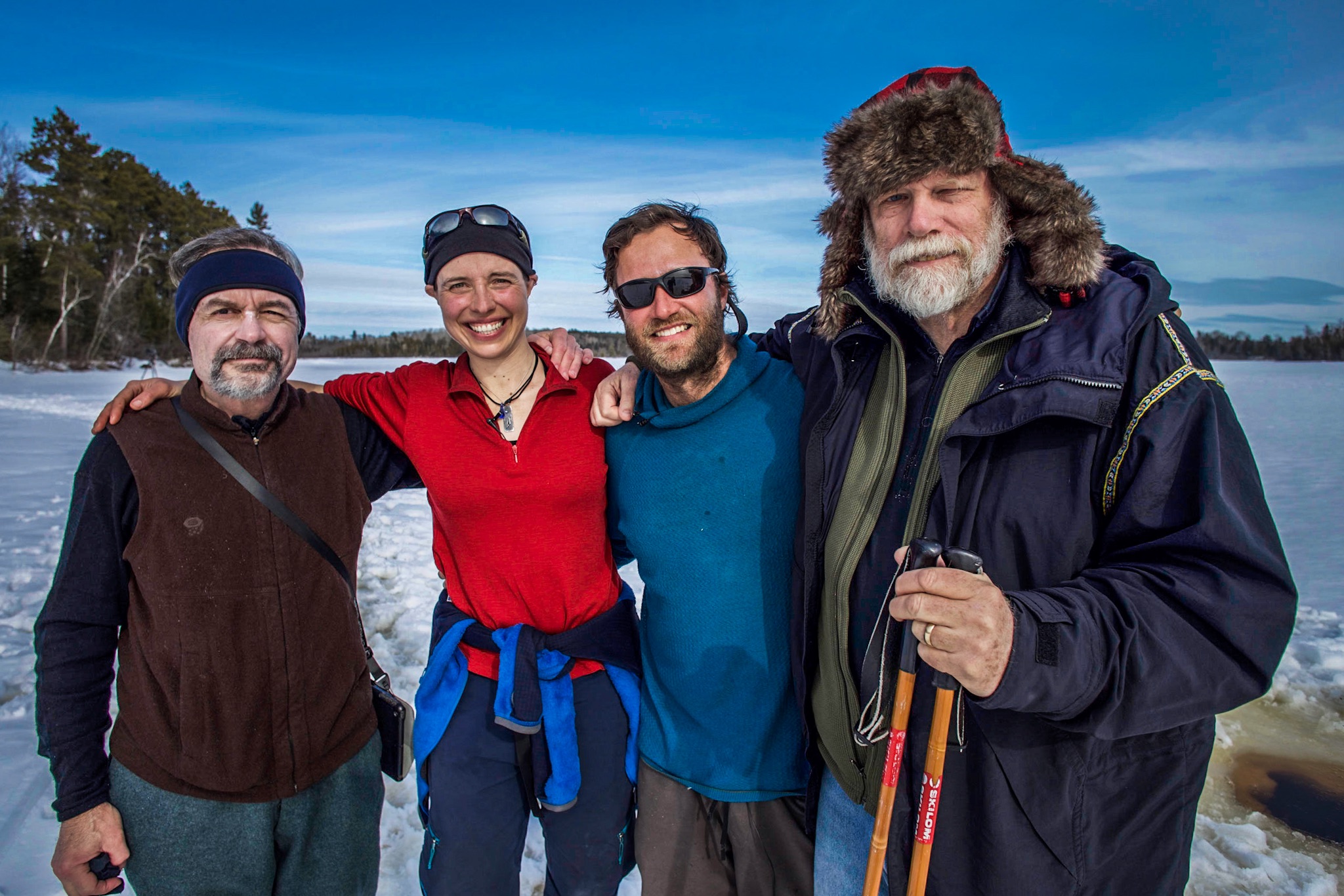 Today is day 162 in the Boundary Waters and we are camped on Fall Lake. We recently traveled from Tin Can Mike Lake to Pipestone Bay of Basswood Lake, then to Fall Lake.
We sat out some colder weather during our time in Pipestone Bay, as several inches of snow fell. As we took off, we planned our exit strategically, by heading out on a warm day. We figured that if we did hit slush, it wouldn't freeze to our skis and toboggans. We were pleasantly surprised to find that our skis, toboggans and dog feet stayed on top of an icy crust. What a difference! We cruised fairly efficiently across the bay, taking a short, wide portage into Back Bay.
Basswood is a massive lake, full of big, long bays that seem like lakes in and of themselves, especially considering that there are portages between the bays. It's interesting to do a portage, but still be on the same lake when you reach the other side. I'm glad we did it, because it cut off significant mileage.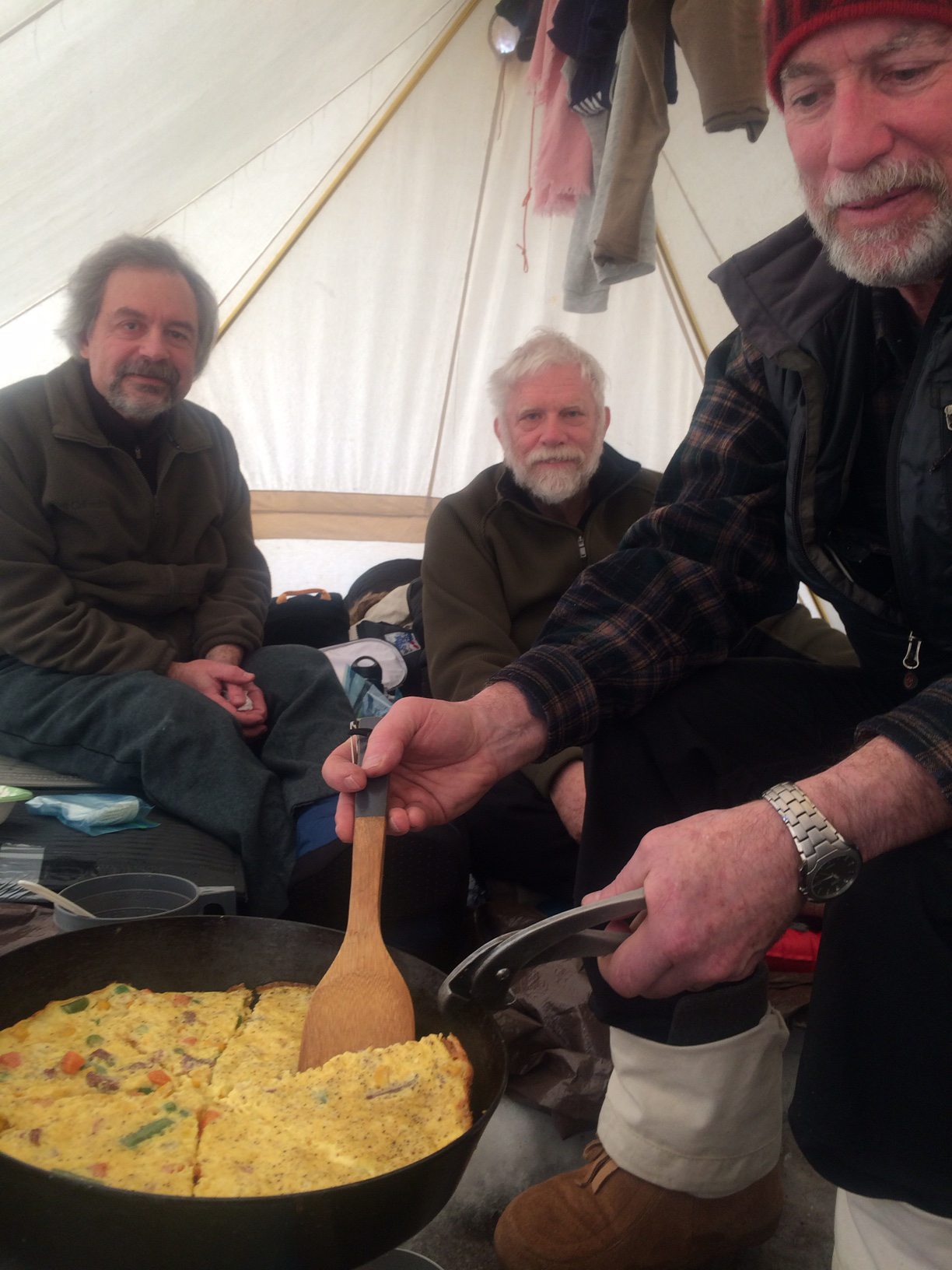 We were surprised that we couldn't find a well used dogsled trail in Back Bay. From Back Bay, we followed the lakeshore to Hoist Bay. Once we rounded a point, passing through a narrows, we saw several ice fishing shelters set up across the way. We also saw wolf tracks. I think these tracks followed older ones in the snow, because they went exactly in the direction we needed to go. Maybe that old track was left by us when we traveled through about a month ago. I looked down in front of my ski tips to see the dog tracks mixed in with the wolf tracks. Every once in a while, I saw what was obviously a wolf track, standing out because it was significantly bigger than the dog paws. The wolf that left this track was sizable.
As we cruised across Hoist Bay, a dog team headed towards the Four Mile Portage on the well-used trail. Tina, Acorn and Tank perked up their ears and suddenly they shifted into a new gear as they took aim for the dog team. Once our three-dog team turned onto this well-packed trail, they were unstoppable. Both dogs and humans enjoyed our trip across the Four Mile Portage to Fall Lake where we set up camp. The warm day gave way to a warm night. As we settled into unzipped sleeping bags, we heard wolves howling from somewhere to the north.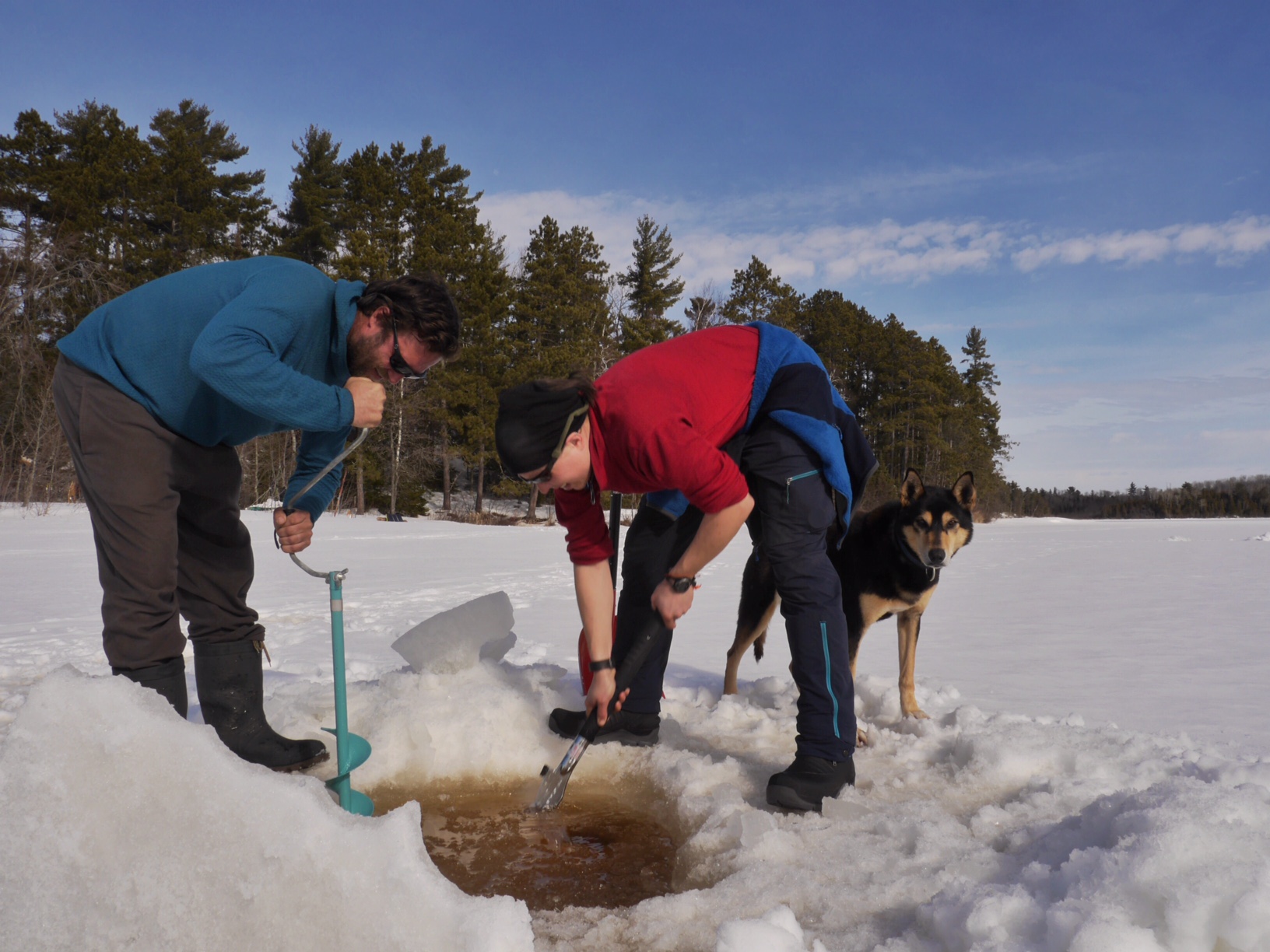 The next few days were filled with a steady stream of visitors, including both of our fathers, who camped out for a few nights, along with friend and fellow guide, Don Watson and Grand Marais-based artist, Neil Sherman. Neil spent several days painting in and around our campsite. We also had a few visits from day trippers on skis, on foot, and traveling by dog team. This meant getting significantly more food than our usual resupply-- including mangos, homemade banana bread and a bag full of fresh donuts from Britton's in Ely.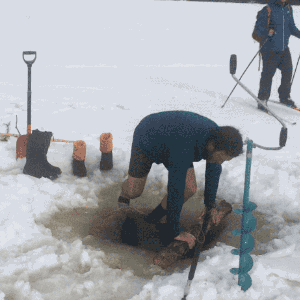 There's a little more to the donut resupply story. Five guys from the Twin Cities volunteered to trek out to our campsite, hauling our resupply of food. As they handed us the grease-soaked paper bag of donuts, they told us they heard that we really like receiving fresh vegetables and fruit in our resupplies– well, they said, they decided to go a different route. Dave quickly downed a donut the size of his head, while I slowly savored every bite. This crew happened to arrive on an unseasonably warm day. Because of the bluebird weather, Dave and I decided to take our monthly dip. The air temperature topped out at 46 degrees! As we greeted the resupply crew, we showed them the hole we had spent an hour digging with auger, axe and saw. It was big enough for a person to plunge in. I invited them to join us for a dip– and before we knew it, they used our tent as a sauna, and took a hurried dunk in the ice cold water. Dave and I were the last to go in. It was refreshing and felt quite good– after getting out of the water, down the path and back in the warm tent! We offered to reopen the ice hole for Neil, but he declined. Our dads didn't go for it either, claiming that at their age, they were concerned it would provoke a heart attack.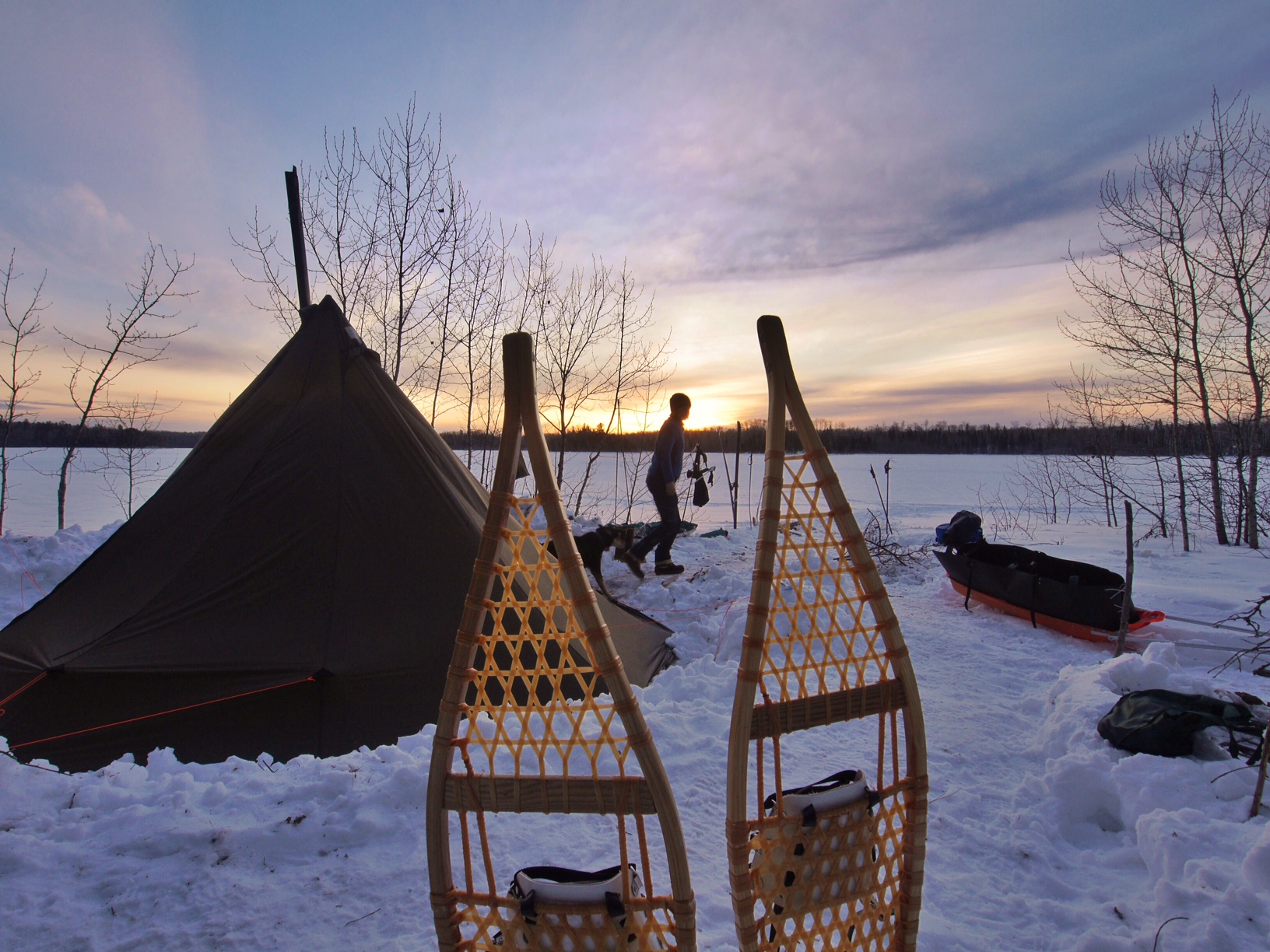 Cold weather returned, we got a dusting of new snow, and now it is impossible to tell that our polar plunge zone ever existed. There seems to be a steady stream of traffic on Fall Lake, as it is one of the major winter entry points for mushers, ice fishermen, winter campers and cross-country skiers. We've been here for four days and we've seen all of above each day. While the Boundary Waters sees the majority of visitors in the summer, it is definitely enjoyed by a variety of people in the winter as well.
[Top photo by Josh Bryant]
---
Dave and Amy Freeman, 2014 National Geographic Adventurers of the Year, are dedicated to protecting the Boundary Waters from sulfide-ore copper mining proposed on its wilderness edge. In 2014, they paddled and sailed 101 days and 2,000 miles from Ely, MN, to Washington, DC, on the Paddle to DC. They are now spending a year in the Boundary Waters on A Year in the Wilderness. Follow their journey on social media (#WildernessYear) and by tracking the trip on their map. More A Year in the Wilderness blog posts.