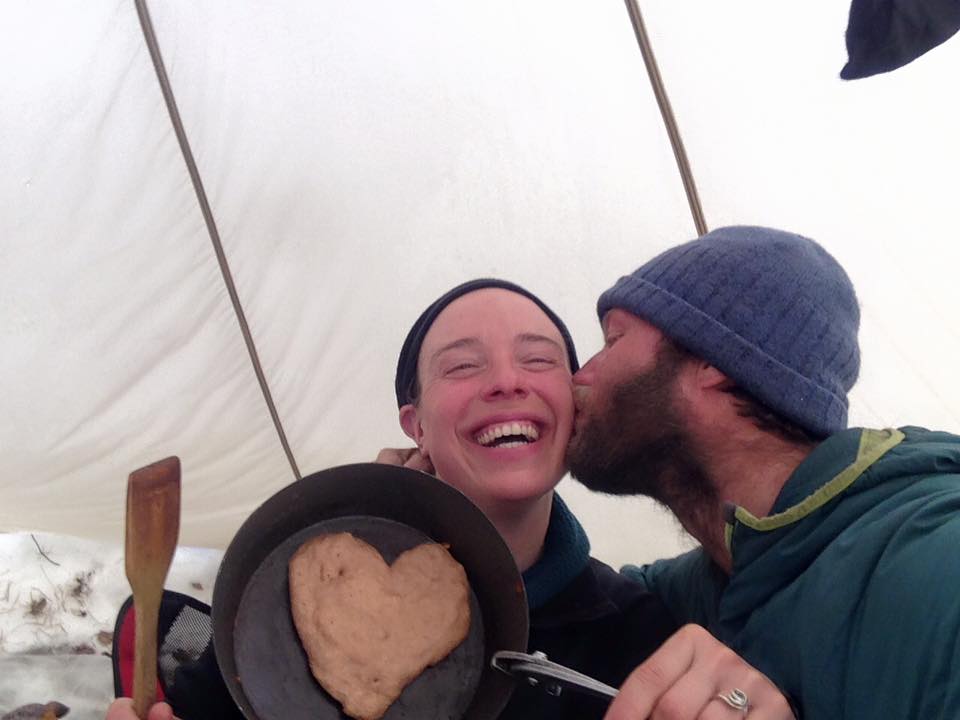 Dave and I are frequently asked, "How can you stand to spend so much time with your spouse?" We did manage to spend 366 days in a row in each other's company without killing each other. In many ways, our Year in the Wilderness was good for our relationship [Pictured: Valentine's Day during Year in Wilderness]. We are now closer than we've ever been and, in many ways, our relationship is better when we are out in wild places. In honor of Valentine's Day, we'll take a look back at the early days and how our love for each other is intertwined with our love for wilderness.
First of all, we met because we were both drawn to northern Minnesota. I was in graduate school in Chicago, but managed to escape every summer to guide kayaking trips on Lake Superior out of Grand Marais, Minnesota. Dave had just acquired a piece of land, eight sled dogs and office space above a kayak shop in Grand Marais. He was running this awesome educational nonprofit called the Wilderness Classroom Organization (which he still does). At that point, he had already traveled solo across the Boundary Waters in the winter, canoed the length of the Mississippi River, paddled dugout canoes in Peru and dogsledded in northern Canada. Before I actually met him, I knew I had to meet this guy.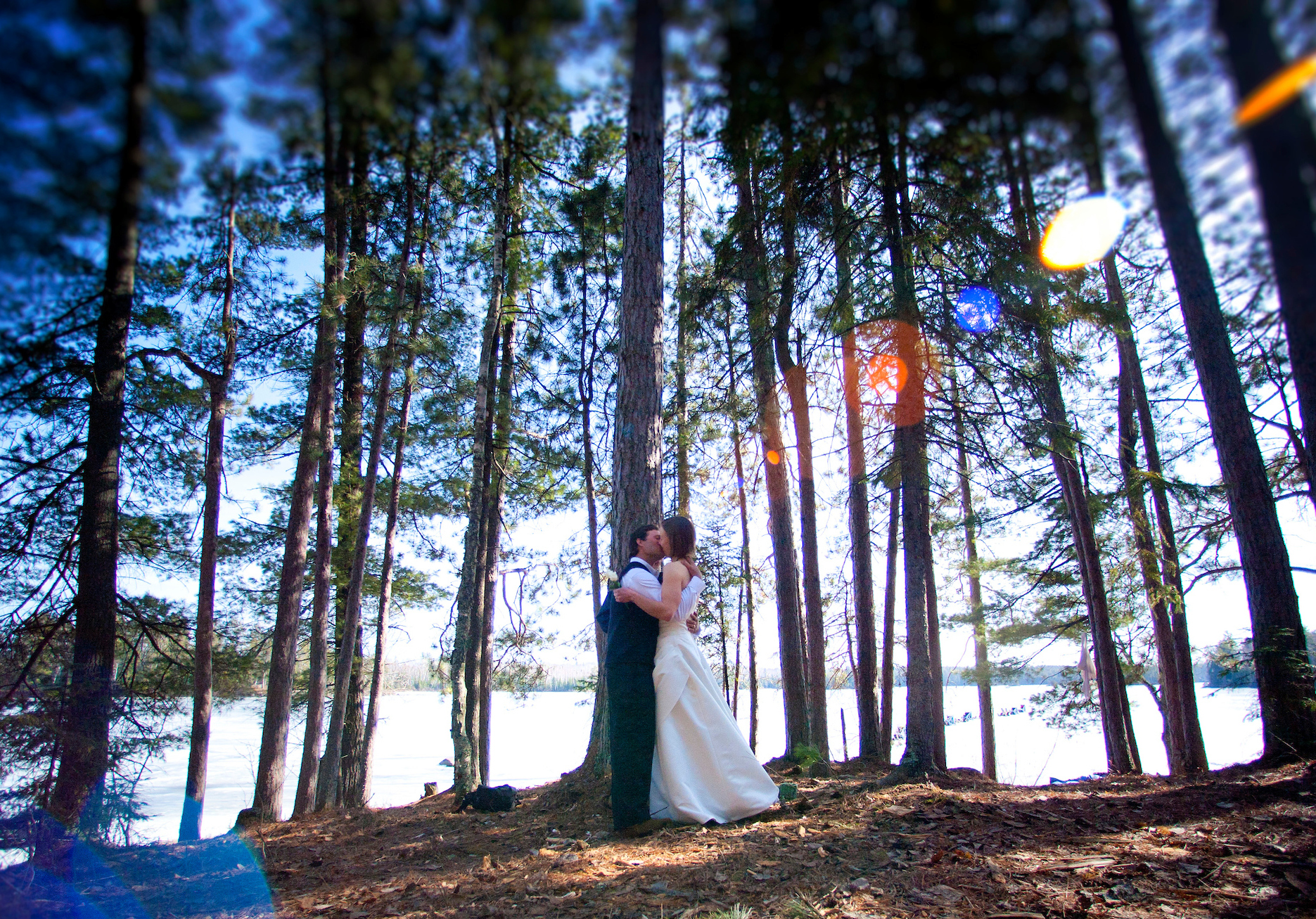 Fate stepped in, or rather the boss—John Amren. He asked Dave to guide the occasional kayak trip that summer and so we got to know each other. Even from the beginning, we were working together—and that is how it has been ever since, as we've guided kayak trips, canoe trips, dogsledding trips, and then crossed South America and North America under our own power.
Our first trip together was spent kayaking around Lake Superior in the fall of 2006. This came about from our time spent talking while paddling and sailing after work. Lake Superior is like an ocean—from Grand Marais, you can't see across the lake. That horizon line where the water meets the sky was calling. Every day I paddled up and down familiar stretches of shoreline and I wanted to know what was around the next point. I wanted to get to know the lake and the best way to do that would be to kayak around the whole thing. I had zero expedition experience, my longest trip prior to that having been a week in the Boundary Waters, but Dave apparently liked me, and Lake Superior, enough to give it a try. I drew strength from his confidence and know-how. We took off from the pebbly beach in the east bay of Grand Marais on the last day of August and returned a few days before Halloween. Our friends had taken bets, determining that after the trip we would either be together for the long haul or we would immediately break up.
Fast forward through biking and paddling across South America, years of guiding canoe and kayak trips—we were still together. We returned to northern Minnesota to guide canoe and kayak trips in the summer and dogsledding trips in the winter. We both attribute our love of wild places to our early experiences in the Boundary Waters. And so we came to see the wilderness-edge communities of Grand Marais and Ely as our home base.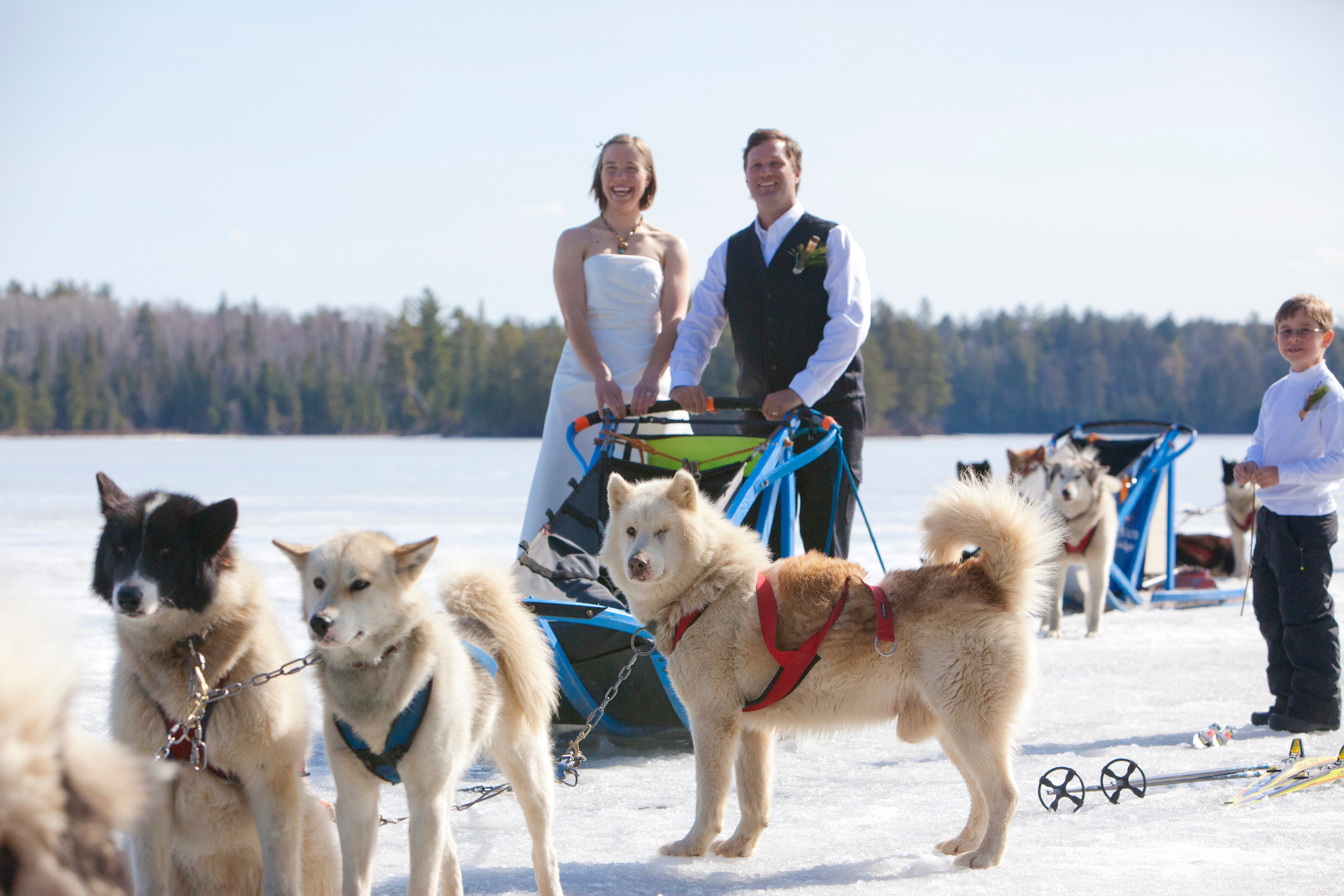 So when we finally decided to get married, we had a dogsledding wedding (The honeymoon suite? Not for this couple, Pioneer Press). Friends and family from the Twin Cities, Chicago, North Carolina, Kansas, Florida and Texas hiked, dogsledded, skied and skated out to our wedding reception on White Iron Lake (directly downstream from the proposed Twin Metals mine). It was the spring equinox of 2010 and the sun was out in full force. We stood under the towering red pines, the dog teams lined up out on the lake. Our dear friend and co-founder of the Wilderness Classroom, Eric Frost, married us and Paul Schurke shared the words of literary and wilderness conservation hero, Sigurd Olson. As the reception ended, all the dogs howled in unison and we hopped on a dogsled.
It was a day I'll never forget—and it wasn't just because I married my best friend and expedition teammate. It was because we successfully introduced a hundred of our relatives and closest friends to the north woods. That was the real motivation behind our dogsledding wedding. Memories of that day warm my heart because it was filled with love—love for each other and love of the wilderness.
This Valentine's Day, join us in sharing love for the Boundary Waters. Submit a comment to the Forest Service supporting the evironmental review of the watershed and share far and wide your love of this wild place.
---
Dave and Amy Freeman, 2014 National Geographic Adventurers of the Year, are dedicated to protecting the Boundary Waters from sulfide-ore copper mining proposed on its wilderness edge. In 2014, they paddled and sailed 101 days and 2,000 miles from Ely, MN, to Washington, DC, on the Paddle to DC. From September 23, 2015 to September 23, 2016, the Freemans spent A Year in the Wilderness, camping at approximately 120 different sites, exploring 500 lakes, rivers and streams, and traveling more than 2,000 miles by canoe, foot, ski, snowshoe and dog team. They documented their year and will continue to share their stories on social media (@FreemanExplore, #WildernessYear) and in blog posts. A documentary about their journey, Bear Witness, premiered fall 2016. A book about their year will be published by Milkweed Editions in fall 2017.
Save
Save
Save
Save
Save
Save
Save
Save
Save