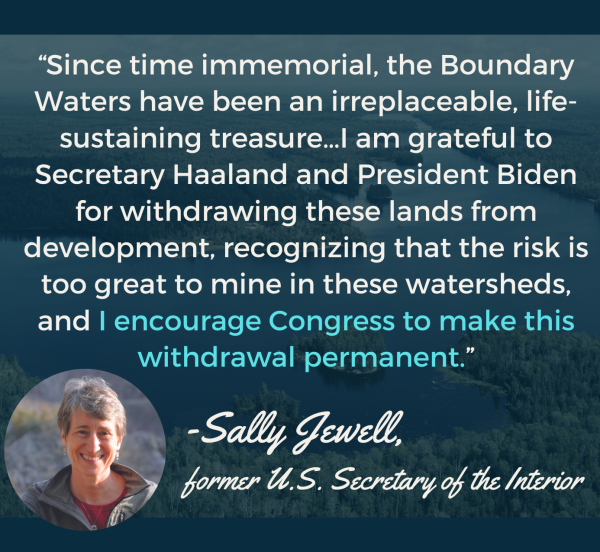 Here's what we've got to do:
Harness the momentum, energy & attention from the recent announcement to codify these protections in statute - through laws passed by Congress and the state of Minnesota.
→ Boundary Waters champion U.S. Rep. Betty McCollum has again introduced her bill to permanently protect these federal lands from copper mining.
→ Our Boundary Waters protection bill is racking up co-sponsors in the Minnesota legislature.
Ensure protection (and adventure!) for all – The only future for conservation is one where everyone is welcome in the movement, no matter our backgrounds. We must continue to empower those who are too often excluded from or face barriers to outdoor recreation and advocacy. Together we can help ensure that the popularity of the Boundary Waters means future officials (Presidents, for example) won't find an easy path to remove protections.
→ We partner with the many organizations and camps in our region that focus on access to outdoor experiences for youth, people of color, the LGBTQ+ community, people with disabilities, and more.
→ Our youth-led Kids for the Boundary Waters program is training the next generation of Boundary Waters advocates.
→ The 375 members of our Boundary Waters Business Coalition are a powerful business voice for protecting this valued and valuable landscape.
Use rock-solid science and the law - We'll continue to research and compile the best information to make the expert scientific and legal case for protection of the Wilderness.
→ Our first-of-its-kind environmental lawsuit: we sued the MN Dept. of Natural Resources over Minnesota's old mine siting rules that don't protect the Boundary Waters.
→ We fight courtroom and public opinion battles against the deep-pocketed mining industry using facts, expert science, and the law.
The Boundary Waters Wilderness, Voyageurs, Quetico - this vast wild boreal forest & lakeland recreation treasure - is vitally important for people and the planet.
From the editorial board of Minnesota's major newspaper
The Star Tribune: A Historic Step to Protect the BWCA
"Haaland's order constitutes conscientious natural resources leadership. It also safeguards an already thriving sector of the regional economy — the outfitters, resorts and other businesses that rely on a pristine BWCA. Another leader deserving praise is Becky Rom, an Ely native, grandmother and former attorney who has led this David-vs.-Goliath fight against Antofagasta.
But there's still work to do. Permanent protection still must be implemented to prevent future chicanery from undoing BWCA protections or letting them expire. Legislation authored by U.S. Rep. Betty McCollum, D-Minn., would do that and merits swift passage. State lawmakers also must pass Sen. Kelly Morrison's bill to put mining restrictions on state land in the BWCA watershed."