Northeastern Minnesota consists of protected forests and waterways on public lands. Between the Superior National Forest, Boundary Waters Canoe Area Wilderness, and Voyageurs National Park, there are millions of acres that make up the region called "the Arrowhead." Each year, thousands of people make the trip to enjoy these natural spaces.
More people visited the Boundary Waters in 2020 (165,918) than 12 National Parks. The popularity of the Boundary Waters Canoe Area often leads many to ask why it isn't a National Park, but its Wilderness Area designation has a very sensible purpose.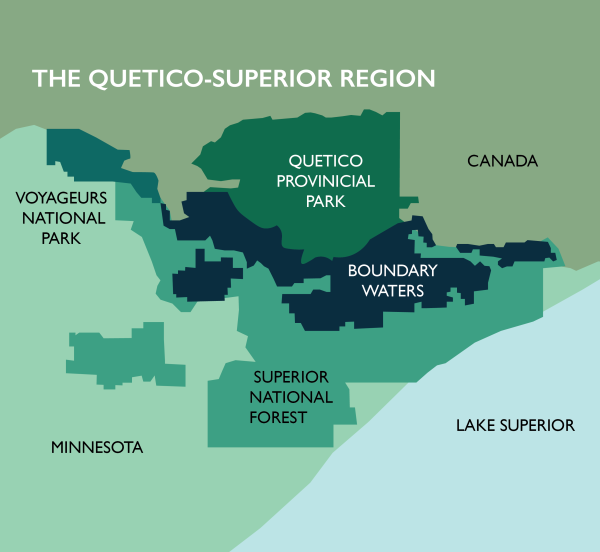 What makes a National Park and Wilderness Area different?
While both the Boundary Waters and Voyageurs National Park are public land, their respective titles carry key differences. Namely, the level of administration and development within each area depends on that designation.
As a Wilderness Area, the Boundary Waters remains mostly untouched by development and is managed by the U.S. Forest Service. Small watercraft with horsepower-limited engines are allowed on only a small number of lakes near the exterior of the Wilderness and infrastructure is minimal. Most of the camping done within the Wilderness is backcountry camping, as opposed to the more developed campsites found in State and National Parks. A Wilderness Area can sit within a National Park or National Forest, but it always aims to keep that designated area unspoiled.
The National Parks Service, meanwhile, focuses on managing responsible tourism in its National Parks. For example, Voyageurs National Park features more on-site staffing, park infrastructure, and allows much wider use of motorized boats than the Boundary Waters. The land remains well-protected, but the experiences in a Wilderness Area and National Parks are very different.
Want to test your knowledge on Voyageurs National Park and the Boundary Waters Canoe Area Wilderness? Take our quiz!
Two public land gems that deserve protection
The Boundary Waters and Voyageurs National Park have a remarkable thing in common: their lakes are pristine and their forests unspoiled. While they differ in size, both areas are made up of carbon-capturing boreal forests and many protected waterways.
Unfortunately, these areas don't just share natural qualities but also threats to their preserved ecosystems. The pollution from proposed toxic copper mining near the Boundary Waters would have disastrous effects on the water throughout the Quetico-Superior Ecosystem. The waters of Voyageurs National Park and the Boundary Waters Canoe Area Wilderness are naturally low alkaline, meaning they would be unable to buffer the damage from acid mine drainage.
The best way to protect both of these beloved areas of public land is through an act of Congress. U.S. Rep. Betty McCollum has introduced the Boundary Waters Wilderness Protection and Pollution Prevention Act (H.R. 2794), which would permanently protect against risky sulfide-ore copper mining in the headwaters of the Boundary Waters and Voyageurs National Park. Join us in telling Congress to pass this critical piece of legislation.