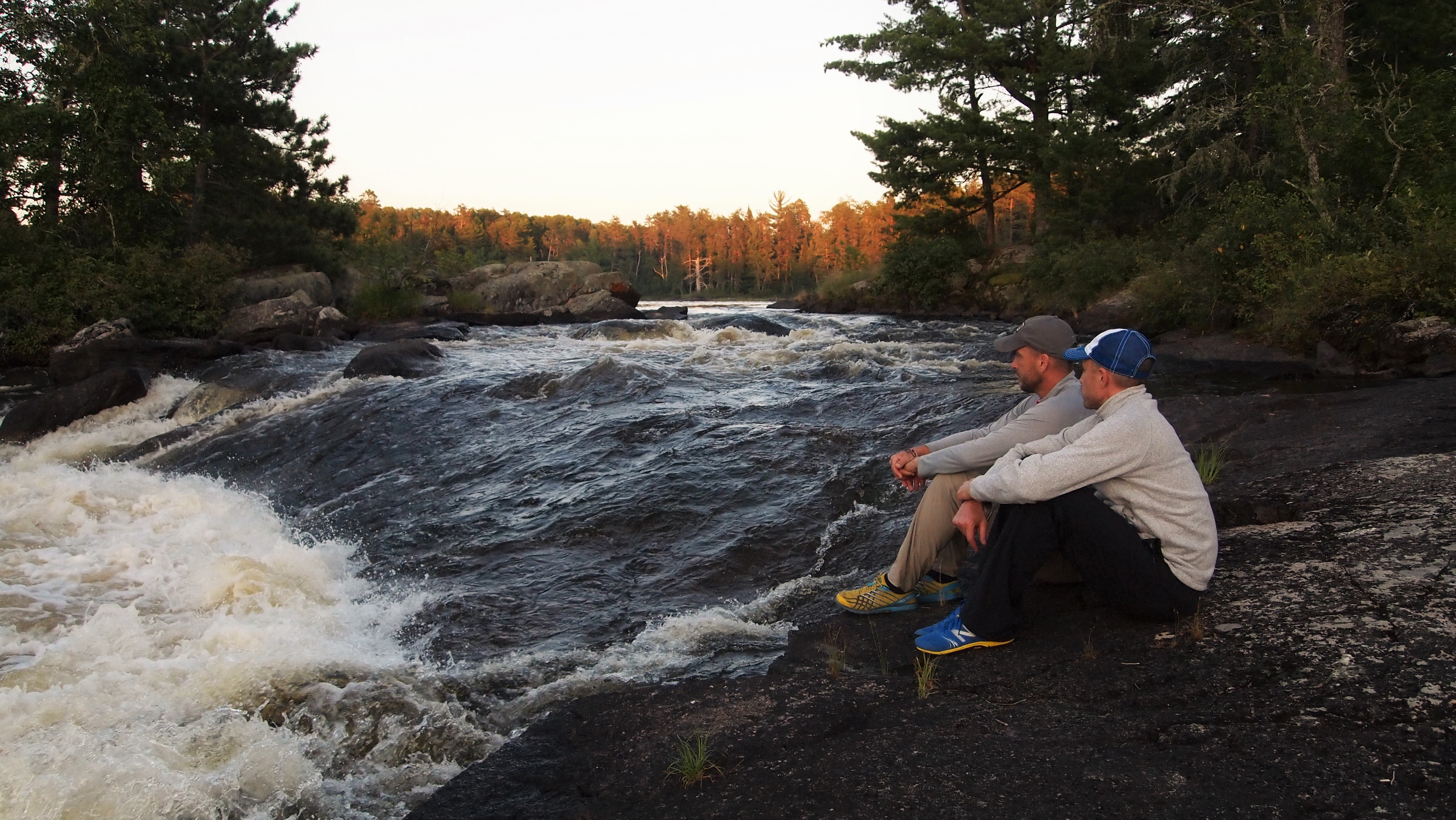 My husband and I married each other in the Boundary Waters. We both couldn't think of any better venue considering our first date took place in the same remote wilderness. We read vows to each other in a place that holds significant meaning to us. Our love for the BWCA remains strong and steadfast and we have visited every year since we met. My husband continues to use the metaphor of canoeing being very much like our marriage; whether we are on smooth glass or choppy waters, as long as we communicate the ultimate direction of our goal, we will never be lost.
Corey and I met at an open gym volleyball night in south Minneapolis. The next day I had to move to Missouri for a 6 month nursing travel contract. During that time, Corey and I kept in touch through texting, phone calls, and social media which definitely triggered some chemistry. That same summer while I was still living in Missouri, 2 friends of mine were begging me to take them into the BWCA for their first trip. Since canoe trips (in my opinion) work better with an even number of people, I decided to take a risk and ask Corey if he would be our 4th person. His enthusiastic "yes" was the start of him and I having our first date in BWCA.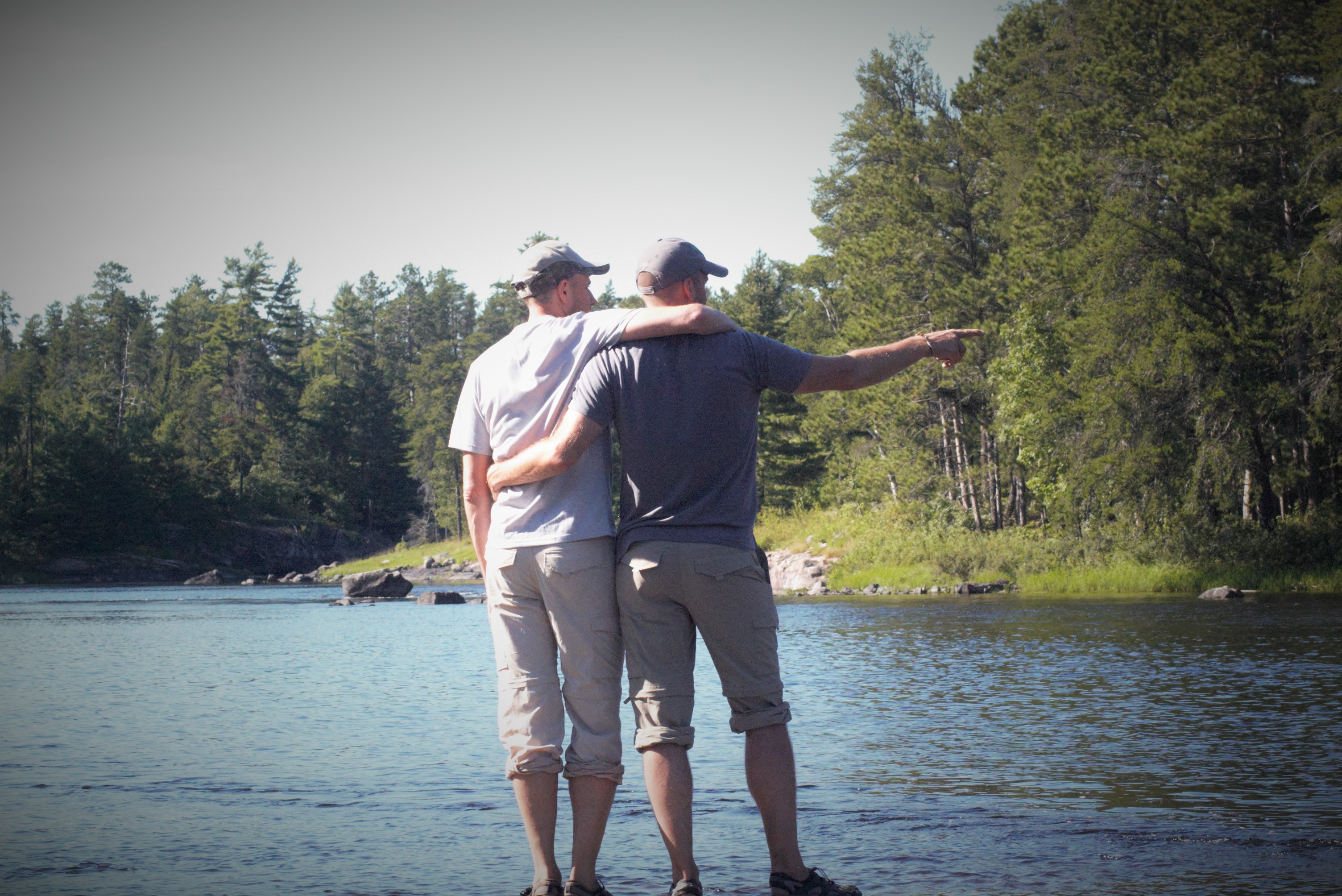 Our first date trip was amazing. I got to guide 3 newbies on their first trips. We all got along great and my reservations about Corey quickly were shattered the more time we spent together cooking, pitching tents, slinging up our food pack, and relaxing campfire nights supported with the help of boxed wine.
We entered in Fall Lake and did the windy tour up to Basswood. I assumed since Corey had never paddled before that it would be best if I steered the back of the canoe and he provide the forward momentum. I quickly realized he was way too strong, so we swiftly switched roles. He was now in control of the canoes direction and I had more time to keep an eye on where our ultimate destination would be. I felt comfortable paddling with him. He was a natural paddler and learner and loved hearing little pearls of wisdom I had about paddling and map reading. I quickly realized how easy it was to fall in love with someone as I got to know him on the open water.
That first trip was so much fun. We had bears in our site (eating left over desserts) which we were able to scare off and watch swim away to Washington island. We sipped wine at night at the campfires and interacted with the curious Canadian Grey Jays birds who seemed to enjoy our presence.
Each day on this first date trip I knew I was falling in love with this guy. He was into all things camping and never complained about anything. He showed all of us how to fish and we even had to rescue him from falling into the lake as he was wrestling a large mouth bass from out from the water above a rock cliff. Our trip ended with us both realizing we were meant to start dating. We've never been apart since.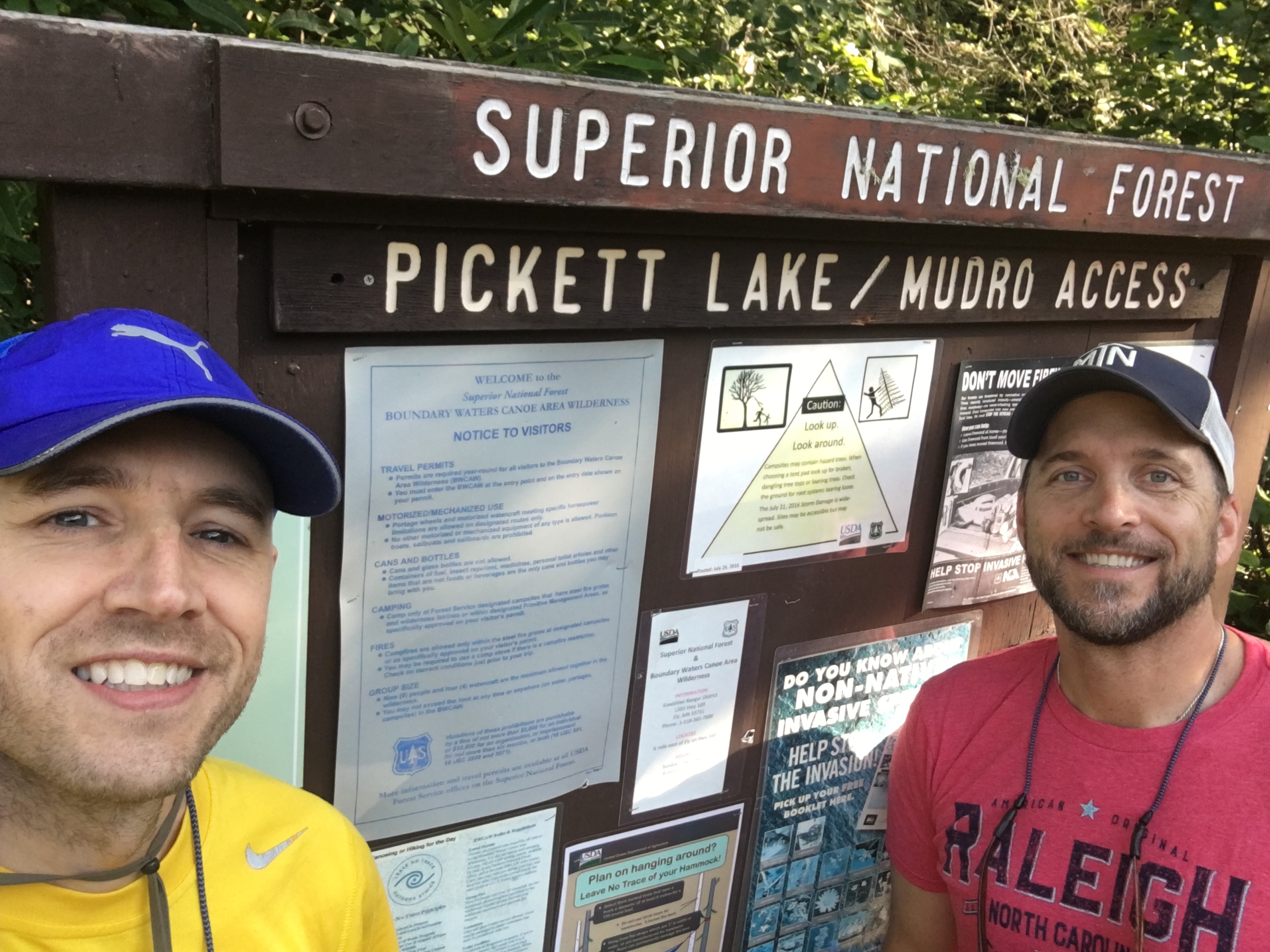 Fast forward three years. After getting engaged on a cold starry night on Lake Nokomis, it was wedding planning time. We debated, like most couples, on what our families wanted for our wedding. In the end, we both agreed that the BWCA was the place our hearts wanted to tie the knot. Knowing we couldn't invite basically anyone, we asked our family and friends to write us intimate letters of encouragement about love and marriage. We took all these letters with us and read them each night around the campfire. In this way our closest supporters were still able to be present with us in spirit. A highlight of our marriage for sure.
Our wedding canoe trip also started in Fall Lake. We were a group of four once again. Our other two companions were our amazing close friend who got ordained for us and her boyfriend who was an enthusiastic photographer. We had no destination set in mind of where we would marry. We decided to paddle and move each day knowing we would both mutually agree on the perfect spot when it revealed itself. We decided to wind our way up through Pipestone Bay and over into Basswood near the famous Basswood Falls. Eventually we found the perfect spot; two separate waterfalls cascading into one forming the start of the long and windy Basswood river - something we both intuitively noted as being symbolic to our soon to be union. I wrote my vows, Corey fished, and our friends decorated the site for our celebration.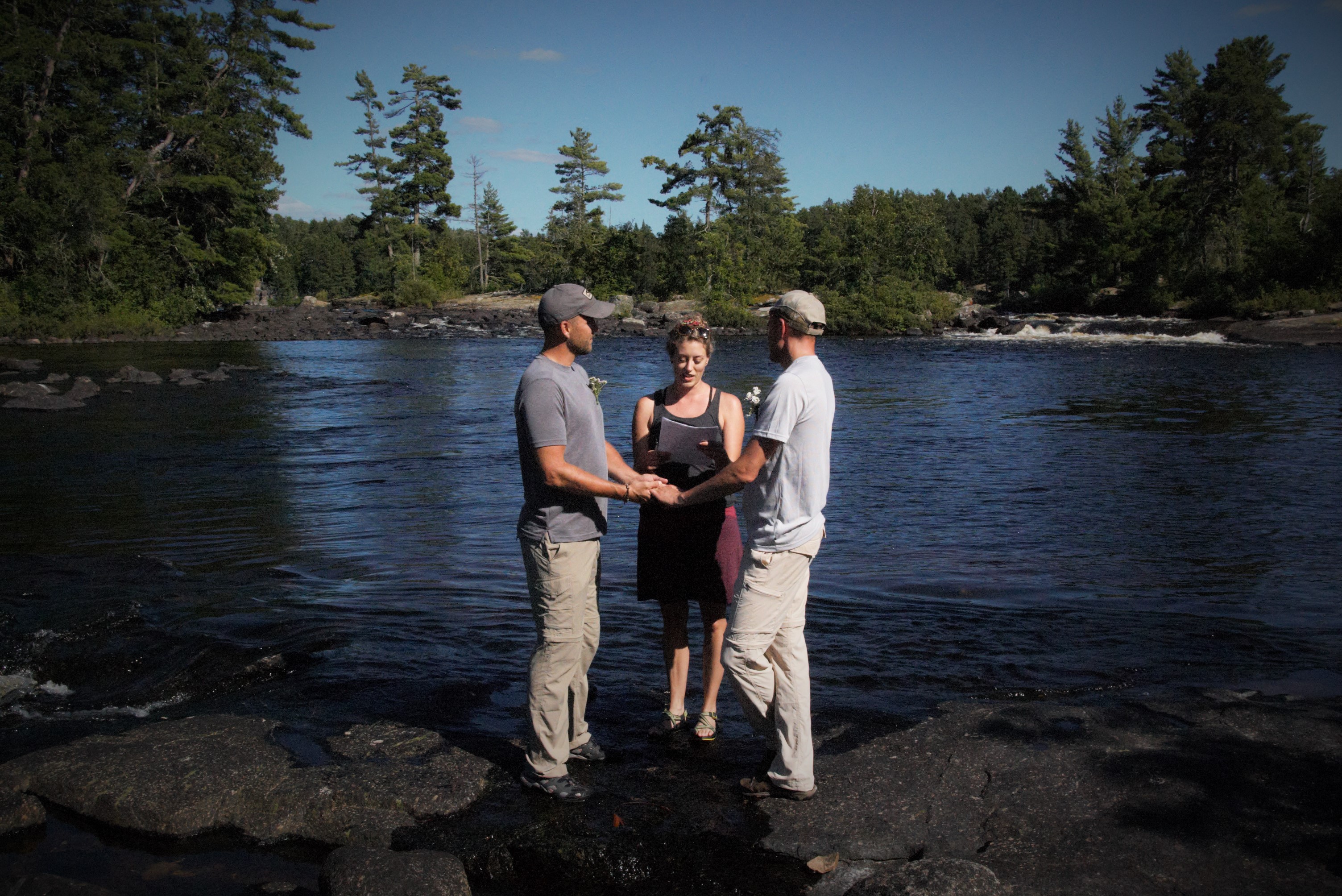 The wedding ceremony was magical. We stood on flat rocks along the river with the water flowing through our sandals and the sun shining bright. Our boutonnière corsages were made by hand from the wildflowers abundant in our campsite. We committed ourselves to one another, eagles flying overhead with the Canadian border just behind us. There was a gentle breeze and the sound of cascading water with the majestic falls in the background. After, we celebrated with a playlist of music and drank boxed champagne. We strung a burlap "Just Married" sign on our canoe and spent several more memorable days and starry nights and even got to see the Perseid Meteor shower. The rest is history.
We continue to go to the BWCA each year. Some years we go alone to reflect on ourselves and our marriage, and other years we bring friends who have never been to help guide them on their first trips to our favorite place. Our story of marriage is special to us and we continue to spread the word and advocate for the most amazing place on planet earth, the Boundary Water Canoe Area Wilderness.