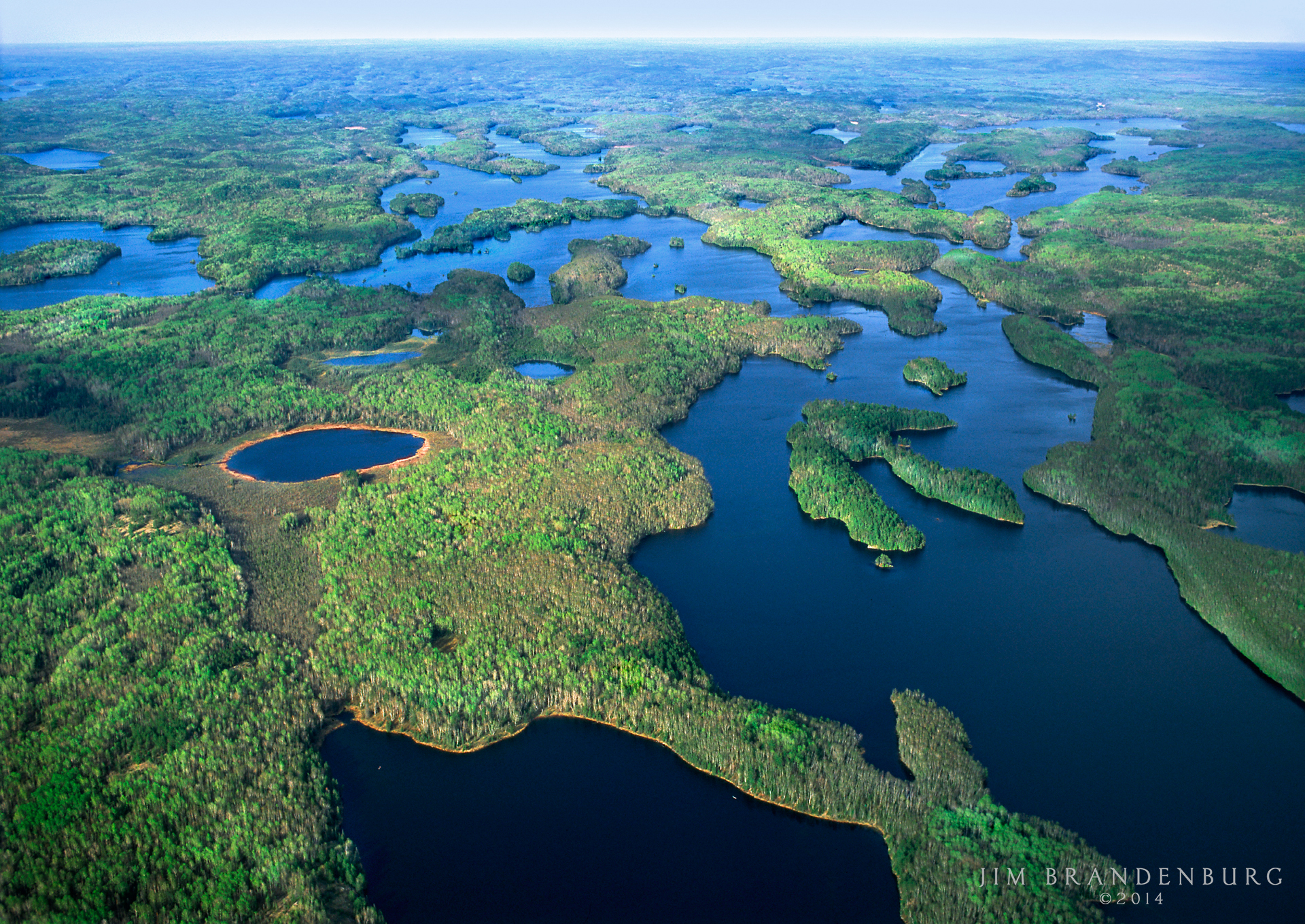 The Boundary Waters Canoe Area Wilderness is America's most visited Wilderness. A sulfide-ore copper mine at the edge of the Wilderness threatens the purity and ecosystem integrity of the Boundary Waters. This type of mining is a form of hardrock mining; the EPA lists hardrock mining as the industry that generates the largest source of toxins in the nation. This type of mining does not belong next to the Boundary Waters. Northeastern Minnesotans for Wilderness (NMW), the parent organization of the Campaign to Save the Boundary Waters, is leading the effort to ensure permanent protection for the water, air, plants and animals of the Boundary Waters Wilderness for future generations.
The Boundary Waters is located on lands that were and are the homeland of the Anishinaabe peoples (also known as Ojibwe or Chippewa).
LEADING THE FIGHT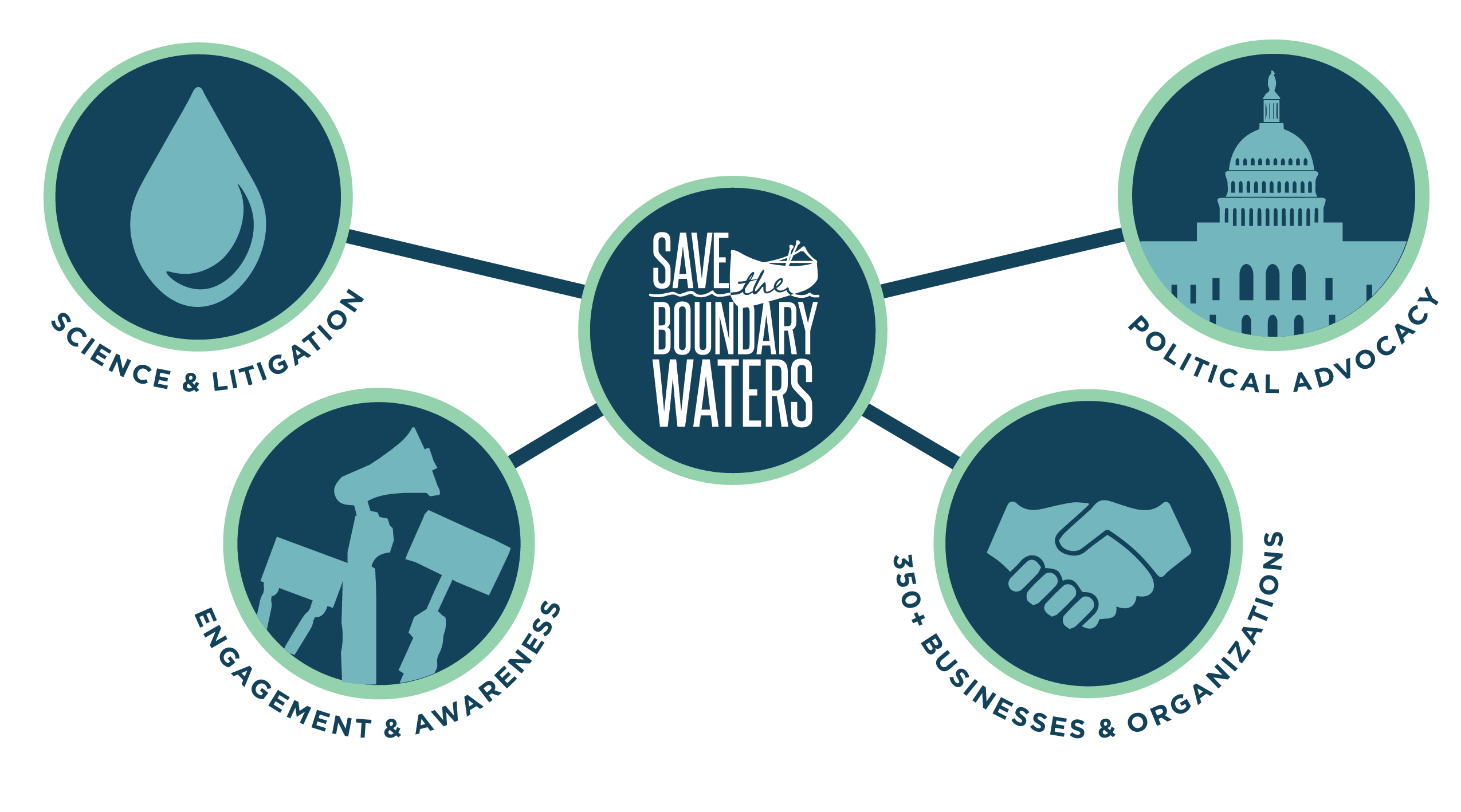 The Campaign to Save the Boundary Waters is strategic in its efforts to protect America's most visited Wilderness by implementing a multi-pronged protection approach. 
POLITICAL ADVOCACY: We educate elected officials and bring awareness to the dangers of sulfide-ore copper mining on the edge of the Wilderness. We also lobby and meet with lawmakers on both the state and national levels to encourage them to protect the Boundary Waters. 

SCIENCE & LITIGATION: We spend time and money to conduct and assemble scientific research and studies, and engage in litigation when necessary. 

ENGAGEMENT & AWARENESS: We reach a wide audience to raise awareness about the Wilderness and the threat of sulfide-ore mining to supporters around the world. We participate in public input processes and also have a robust outreach program that creates, educates and informs Wilderness ambassadors across the country. 

BROAD COALITION: Beginning in 2013, we prioritized building a credible, science-based campaign supported by a broad coalition of businesses, veterans, hunting and angling groups, youth, Indigenous people, students, conservation groups, Boundary Waters paddlers, and many more allies across the nation. Today, we've reached over 400 businesses and organizations.(Learn about the Boundary Waters Business Coalition. )
We do all of this and more in order to ensure the permanent protection of the Boundary Waters Canoe Area Wilderness, and you make it possible. Rush a year-end gift today.

WHERE WE WERE 
During the Obama administration, the Campaign to Save the Boundary Waters worked to:
Elevate Boundary Waters protection from a local Minnesota priority to a national issue

Attack the issue from a proactive, protective posture instead of defensively
In 2016, Twin Metals Minnesota, the mining company owned by Chilean mining giant Antofagasta, had their expired mineral leases cancelled; a mineral leasing ban was proposed that would prevent new mineral leases and prospecting (exploration) permits.
After the 2016 elections, we found ourselves facing a hostile administration that did everything in its power to advance a Twin Metals mine on the edge of the Boundary Waters. Our Campaign to Save the Boundary Waters fought hard against the Trump administration to:
Slow down the federal leasing and review process, and incorporate science into decision making

Build additional political power and support

Elevate the issue for presidential candidates

Release polling by Republican and Democratic pollsters

Push back on political interference and untruths, and push forward science and public input

Engage Members of Congress to oppose the mine
Trump did everything he could to make it happen but there's still no mine.
Below is just some of the critical work we are doing at both the state and federal level, through advocacy, legal challenges, and legislation introduced by Boundary Waters champions. 
 

State

Federal

Lawsuits
 

 

In June 2020, NMW sued the Minnesota Department of Natural Resources (DNR), alleging that Minnesota's laws are inadequate to protect the Boundary Waters because they allow a sulfide-ore copper mine to be built upstream of the Wilderness. 

 

This ground-breaking lawsuit was brought under the Minnesota Environmental Rights Act (MERA).
 

 

NMW and its partner The Wilderness Society are lead plaintiffs in three federal lawsuits challenging unlawful actions to advance sulfide-ore copper mining on public lands in the Superior National Forest, just upstream of the Boundary Waters.
 

Legislation
 

Throughout 2020, we worked closely to build Boundary Waters champions in the Minnesota Legislature.
 

In October, Minnesota House Members announced that they would be introducing a state Boundary Waters Protection Bill in 2021. This bill is complementary to H.R. 5598, a bill pending in Congress.

 

In January 2020, Representative Betty McCollum introduced H.R. 5598, The Boundary Waters Wilderness Protection and Pollution Prevention Act.
 

Through our federal advocacy and outreach program, we are generating Congressional support for this bill and working towards a Senate companion bill.

Environ. Impact Statements

And Other Reviews

Our staff of science, policy, and legal experts leads a coalition of groups and a team of two dozen scientists preparing detailed technical comments for two mine plan environmental reviews (separate state and federal reviews) scheduled to begin in 2021. 

 

This is the fifth federal public comment process on the Boundary Waters that our team has supported with technical comments based on high quality scientific and economic analysis.

 

Our outreach team is prepared to support and encourage citizens to engage in the public comment periods. More than 250,000 public comments have been submitted during past Boundary Waters comment periods.
 
WHERE WE ARE GOING 
The results of the 2020 elections made it absolutely clear that Minnesotans support protection for the Boundary Waters; they rejected politicians who would allow sulfide-ore copper mining on the edge of this Wilderness. 
President-elect Biden won the state in a contest that highlighted the Boundary Waters and northeastern Minnesota, where, according to the New York Times, "residents had broadly rebuked the Trump administration's move toward approving a mine near the Boundary Waters."
This doesn't come as a surprise - our polling from July 2020 showed that 68% of Minnesotans support permanent protection of the watershed of the Boundary Waters. Mining in this place is opposed by a 39-point margin. 
With an incoming federal administration that values science, the law, and public input, we can take this fight to a new level.
The coalition behind this monumental effort is led and funded by Northeastern Minnesotans for Wilderness. Without your support, the fight to protect the Boundary Waters from sulfide-ore copper mining would not be where it is today. We bring together the collective voices of those who love the Boundary Waters.
We have an opportunity to protect the Boundary Waters for good. Help us continue our momentum into 2021 by donating today.