"Why does the Boundary Waters need to be saved?" I was asked that question in late August when I joined nearly 100 others in volunteering at the Campaign to Save the Boundary Waters booth at the Minnesota State Fair. I was happy to answer questions like that by sharing how the proposed sulfide-ore copper mining threatens the wildlife, habitat, interconnected waters and surrounding communities of the Boundary Waters.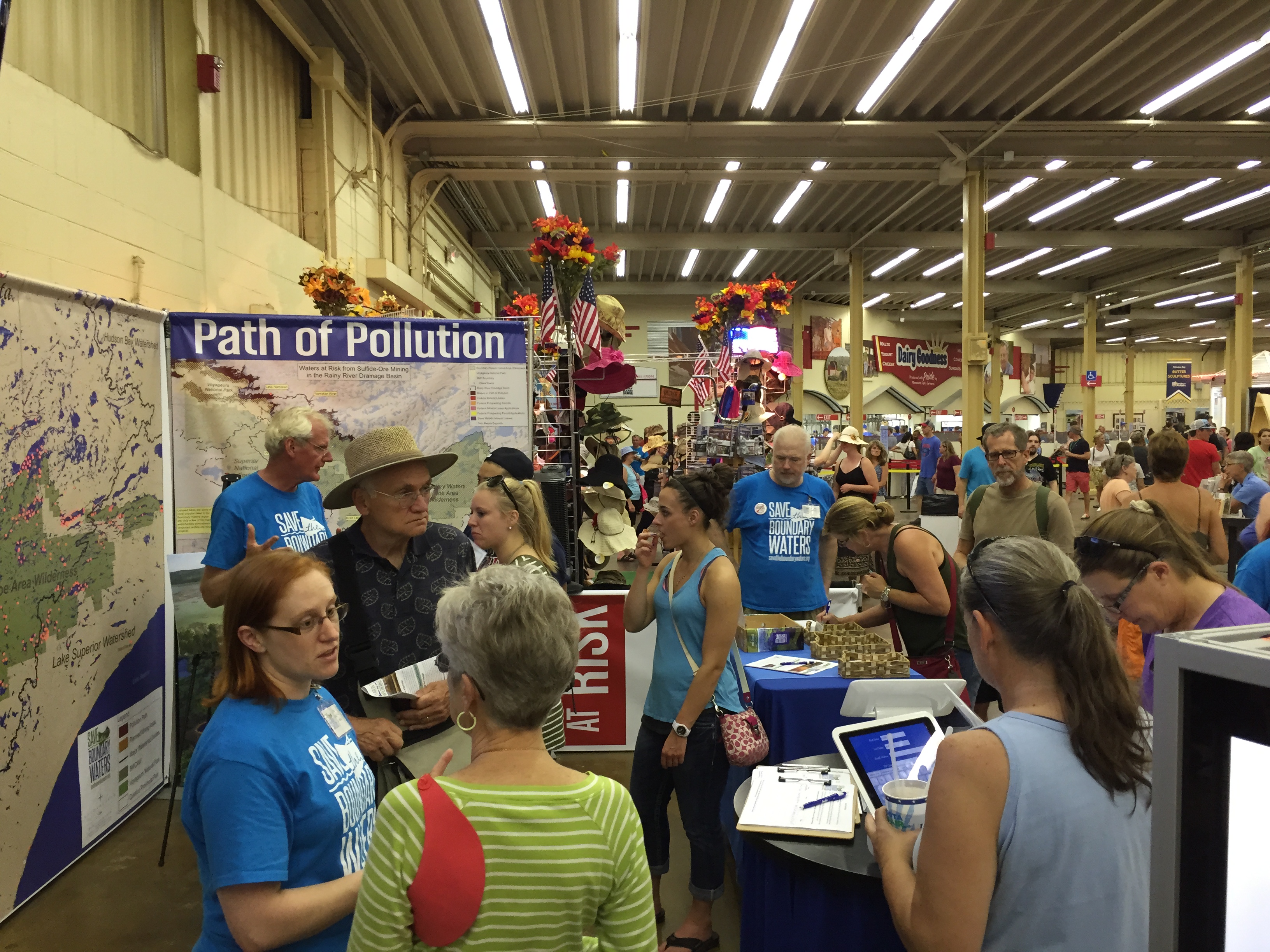 Located to the right of a sausage stand and across from the turkey booth in the Dairy Building, our exhibit at the Great Minnesota Get Together featured expansive color maps of this spectacular wilderness area, three iPads for those who were interested in signing our pledge, a prize wheel where you could win fabulous prizes (aka "free stuff at the Fair"), a large video monitor showing our new animation video and a photo kiosk with a wilderness backdrop where people could send themselves a memento of their support.
As the morning wore on, orange stickers dotted the maps as people selected their favorite places in the Boundary Waters. And then the iPad screens had to be cleaned after being touched with fingers that had already seen their share of greasy fried food! One of the main benefits of being at the Fair is the sheer volume of people you can reach – we had seven staff members and volunteers at our booth and were consistently busy throughout my shift.
And, as we were in the Dairy Building, it seemed like everyone who walked by or stopped at our booth had ice cream. (I decided my favorite was the strawberry rhubarb sundae. I also decided that Great Old Broads for Wilderness was my favorite of all the partners listed in the booth.)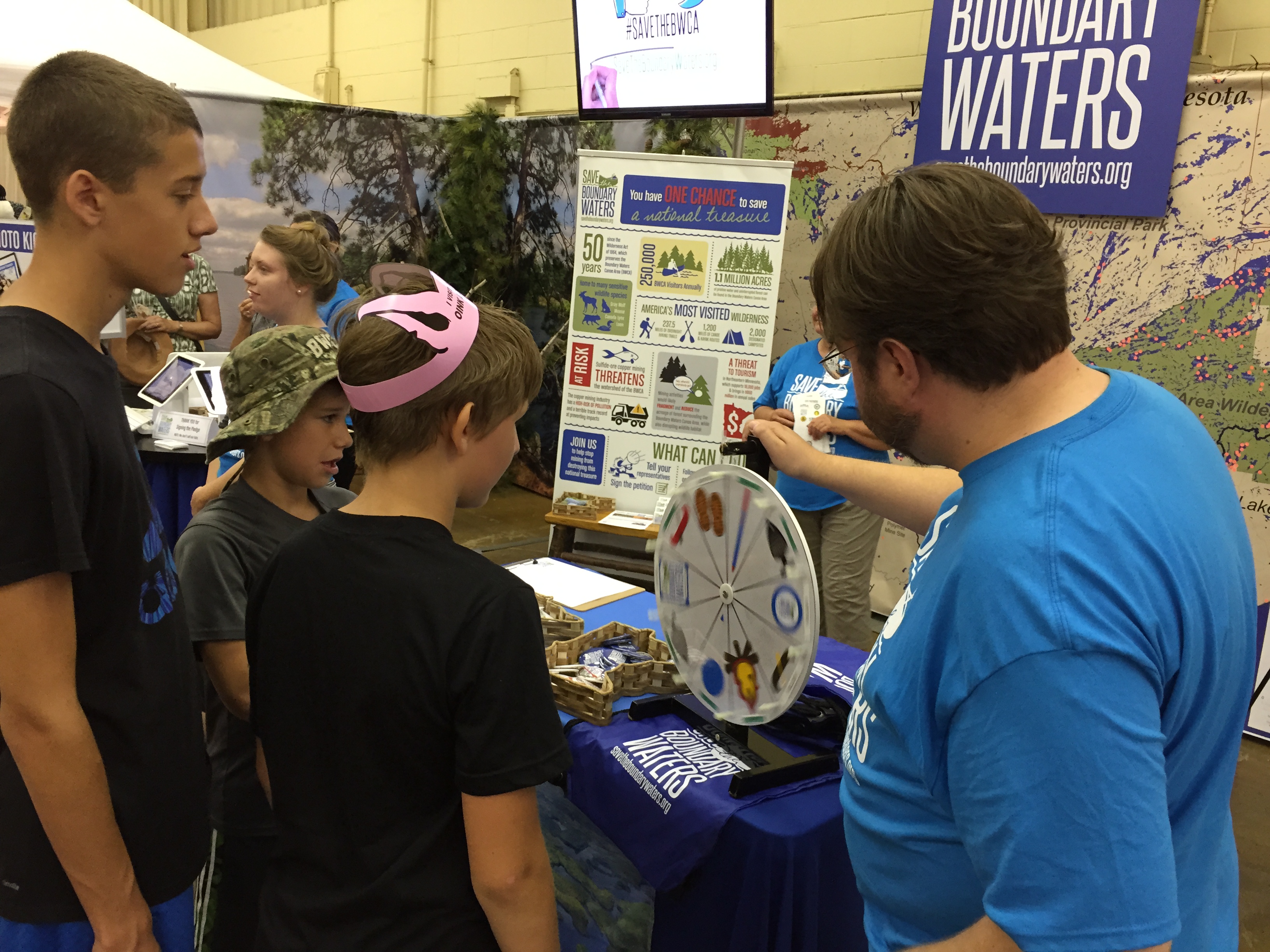 The overwhelming majority of people I had the chance to chat with were either unaware of the issue and interested in learning more or already knowledgeable about the topic and eager to sign our pledge. Several people thanked me for being there and one gentleman, with a look of bewilderment on his face, said "I don't see how this is even a question." It seemed one woman had specifically sought out our booth. With a very serious expression on her face, she saw our petition and asked, "Where do I sign?" In addition to Minnesotans, we had visitors from Ohio and Illinois who weren't familiar with the Boundary Waters, but had enjoyed their time at national parks and appreciated the efforts to conserve those areas.
A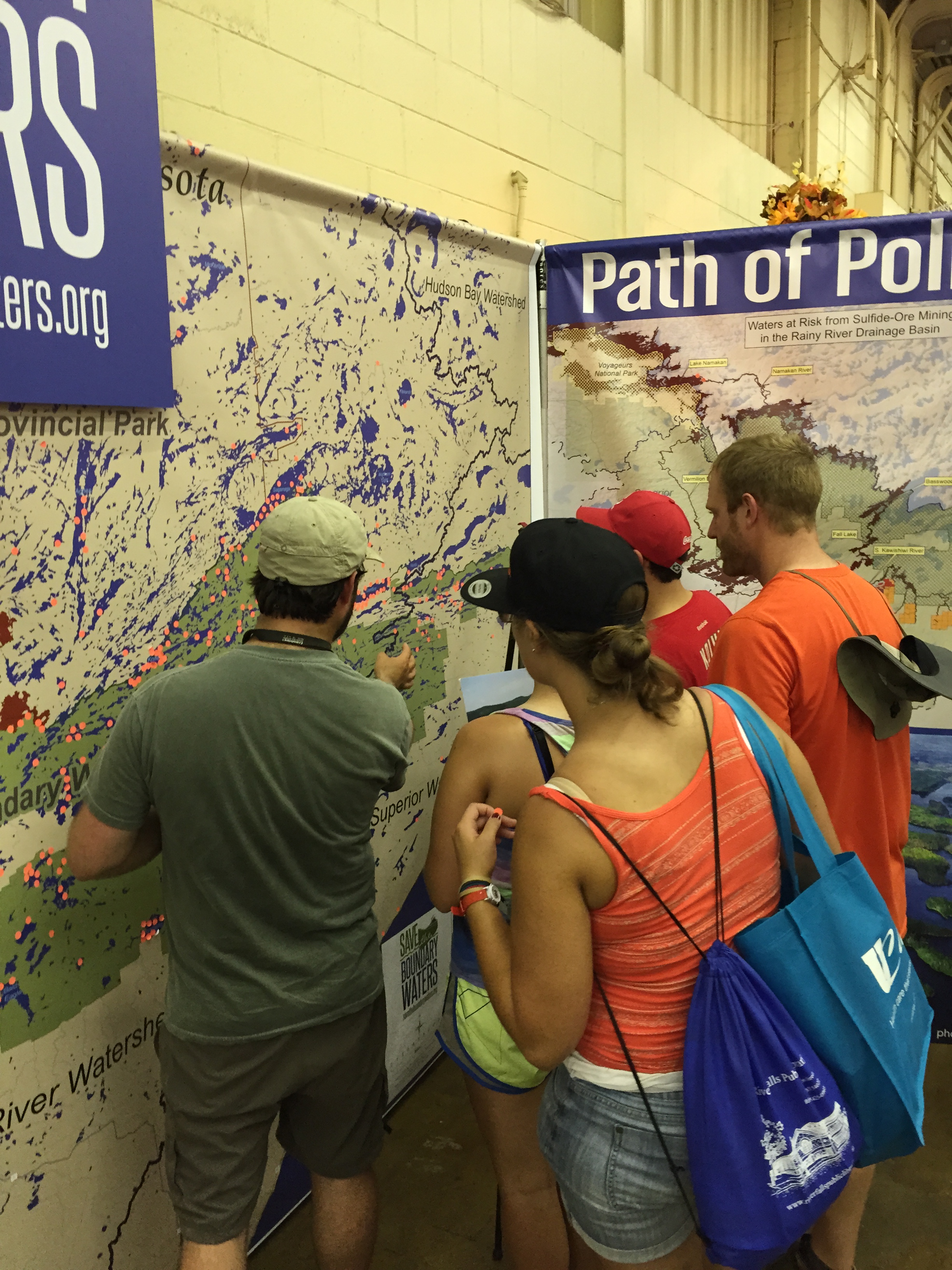 s with most exhibitions, a few people politely declined to take our information (and one man memorably said, "I don't want to know nothing about nothing") but I was impressed because when I left to spend the rest of the day at the fair with my family (it's a tradition), we had already collected nearly 300 signatures – pretty amazing for the first morning! I have portaged some of the lakes and used a few of the campgrounds in the Boundary Waters so I know firsthand what a privilege it is to have this pristine wilderness right here in Minnesota.
After all the deep fryers have been turned off and another state fair is in the books, the work of the Campaign to Save the Boundary Waters continues. Onward!
During the 12 jam-packed days of the Minnesota State Fair, 90-some volunteers helped in the booth, more than 9,000 people signed our petition and more than 1,300 people and families used our photo kiosk to send pictures to decision makers.