It's Volunteer Appreciation Week and we are highlighting our awesome volunteers! Learn more about Tom Bose.
Why do you want to protect the Boundary Waters?
We have so few national treasures left. We have a responsibility to our children and our grandchildren to pass those few to them untarnished. Among the national treasures, the Boundary Waters is the only canoeing wilderness – absolutely unique for us. Would we tear down Independence Hall to build an office complex? Nor should we damage the Boundary Waters for a handful of 30-year jobs. We need to stay true to our responsibility to our children and grandchildren.
When did you first volunteer?
Cannot remember for sure. Four to five years ago. I remember Becky Rom made a presentation at the Minneapolis Club. As folks were leaving, I asked how I might volunteer.
Why do you like volunteering for the Campaign?
Multiple organizations are working along multiple lines to protect the Boundary Waters. Among those organizations the Campaign is most focused. The Campaign has a clear goal: permanent protection in legislation banning sulfide ore mining in the watershed of the Boundary Waters. The Campaign has a strategy to achieve that goal and is executing on the strategy.
What is your favorite event you've ever volunteered at?
The State Fair. You meet folks from all over the state from all sorts of backgrounds. Many leave the booth as supporters.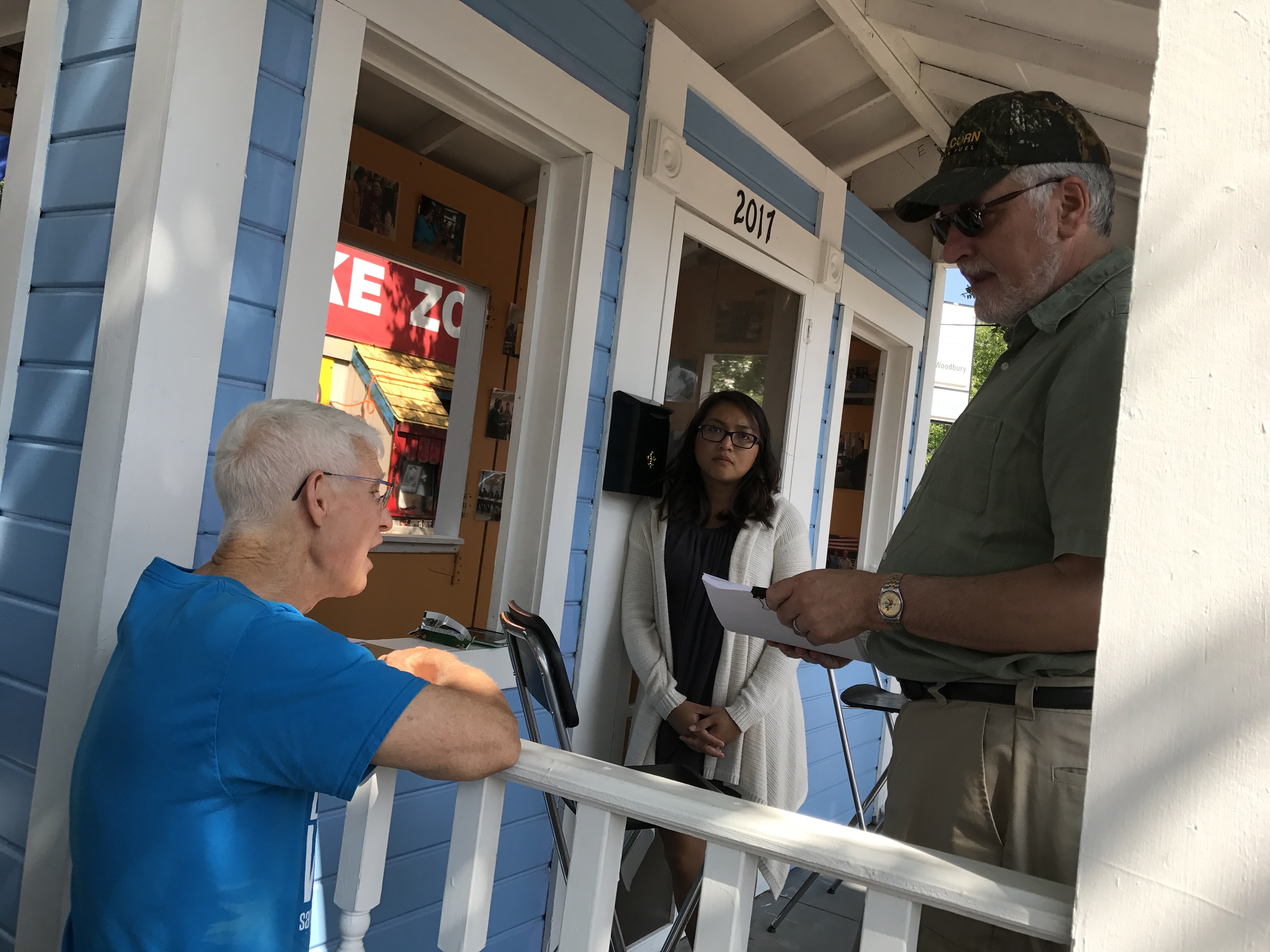 Tom Bose delivering petitions at Minnesota State Fair 2017.
What is your favorite lake?
Farm Lake. Grew up in Indianapolis. In May, 1952 my Dad came from visiting a neighbor. He said, "I just heard about a boys camp in this fabulous place in Minnesota. I went there in the 1930s with five guys. For two weeks we paddle a route called Hunters Island. You have to go." In June I boarded a train for Duluth. Arrived at Camp Voyageur on Farm Lake a day later.
I was a camper and then a counselor at Camp Voyageur. Made friends there. In the middles 1970s a half dozen of us bought lots along the west shore of Farm Lake. We built cabins together. Our children and now even our grandchildren are learning the experience. We look across Farm Lake to the entrance to the North Kawishiwi, entry point 31 – an entry to a special place.
Favorite memory in the Boundary Waters?
So many special memories from that first campsite on Horse Lake in 1962 to moon light snowshoeing on the North Kawishiwi this past winter. No way to pick one favorite.
What would you never go to the Boundary Waters without?
Friends. The Boundary Waters experience is best shared.
Have you seen any interesting wildlife on your BWCA trips?
All sorts of birds. The red of the scarlet tanager munching seed pods at our misty July campsite on Gabbro. The pine siskins busy in the Norways at our September campsite on Lac La Croix. The snow geese on the Dahlgren River this past October. The Canadian jays that visited our Little Saganaga campsite for a piece of pancake. The loons calling role around Ima Lake. Chickadees everywhere.