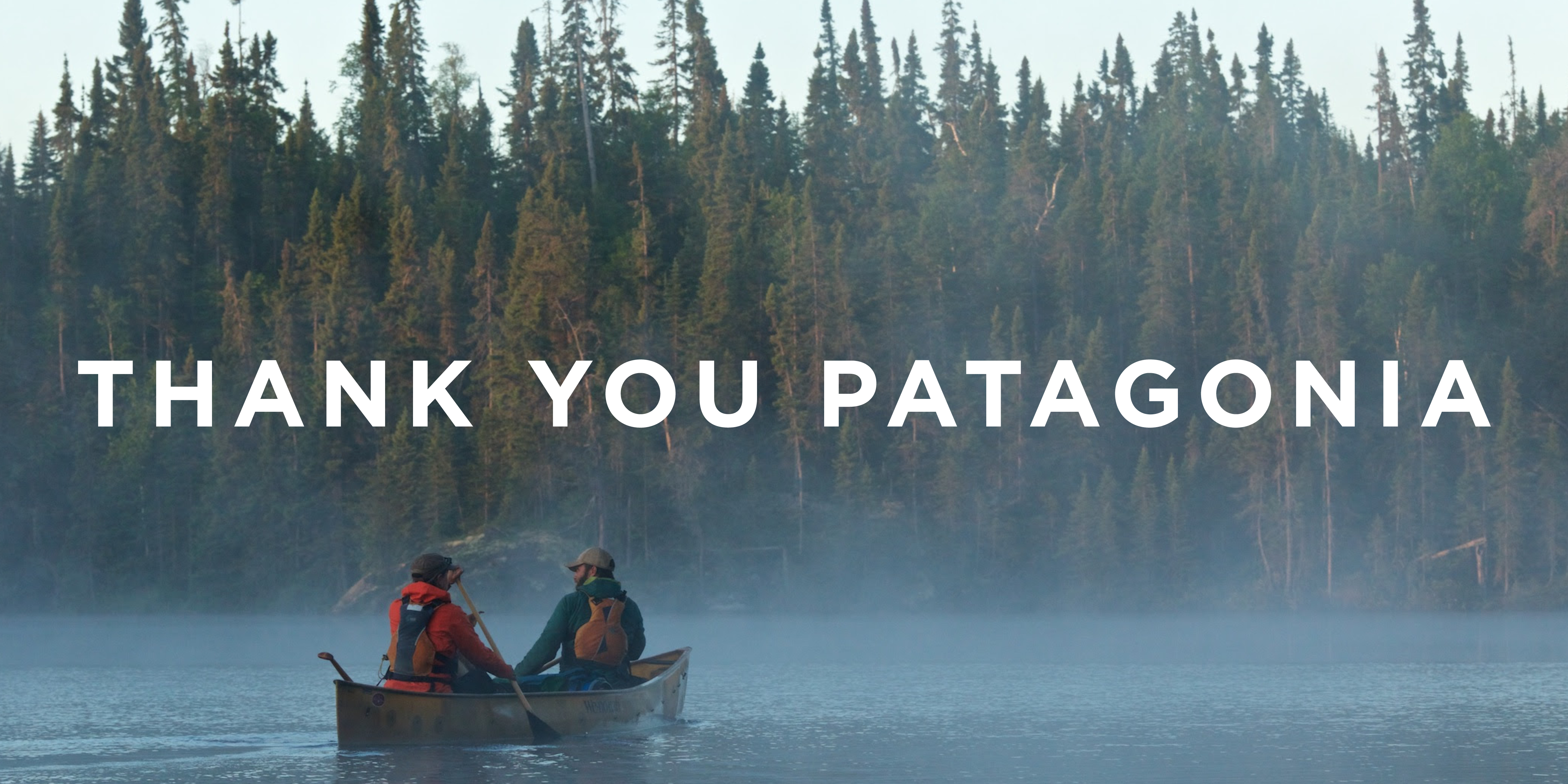 Patagonia, the well-known and visionary outdoor clothing company founded by Yvon Chouinard has been one of the most important allies in the Campaign to Save the Boundary Waters since this effort began in 2013 and we are incredibly grateful for this support.
Through its retail stores, digital teams, and grants Patagonia has provided vital support in the way of thousands of dollars in donations, event hosting, social media and web activation, and the talents and time of its own employees.
The Patagonia team has done so much for the cause it would be impossible to list everything here, but here are some of the key ways Patagonia has helped reach and inspire hundreds of thousands of people to protect the Boundary Waters:
CONTRIBUTING MONEY, TIME, GEAR
The Patagonia team has contributed to all our major film projects through thousands of dollars of direct media grants and through the involvement of their own staff, like filmmaker Nate Ptacek, on projects including Paddle to DC: Quest for Clean Water, Bear Witness, and Public Trust.
They've also awarded us, Northeastern Minnesotans for Wilderness, with generous monetary grants for our programs including for outreach, litigation, and political advocacy.
Patagonia is of course known for their apparel and gear, and the company is incredibly generous when it comes to providing gear for an event, raffle, or silent auction. The team at the St. Paul Patagonia store and others eagerly send us luggage and other valuable items that our supporters love and are always excited to bid on or enter to win.
Multiple Patagonia staff over the years have been supported through the company's paid "internship" program where they spend time working directly on behalf of our cause on the company's dime.

EVENTS
Patagonia stores in Minnesota, Illinois, and Washington DC have hosted fabulous events for us (we've even recently done a virtual event with the Ontario/St. Paul/DC stores' teams and customers!) over the years. Highlights have included several celebrations in the Georgetown, Washington DC store for our capital fly-in visits with Kids for the Boundary Waters and overflowing crowds for explorers Amy and Dave Freeman at the St. Paul store.
PATAGONIA ACTION WORKS
Patagonia Action Works meaningfully connects their customers and community with grassroots environmental groups such as Save the Boundary Waters as part of their commitment to the 1% for the Planet program. Each month they promote and share our events, petitions, advocacy actions, and more with their audiences, and it makes a huge impact on building awareness about the Boundary Waters online.
OTHER
The Patagonia team has supported Save the Boundary Waters in so many other creative ways - designer Geoffrey Holstad designed our series of very popular Boundary Waters wildlife stickers, Patagonia has written about the issue in their widely-read Cleanest Line Blog, invited our senior staff to attend their Tools Conference with top public lands advocates in the country, and the St. Paul store even reorganized part of their floor plan and decorated their front windows with Boundary Waters pictures, and displayed one of our signature canoes in the retail store!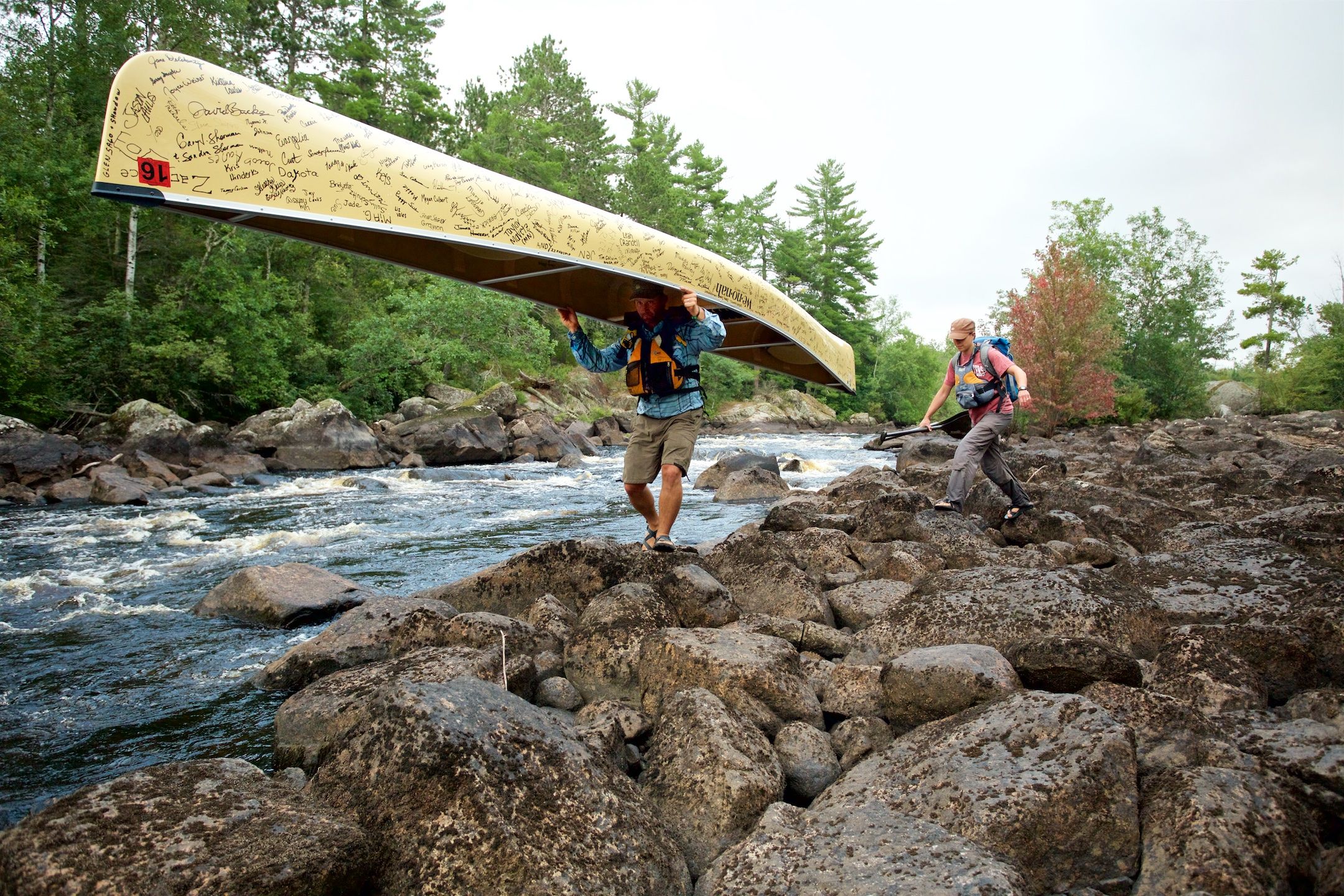 Patagonia has produced and is now screening a feature-length documentary Public Trust, which highlights three major public lands issues facing America today: Drilling in the Arctic National Wildlife Refuge, the slashing of Bears Ears National Monument, and threat of copper mining near the Boundary Waters. Our partner organization, Sportsmen for the Boundary Waters, has been closely involved with the Patagonia team and is featured in this new film screening.
Patagonia was just featured in a New York Times article about their careful response to the COVID19 crisis and how the company and it's staff are managing through the pandemic. Read the article here.
We are incredibly grateful for the support from Patagonia. Their support is helping us reach and inspire hundreds of thousands of people to protect the Boundary Waters and attract the attention of national leaders who can take action this year to protect this great canoe country wilderness.