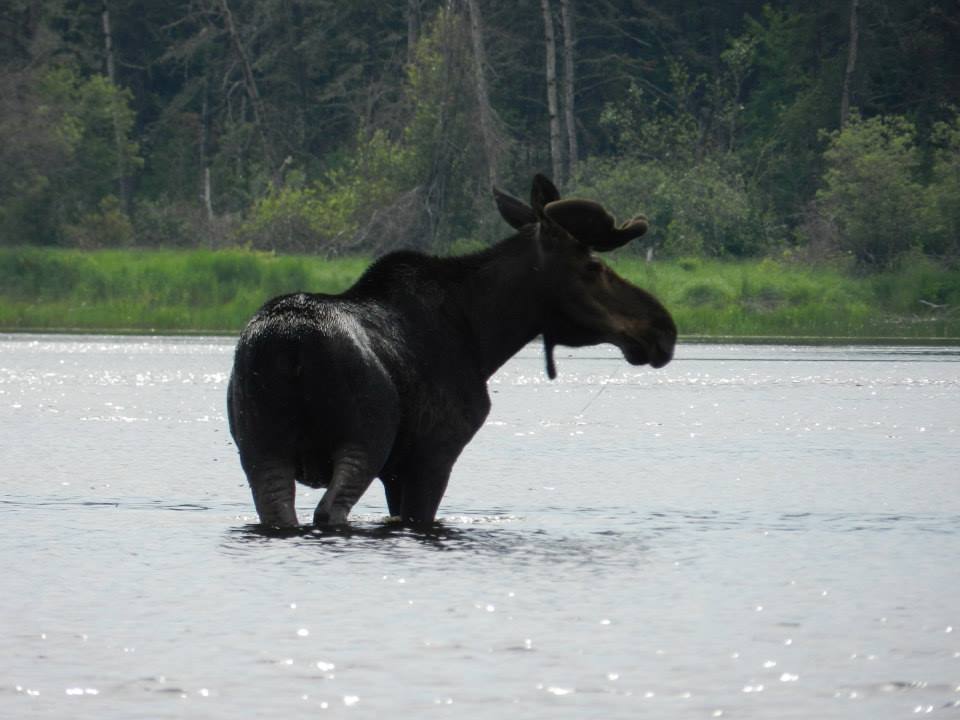 I remember the first Boundary Waters moose I ever saw. We'd just finished our evening camp chores--washing pots, taking down the clothes drying line, and hanging our food in a tree--when I heard a crash of underbrush across the small lake. Dusk was falling, and with it came the Interstate-loud drone of June mosquitoes. Despite the clouds of bugs, I ran to the rocky canoe landing to investigate the disturbance. As light faded from the spruce bog on the other shore, I saw a dark shadow move, then bolt. It splashed into the water, and I could tell from its gangly height and massive build that it was that iconic animal of the Northwoods: a moose. Over the next six years that I instructed multiweek wilderness canoe expeditions in the Boundary Waters, however, I saw fewer than half a dozen.
Ask most wilderness travelers, and they'll tell you that a wildlife encounter can take a good experience in nature into the realm of the incredible. In fact, studies conducted of people who visit wilderness areas show that wildlife viewing is a highly desirable outcome during their wilderness experience (Driver et al., 1987). The benefit of these experiences ranges from the mundane (seeing animals is exciting, and they're cute!) to the sublime. Observing animals as they go about their lives with little interference from human activity is awe inspiring, as the experience can help us connect to something larger than our own lives (Driver et al., 1987). Meeting a black bear or snapping turtle with bare toes can get the heart pumping and adds to the authentic wilderness experience--not only have you survived the perceived danger of the woods, but it makes a great story to tell friends and family.
Wildlife contribute more than just exciting or spiritual encounters. Animal behaviors can actually physically impact the environment, and they play a major role in creating a functional ecological system. In landmark studies conducted on Michigan's Isle Royale National Park in the 1980s, ecologists found that moose's food preferences played an important role in determining the types of shrubs and small trees present in the forest understory. "Selective browsing," as it is called, in turn affected the types of leaves on the forest floor, which in turn influenced the types of microbes present in the soil. Thus moose likely played an important role in the cycling of nutrients in Isle Royale's boreal forest, which is similar in a lot of ways to the forest in and around the Boundary Waters (Pastor et al., 1988).
It is just such complex relationships among ecological processes that are significantly threatened by industrial activity, such as those involved in sulfide-ore copper mining. Minnesota's moose are already facing the struggle of their lives. Climate change, disease, parasites and the increased abundance of winter ticks are all implicated in the decline of Minnesota's moose population in recent years, which led their listing as a state species of special concern. Moose are rare enough now on the Mesabi Iron Range that recent sightings of two young moose near Cherry, Minnesota, drew crowds of spectators. Though they are not as common as they once were, moose are still present in the area where Twin Metals proposes its sulfide-ore copper mine near the Boundary Waters. I've seen moose on the Little Isabella River, Rice Lake, and along Highway 1 between the Birch Lake and S. Kawishiwi River bridges. A hiker recently reported seeing fresh moose pellets in the area where Twin Metals proposes to build its 1,000-acre concentrator facility on the shore of Birch Lake.
What, then, would happen to the moose that divide their time between the Boundary Waters and the rich Superior National Forest that surrounds it if sulfide-ore copper mining is allowed to proceed along the Wilderness's border? Large amounts of traffic from commuters and heavy supply trucks would increase the risk of moose-vehicle collisions, a danger not only to moose but also to the people in the vehicles. Twenty-four-hour noise, lights and dust pollution could make the National Forest on the edge of the Boundary Waters inhospitable for moose. Additionally, Research at the Natural Resources Research Institute suggests that cow moose seem to choose sites for giving birth and hunkering down for the first handful of weeks afterward with preference for "conifer swamps and riparian areas near beaver ponds or small rivers," which the area near the proposed Twin Metals site has in abundance. Added to the existing difficulties that moose face, these stresses might tip northeastern Minnesota's moose population over the edge.
Should moose suffer this fate, wildlife watchers, wilderness travelers and hunters would lose the opportunities to experience such incredible creatures. Northeastern Minnesota's boreal forest may also lose a crucial actor that helps govern the makeup of tree and shrub species, as well as the microbe and nutrient cycling processes in the soil. Are we willing to take that risk?
References
Driver, B., Nash, R., & Haas, G. (1987). Wilderness Benefits: A State-of-Knowledge Review. In R. C. Lucas (Ed.), Proceedings--National Wilderness Research Conference: Issues, State-of-Knowledge, Future Directions. Paper 78. (pp. 294–319). Ogden, UT: U.S. Department of Agriculture, Forest Service, Intermountain Research Station
Pastor, J., Naiman, R. J., Dewey, B., & McInnes, P. F. (1988). Moose, microbes, and the boreal forest. BioScience, 38(11), 770–777.
[PHOTO: Mark Carlson]
Rachel Garwin is the Campaign's policy director. She holds an M.S. in Natural Resources from the University of Vermont. Every month, Science Desk will include our latest scientific support and share a deeper understanding of the potential environmental impact from sulfide-ore copper mining near the Boundary Waters.