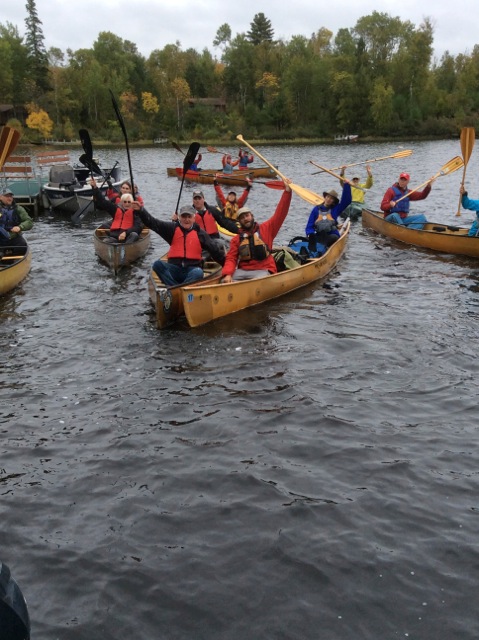 When a group of six intrepid Ely skiers recently dropped in on Amy and Dave Freeman, Dave said that I've certainly been their most frequent visitor during the first six months of their Year in the Wilderness. Let me count the days and ways that I've been thus privileged.
SEPTEMBER 23: I was at the September send-off and was part of the flotilla from River Point Resort & Outfitting Company. What a fine celebration that was! The Koschaks, whose beautiful resort is at ground zero for the proposed Twin Metals copper-nickel mine, provided warm hospitality. That's me, in yellow raincoat and green kayak, right behind Amy (photo, right).
SEPTEMBER 28: A few days later, on September 28, I drove down Glippi Road, paddled across Pickerel Lake, and portaged into the N. Kawishiwi River, hoping to find Dave and Amy -- and there they were, on their way to test the water in S. Farm Lake! I gave them a chocolate bar and some vegetables from our garden as we paddled together into a strong wind for a mile or so before I turned back.
OCTOBER 3: New Elyite Margaret W. and I portaged into Little Gabbro and fought strong winds all the way to Bald Eagle Lake. Whitecaps blocked our hopes to reach the Freemans at the south end of Bald Eagle. So we portaged to Turtle Lake instead, for lunch on a campsite, and later I delivered our edible gifts to the group that accomplished a resupply the next day.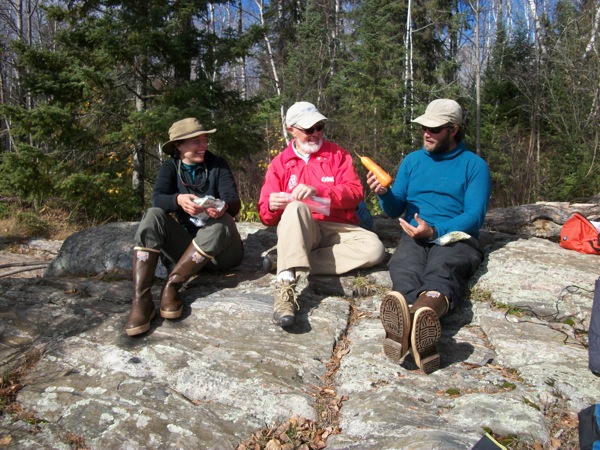 MID OCTOBER: I noted on the DeLorme map that Amy and Dave were camped on Tin Can Mike Lake. I called around to find a canoe partner. Debbie H. was available, so we met and drove to the Chainsaw Sisters entry point. There we ran into Levi, the Freemans' expedition manager, and some Patagonia employees, going out to resupply and camp with the Freemans. Dave and Amy met us on Mudro, and we all had a fine visit and lunch together on a Sandpit Lake campsite. During our paddle out, Debbie said, "Thanks for inviting me. This was the most fun day of my fall!"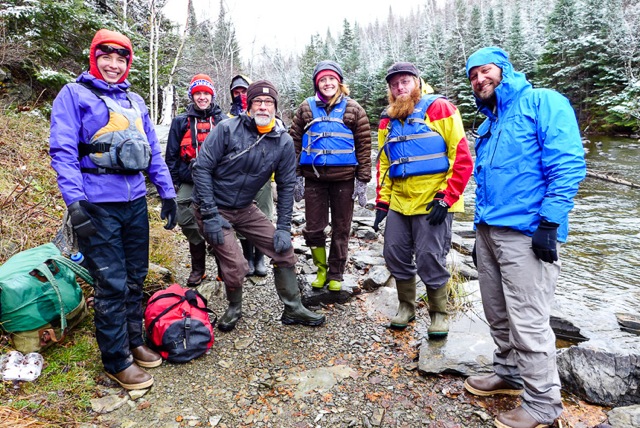 NOVEMBER 7: My friend Tim L. came up from the Twin Cities and we joined a resupply paddle from Moose Lake entry point to the Splash Lake portage. The day was an early taste of winter, a beautiful sprinkling of snow on every branch. After the fun visit, my hands, in wet gloves, got so cold that Tim and I pulled into the winter portage for a walk across to Splash and back in order to revive my fingers for the return paddle.

JANUARY 15: The first of my visits with Amy and Dave by skis. Chris C., Chuck Z. and I brought some goodies and a charged battery to their camp at the far end of Fall Lake's Mile Island. As we arrived, the Freemans were returning from gathering firewood on the Four Mile Portage. As the dog team and loaded toboggan approached, David put on the brakes, to stop for a chat, but the dogs would not be deterred from their mission, and so the visiting waited until all arrived in camp.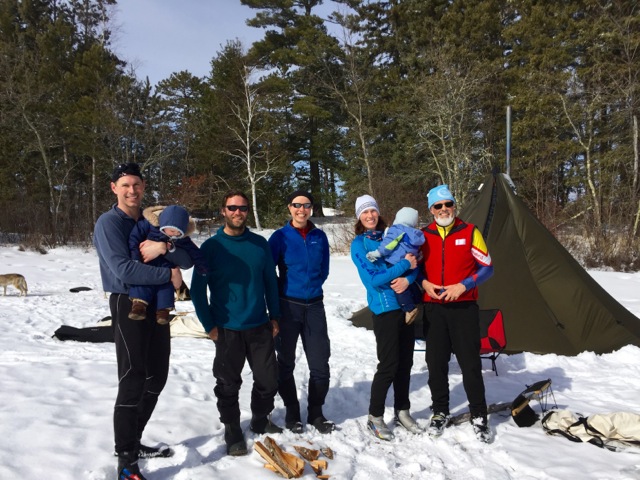 END OF JANUARY: I saw the Freemans three times in one week! On Sunday, the day after we raced "The Pepsi Challenge" on Giants Ridge trails, I introduced friend Greg K. to Dave and Amy during our skate ski outing to Basswood Lake via the Four Mile Portage. On Tuesday, my friend Margaret finally got to meet Dave and Amy on Fall, on our way to explore Ella Hall Lake. Then, on Saturday, more ski friends came from Mora (Phoebe M., David K. and their one-year-old twins). Pulling the boys in a pulk, we skied from Moose Lake, crossed to Basswood via the winter portages through Found and Manomin, and found the Freemans camped at a small island across from the Spirit Tree (a popular 1,100-year-old white cedar). The twins, Miles and Daschle, who never complained all day, were fascinated by Acorn, Tina, and Tank, especially when they commenced to howling as several Outward Bound dog teams passed us heading west.
EARLY FEBRUARY: Greg K. loved our first lake crust ski so much that he came up from the Cities again a few weeks later. This time we found Dave and Amy at the far end of Snowbank Lake. From there we cruised around Disappointment Lake, where we watched a lone wolf for a long time along the far shoreline.
MARCH 25: I still can't believe how far six of us skied and hiked on March 25. Somehow, an ambitious trek out to Knife Lake's Thunder Point became a 40-plus-mile loop, partly I suppose because we weren't excited about retracing some of the tough winter portages we'd taken to get to Knife, and partly because we thought it would be fun to drop in on Dave and Amy on Fraser Lake, but mostly because the spirit of Ely backwoods ski trekkers is always to push the boundaries of time and distance and the rumored end of winter.
Near Dorothy Molter's Isle of Pines, the less-bold of us clambered over a little island to avoid the risk of open water and thin ice on both sides, but this was a piece of cake compared to the bushwhacks necessary to avoid open streams at our exits from Kekekabic and Fraser; even so, none of these compared in difficulty to slogging through the miles of brush tangles, weak ice, swamp hummocks and mushy snow of the winter portage from Thomas to Disappointment. Our brief visit with Amy and Dave was a nice mid-afternoon break. A broken binding, broken ski, and broken ski boot slowed our progress (along with strong wind and slower skiing on softened lake crust). Other than the Freemans, we saw no one. It was a great relief to reach the Snowbank landing, dehydrated, wet, utterly spent, and pile into a warm van to be shuttled to our cars back at the Moose Lake public access.
APRIL 3: The "spring" resupply for Dave and Amy. A group of six, walking across the ice into a cold and snowy east wind, pulled the Freemans' canoe and carried several packs of food. I wanted to ski, so headed out on Moose Lake earlier. There was lots of slipping on ice but some sections had enough snow for decent skate skiing. Heavy flurries sometimes made for white-out conditions -- beautiful and exhilarating! Took until Horseshoe Island for my fingers to thaw. I walked the winter portage to Splash and skied on to Ensign, finally spotting dim figures in the distance about half-way down the lake. Turns out Dave and Amy were camped on Knife, near Thunder Point, so they'd already come a long way. Tank, their one remaining canine companion, was working hard pulling the toboggan loaded with winter gear no longer needed, often slipping on the ice as we skied back together towards Splash. After a while, Dave linked himself up front with Tank to share the pulling. We met the resupply party towards the end of the winter portage from Newfound (three young-adult VCC students, Becky Rom, Chris Chandler, and Lindsey Lang). After intros, lunch, and a good visit, I headed home, followed by the hikers, now pulling the toboggan. The Freemans plan to head to Basswood, where they hope to cross paths with Will Steger, who is making his way (pulling his loaded canoe) from Ontario through the Quetico on his way home to Winton. I am privileged to have had a part in the two "shoulder season" major resupplies.
I tell this story to illustrate the joys and challenges of the BWCAW: the great variety of lakes and routes, the beauties of the changing seasons, the exhilaration of traveling through unspoiled wilderness under one's own power. Every day of this remarkable year, Dave and Amy's blogs reinforce how special, how rare, how precious we find this vast natural preserve of undeveloped forest and clean water. I am very grateful that they are dedicating an entire year of their lives to helping all of us preserve the BWCA wilderness for generations to come.
---
Elton and Emily Brown retired to their Morse Township cabin seven years ago and have been active volunteers at Sustainable Ely and with the Campaign to Save the Boundary Waters. During the years that Elton was the pastor of United Methodist churches in Minneapolis, they took their four kids on Boundary Waters canoe trips every summer. Elton is one of many Ely-area trekkers who love to ski into the Wilderness, especially in early spring when lakes are covered with a firm, fast crust.