I am one lucky person. In May, I got a once-in-a-lifetime opportunity to meet two of my heros, Amy and Dave Freeman, who are spending a Year in the Wilderness to help protect the Boundary Waters. The Boundary Waters is a place for me where I can just let everything go for a bit and enjoy life to its fullest. I had been following the Freeman's journey since day one and it was unbelievable to experience it firsthand.
On the first day of our Boundary Waters journey, it wasn't quite all sunshine and roses, it was more like snow showers and wind gusts. When I got up in the morning, I thought to myself, "wow this is really happening, I get to meet the people i've been dying to meet since the beginning of their epic journey." Finally, we got on the road after all of the hard work of getting packed. We stopped at Kwik Trip to get some gas and of course our favorite donuts. The journey had begun. The drive up the North Shore was nice, and I knew it was going to be a great trip.
After getting our permits from the Tofte Ranger Station, it was BWCA or bust. The first portage of our trip came up quick. My dad and I skipped the first rapids, but after Kelly Lake we decided to save ourselves 15 minutes by going right through the rapids.
The Freemans campsite was so close we could feel it. Once we arrived, we talked for a while, and got started setting up before it started to snow. We all went inside the Freemans tipi tent and I couldn't wait to eat. For dinner we cooked steak, pasta and stir fry. After dinner we just chilled for a while, and then some guys from Frost River came over to our campsite to hang out. We all talked in the tent listening to the wind howling and snow falling outside. It wasn't until late that the guys went back to their campsite. We gathered outside for a group picture in the snow and then they were on their way. It was a very cold night. Day one was great, and I hoped day two would have many fun-filled adventures as well.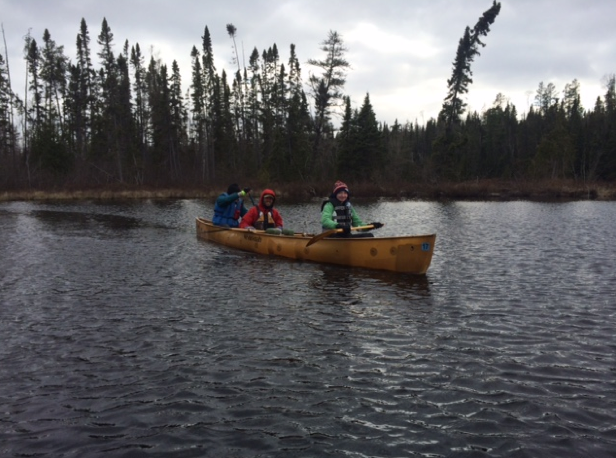 The second day was again very cold. We decided to stay at camp and have a relaxing day. The smell of coffee and fire burning filled the tipi tent, it was very nice. For breakfast Amy cooked some dehydrated eggs and vegetables. She added the leftover steak to the eggs and that sure added some good flavor. We relaxed for a pretty long time and it sure felt good to contemplate life in one of the most precious places in the world.
I decided to entertain myself by going on paddles with Dave and Don. At one campsite we visited, there were a few black-capped chickadees and chipmunks, and I got really close to the chipmunk. As we paddled back, some heavy winds started to pick up, and it made it pretty difficult to steer the canoe. Our afternoon paddle was quite windy in some spots and very calm in others, which made for an interesting trip. On the way back there was a beautiful loon. We paddled right up to it, and I got some great pictures. We took our time getting back to the campsite, because the weather was so nice.
When we arrived back at camp, Tank was very excited. I helped chop some wood, and that made my hands very cold. Amy started cooking dehydrated stir fry and rice for dinner. I had never had much dehydrated food before this trip, and it was actually quite good. After dinner we were all gathered in the tent around a nice fire. We heard a saw-whet owl that had been making a constant noise searching for a mate for quite a while. We crawled into our cold tent, and I feel asleep pretty fast.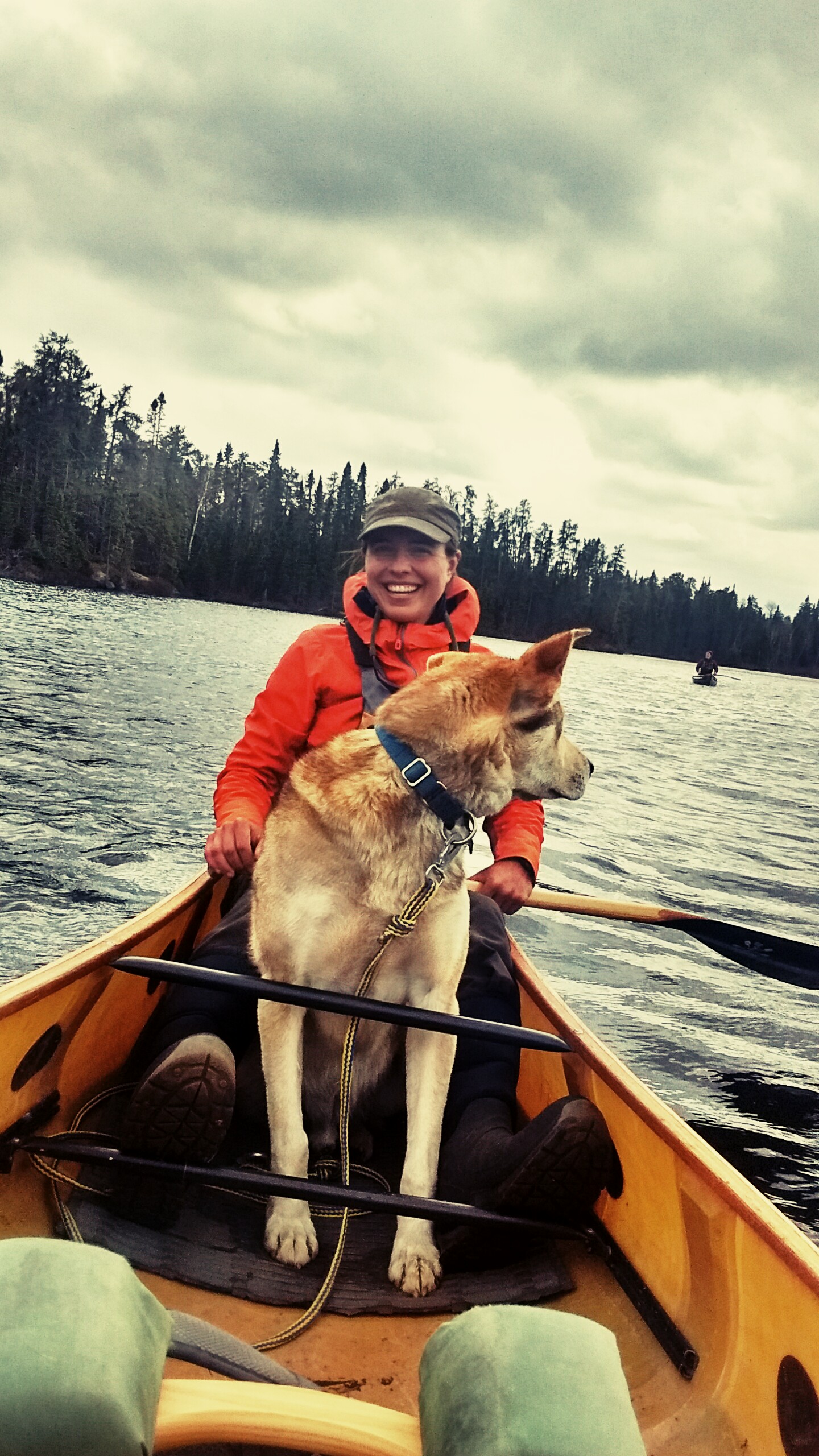 On my final full day in the wilderness, I was finally able to hop out of our tent and not sprint straight to Amy and Dave's warm tipi tent. It was still pretty cold, but the sun was shining over the lake nicely. I could sense it was going to be a nice day. My dad and I made some blueberry pancakes on the griddle and they were delicious. Later, all of us headed out on a day trip. I was very excited to paddle with Tank and Amy. We visited Jack and Weird Lakes and we explored the Vern River. When we got to the first portage, Amy asked if I wanted to portage the canoe. At first I was kind of skeptical, because I had never actually portaged one before. I had always let my dad do the heavy lifting. Also, that thing was huge, but with Amy's encouragement I tried it and it was awesome.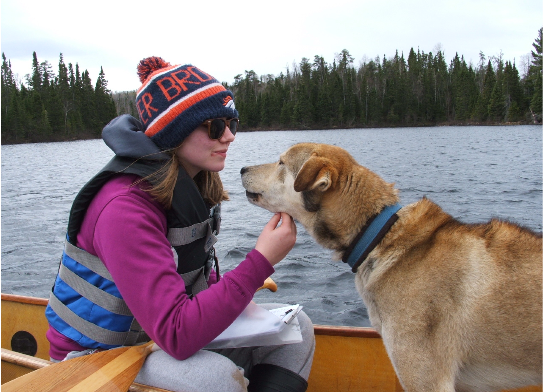 After that we paddled to a nearby campsite to stop for some lunch. The site had been occupied not too long ago, and there was a lot of trash left behind and the fire was still smoking a bit, which is not the way you should leave a campsite. After lunch, we all picked up the trash and Amy put the fire out with her water bottle. It was so nice to be in the wilderness taking a break from my everyday school life.
We took the 10-rod portage into Weird Lake, making plenty of weird jokes. The Vern River was a very cool place and I'm so glad I got to paddle up it. On our way back to camp some sprinkles started to fall.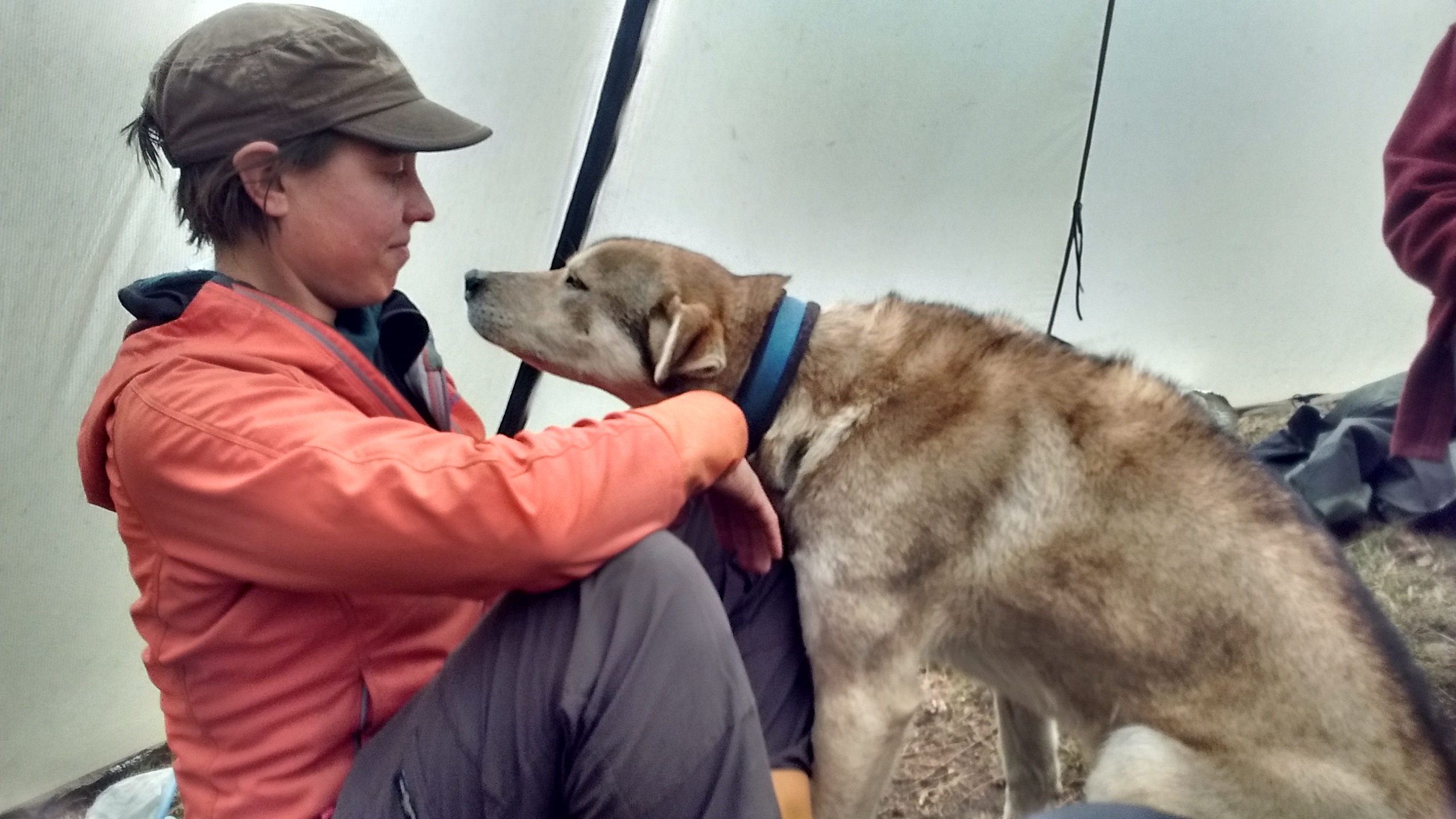 The closer we got to camp, the harder it rained. I put on some dry clothes on and found myself right back in the tipi tent. For dinner we made a nice vegetable and meat stew that had carrots, potatoes, onions and an array of spices. Tank was very happy to join us in the tent and he also enjoyed licking the pan before it was washed. We gathered around the warm wood stove and listened to the steady rain while enjoying each other's company. It was very difficult for me to leave the wilderness the next day.
Thank you so much, Amy and Dave, for having me, Don, and my dad, you guys are truly an inspiration. I'm so honored to have met Amy and Dave and I can't wait to be back. We have to keep working to save this national treasure from these horrible mining threats towards the BWCA wilderness. My hope is that by spreading awareness about this majestic place, the younger generation will want to #SavetheBWCA.
---
Helen Clanaugh is a 14-year-old from Duluth, Minnesota. She attends North Star Academy. This was Helen's second BWCA trip, but she plans to go back for a third time this summer. Helen enjoys playing basketball and being outdoors.
Save
Save
Save