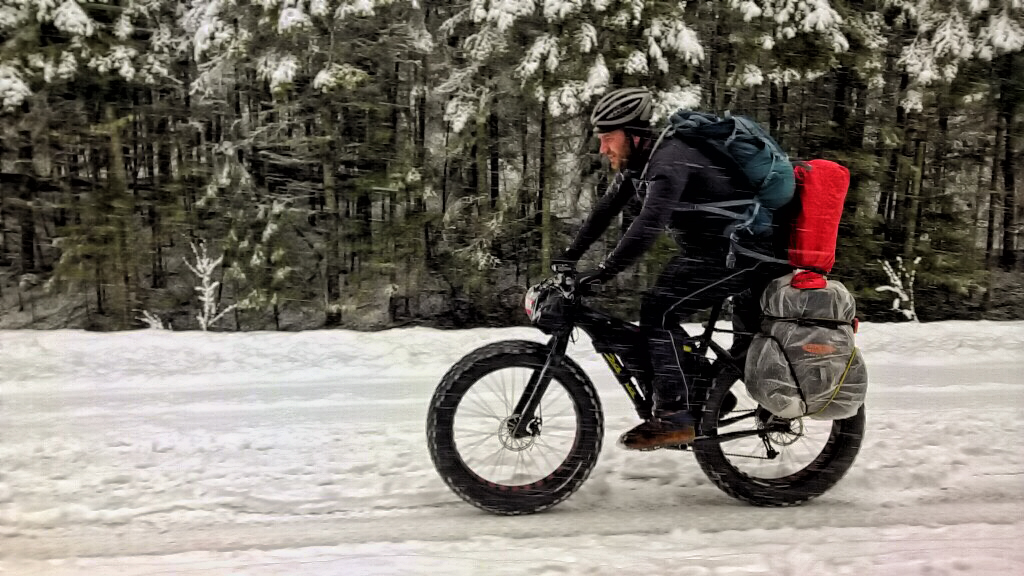 The far side of Snowbank Lake was hidden, stitched behind snow and wind. Atop it's trackless white surface lay an ankle deep layer of slush. We set our bearings on a long island whose south eastern side was visible, estimating its mid point to be the location of the wilderness boundary, where we planned to meet explorers Dave and Amy Freeman.
The night before I had fallen asleep to rain, and woken up to snow. Blown from the north, it was wet and heavy, weighing down branches, pulling trees to the ground. I loaded my banjo, guitar and other supplies onto my bike. The roads weren't plowed yet. Ely was quiet, headlights like fireflies winking through the handfuls of fat tumbling flakes. As I rode out of town towards Snowbank Lake, the wind blew the snow back into my eyes like spears.
Since beginning their expedition in September 2015, different groups have been volunteering to bring Dave and Amy resupplies every couple weeks. This was the nature of my trip, but the contents of my resupply were slightly different. I planned to resupply Dave and Amy with songs, poetry and conversation, oh … and Bent Paddle did send me in with some insulated growlers of beer.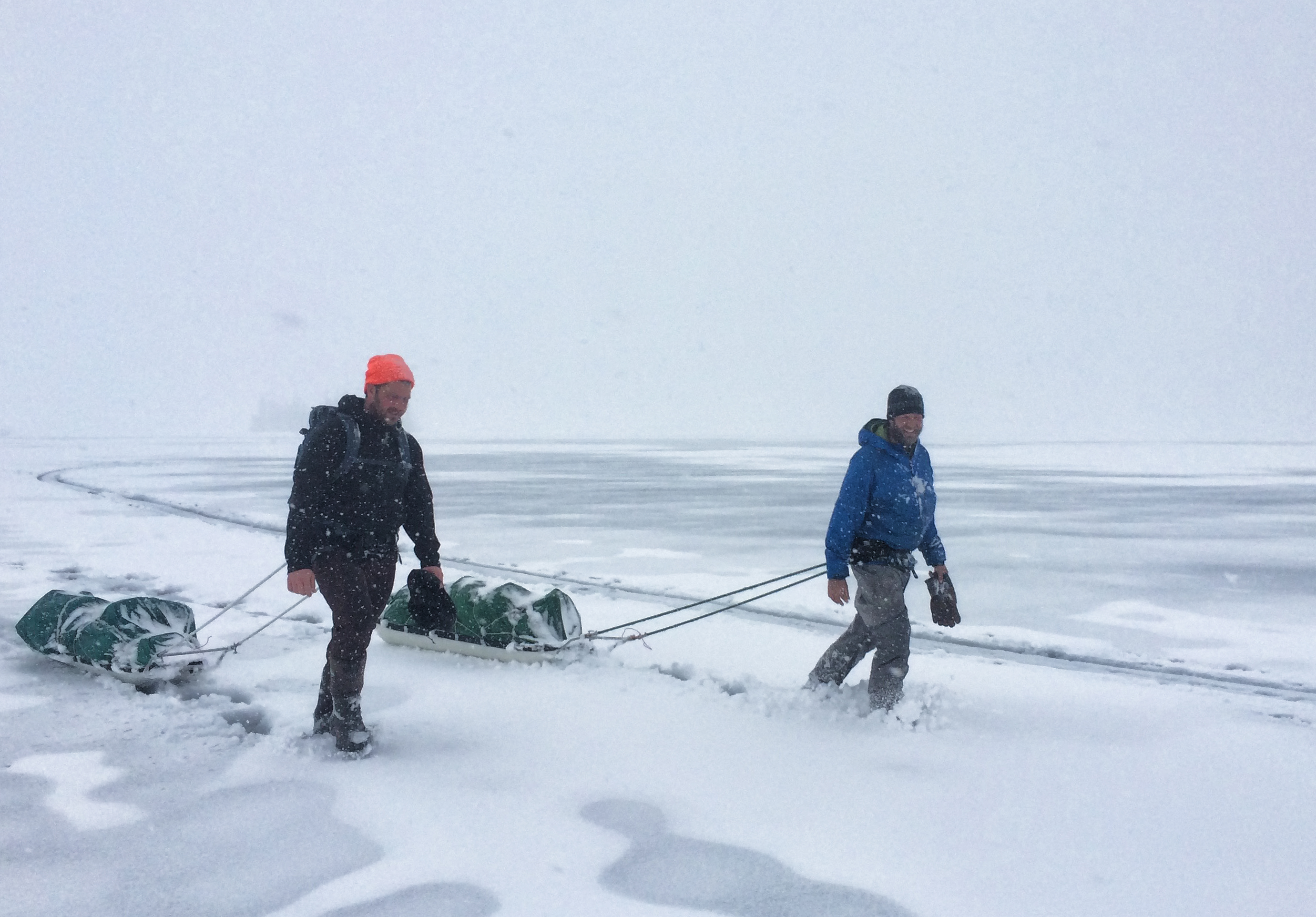 After a wet snowy ride along the Fernberg Road and Snowbank Lake road, I joined the rest of my group at the public boat landing: Levi Lexvold, expedition coordinator for A Year in the Wilderness; Bill DeVille, a DJ from The Current; and Nate Ryan, audio/video correspondent for The Current. Minnesota Public Radio's The Current sent Bill and Nate in to document my performance and help tell Dave and Amy's story of living in the Boundary Waters.
Since mechanized forms of transport are not allowed in the Boundary Waters, I left my bicycle in Levi's truck, transferring my supplies to a pulk sled and walking into the Wilderness. As much as I love riding a bicycle, I believe there are some places they don't need to go.
We began crossing the lake, trudging through the heavy slush. Looking in almost any direction revealed nothing but white. A true snow globe. I heard dogs barking, and in the distance made out silhouettes, both human and animal. Drawing closer, several yellow stakes in the ice became visible, marking the wilderness boundary. Amy was on skis and Dave drove a small sled pulled by a three dog team. Greeting one another I could see the landscape in their faces, the weather, the rocks, the pine boughs. I could smell six months of wood smoke in their smiles. We continued slowly across the lake to their camp.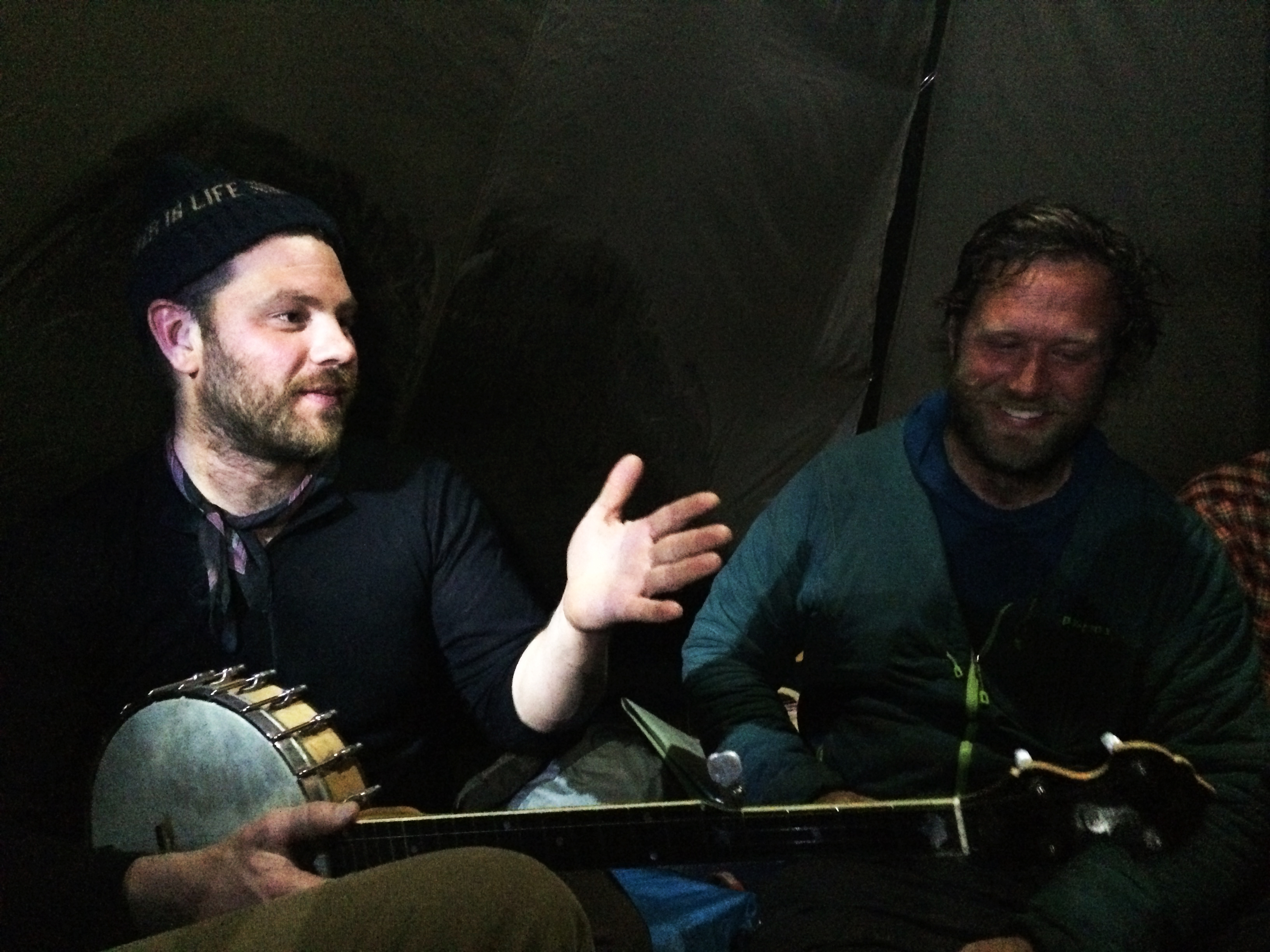 For dinner, we shared a pot of chili Levi made, the warm fire purring away in the wood stove at the center of the shelter. We laughed about how much better food tastes outside, after hard work and travel. As the sun began to fade, we stepped outside for some fresh air. The snow had subsided and as twilight soaked up the last daylight two black squiggly lines hopped and slid across the snow covered lake: otters.
We gathered back around the stove in the center of Dave and Amy's shelter. I sang songs and read some poems. In between, we talked about what makes the Boundary Waters so unique, and the importance of imagination when thinking about the future. If we cannot imagine new ways to live and work, then how can we develop them?
There is a connection between the restorative value of art and the restorative value of wilderness spaces like the Boundary Waters. They feed our souls. Inspire reflection. The Boundary Waters offers a chance to experience life at the pace of trees, water and animals, which promotes a stronger understanding for why it is so important to maintain these places on the planet. Where it will always be possible to hear the wind, drink water straight from the lakes, and hear the music made only by these natural ecosystems.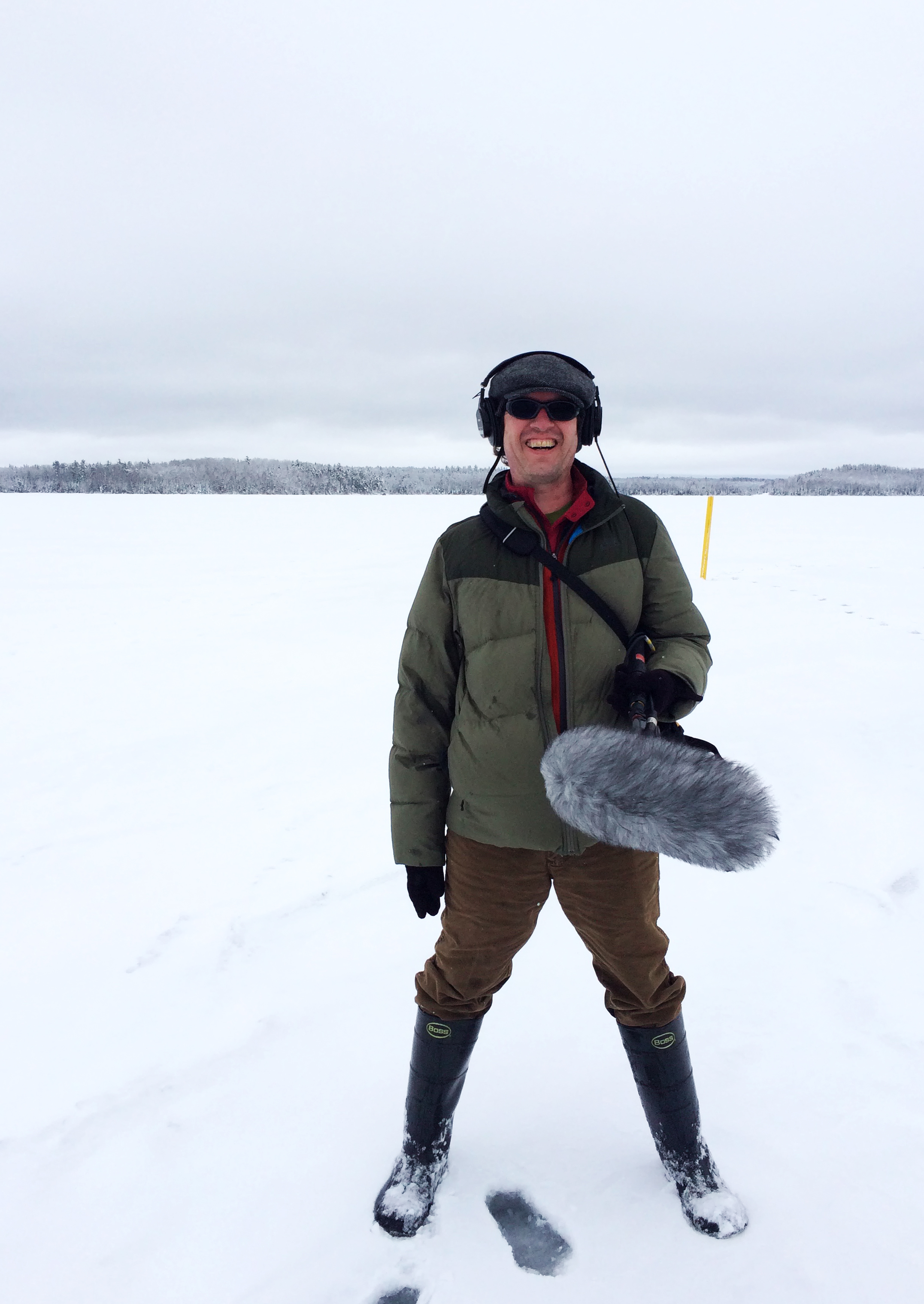 Bill DeVille had never been in the Boundary Waters before, and this was his first time sleeping outside in winter. His first time behind a team of dogs. His eyes were wide. It never ceases to amaze me how the wilderness transforms people. Even newcomers. It reminded me, it is not just necessary to tell people about the importance of a place like the Boundary Waters, but also to show them. To let them to stand on the ground and witness the power and beauty it possesses.
Dave joined us as we headed back across Snowbank Lake as we departed. There were two eagles perched in an island pine and a third one circling in the air above. We said goodbye at the wilderness boundary. Bill, Nate and I continued toward the boat landing. I stopped to look back at the open expanse behind me. Dave's silhouette grew smaller and smaller until it completely dissolved back into the landscape. The moment he disappeared felt metaphorical. It reminded me of the eagles, the otters, and all the trees bearing the weight of the new snow. Quiet, yet extremely powerful. Part of the landscape. Without any words, Dave and Amy's action to live in this vital and pristine place gives voice to its rare beauty and power. I know we can save it.
Listen to Ben's song, "Ramblin' Bones," from I Would Rather Be a Buffalo below.
Ben Weaver's resupply story will air on The Current during Bill DeVille's United States of Americana on Sunday, April 3 (8-9 a.m.). Ben and musician Mike Munson will perform a benefit concert for the Campaign to Save the Boundary Waters on Thursday, April 14, at the Byrant Lake Bowl & Theater (Facebook Event).
---
Ben Weaver is a songwriter and poet. The bicycle is Ben's vehicle of choice for touring his music. His most recent bicycle-powered tours include tracing 1,500 miles of the Mississippi River from Saint Paul to New Orleans and circumnavigating Lake Superior working to raise awareness about fresh water. I Would Rather Be A Buffalo is Ben's most recent record (listen to a selection of songs or buy). Follow him on Instagram, Facebook and Twitter.