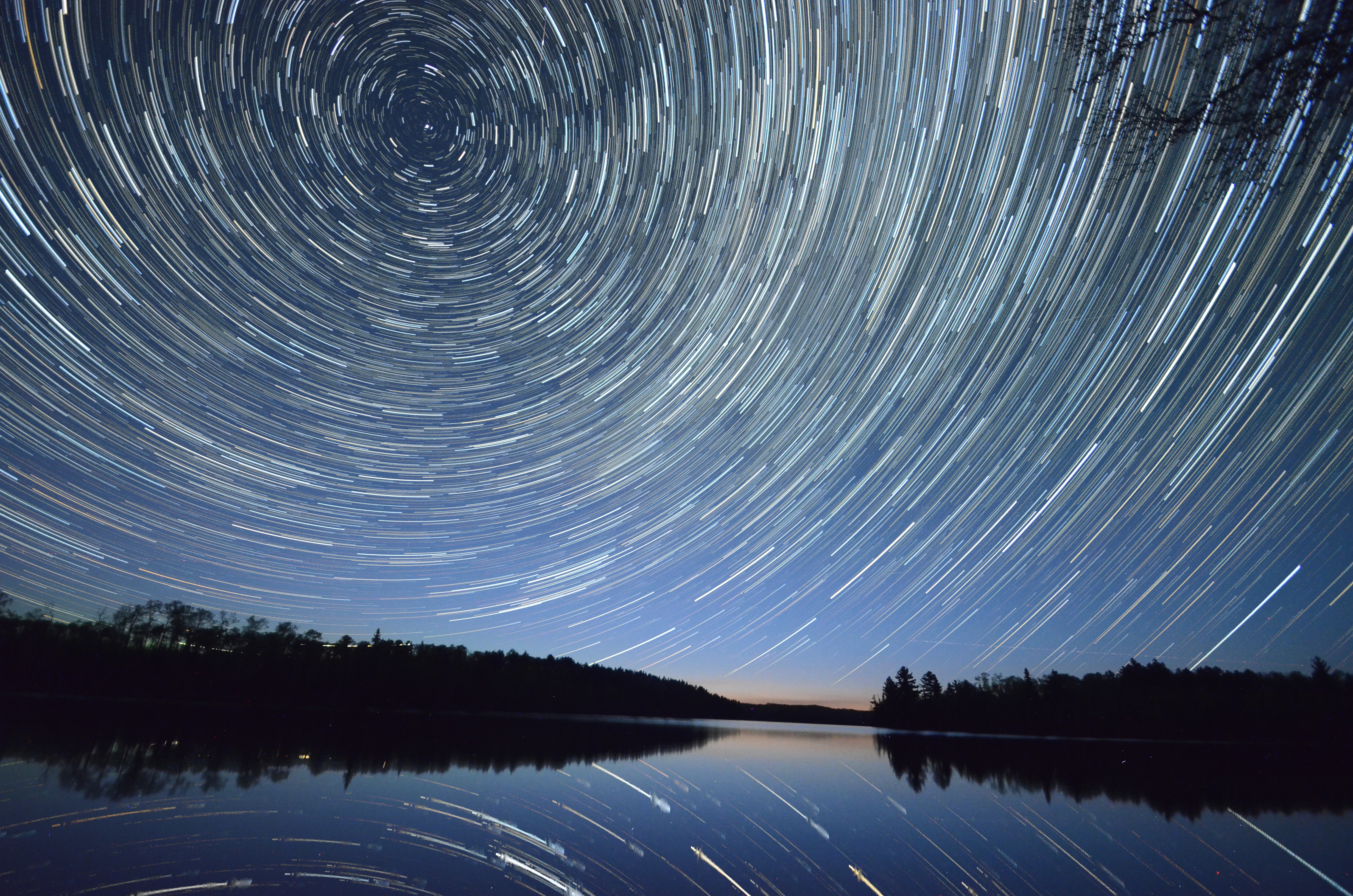 Guest Blog Post for Campaign to Save the Boundary Waters
Megan Noetzel, Voyageurs National Park Association
Northern Minnesota presents some of the most striking night skies in the nation. Visitors can look up and immerse themselves in a blanket of stars, view barrelling comets, and even catch a glimpse of the Aurora Borealis. Our dark skies provide a stunning backdrop for the Northwoods.
Dark skies are not only a starry wonder, but necessary for ecosystems, human health, and the preservation of cultural heritage. Forests and wildlife thrive on the rhythmic cycle of day and night. With dark skies disappearing at an alarming rate, but sometimes unnoticed, a coalition of public land officials, park partners, and community members have embarked on a joint initiative to preserve regional darkness.
Voyageurs National Park, the Boundary Water Canoe Area Wilderness, and Quetico Provincial Park are all seeking Dark Sky Park certification from the International Dark Sky Association (IDA). This exciting pursuit could establish Northern Minnesota as the first International Dark Sky Region. By seeking Dark Sky Park and Dark Sky Region designation, public land managers are committing to reducing light pollution at park facilities and providing educational opportunities for the public to learn about the importance of dark sky preservation.
Dark Sky Certification
Dark Sky Park certification is responsive to a growing concern that threatens the wild character of our parks: light pollution. Dark skies are becoming scarce as technological advances have engulfed our skies with artificial light and these negative impacts are increasing rapidly. The New World Atlas of Artificial Night Sky Brightness states that approximately 80% of North Americans are unable to see the Milky Way due to light pollution.
Disappearing dark skies create several environmental and societal consequences. According to the IDA, artificial light has been found to alter breeding and foraging behaviors in wildlife and affect the growth rate of trees. Light pollution is especially harmful for nocturnal birds' flight patterns, whose predation habits rely on dark skies.
Exposure to artificial light is also detrimental to our own health, as it disrupts the circadian rhythm, resulting in poor sleep quality and weakened immune systems. Researchers are continuing to study the impacts of artificial light and human health.
Lastly, losing our starry skies disconnects us from generations of cultural narratives. The Ojibwe star map is culturally significant to Northern Minnesota. These constellations have stories associated with them and many correspond with seasonal changes. French-Canadian voyageurs, gold-miners, lumberjacks, and commercial fishermen are some of the many groups who also utilized the stars. Light pollution erases the ability to connect with the constellations and these historical narratives.
Protecting Dark Skies at Voyageurs
As a community of people committed to the stewardship of Voyageurs National Park, we have a responsibility to protect the sanctity of our dark skies. Dark Sky Park certification does not carry any legal or regulatory authority, but it affirms the park's commitment to sustainable light use and public education to reduce light pollution and protect the night sky. VNPA and the National Park Service launched our joint Dark Sky Initiative in 2019 to establish our ongoing commitment to dark sky preservation.
The first phase of dark sky preservation focuses on light fixture changes in the park. By using "dark- sky friendly" light fixtures in parking lots and park facilities, Voyageurs National Park is significantly reducing its light pollution output. These fixtures direct light downward and often utilize warmer colors and motion sensor activation. VNPA helped fund the first round of lighting changes. The park's goal is to reach 100% "dark-friendly" lights within the next 10 years.
Surrounding neighborhoods, businesses, and communities are not required to change their lighting practices in response to this certification. However, there are a multitude of environmental and economic benefits to this transition. Dark sky tourism is a growing travel trend. VNPA will provide resources to business and cabin owners, and host special events to welcome visitors and community members to join this initiative.
While we can't gather in-person,Voyageurs National Park Association is working to inspire the public with awe-inspiring celestial events. We've partnered with IDA Starry Skies of Lake Superior and Robert "Astro Bob" King to launch a bi-weekly Night Sky Explorer virtual learning series. This series introduces individuals and families to astronomy and develop an appreciation for dark skies. As Robert King states, "The greatest wilderness is the one over your head -- you only need to look up!"
You Can Protect the Night
To gaze at the stars on a clear, unpolluted sky is a breathtaking experience. However, as light pollution increases, we risk losing the powerful display of our universe. It is up to all of us to ensure future generations are able to connect with the night sky. You can mitigate the effects of light pollution through personal and community-led action. Here are three dark sky initiatives you can take in your home and community:
Convert your Outdoor Lighting
There are several changes you can make to reduce your home's light pollution output. First, only light what you need by shielding lights and aiming them downward. This prevents unnecessary light from emitting into the sky.
Second, choose lights with warm colored tones. LED lights are energy efficient, but their blue light is harmful to wildlife and night skies. The IDA recommends purchasing warm-toned bulbs with a color temperature of no more than 3000 Kelvins. Learn more.


Encourage your Community to be "Night Sky Friendly"
Many International Dark Sky Places begin with a few passionate individuals who recognize who wish to preserve their community's skies. By reaching out to educate neighbors, you can start positive dark sky preservation impacts.
Next, learn if your city has an Outdoor Lighting Ordinance. Adopting an outdoor lighting ordinance can be a great tool to mandate your community's lighting to become safer and minimize light pollution. Learn more.


Connect with the Night Sky
Spend the evening searching for wonders of the night: distant planets, the luminance of the full moon, the International Space Station zooming overhead, streaking meteorites, the river of stars across the Milky Way, and the breathtaking Northern Lights. Learning about the night sky increases your connection with this natural wonder and the cultures who have utilized it for generations. New to skywatching? Watch our introductory Night Sky Explorer webinars or visit "Astro" Bob's astronomy blog.

Thank you for doing your part to protect the night sky. We hope the Dark Sky Park certification in Voyageurs National Park, BWCAW, and Quetico Provincial Park will inspire visitors to discover the region's cosmic treasures and preserve its unparalleled beauty for generations to come!
About Voyageurs National Park Association
Voyageurs National Park Association (VNPA) is the official charitable partner of Minnesota's National Park. VNPA works in close partnership with the National Park Service to expand water and land protection, advance environmental education, and increase accessibility to public lands. VNPA works to preserve the wild character of Voyageurs by funding projects and programs that will sustain it for generations to come.