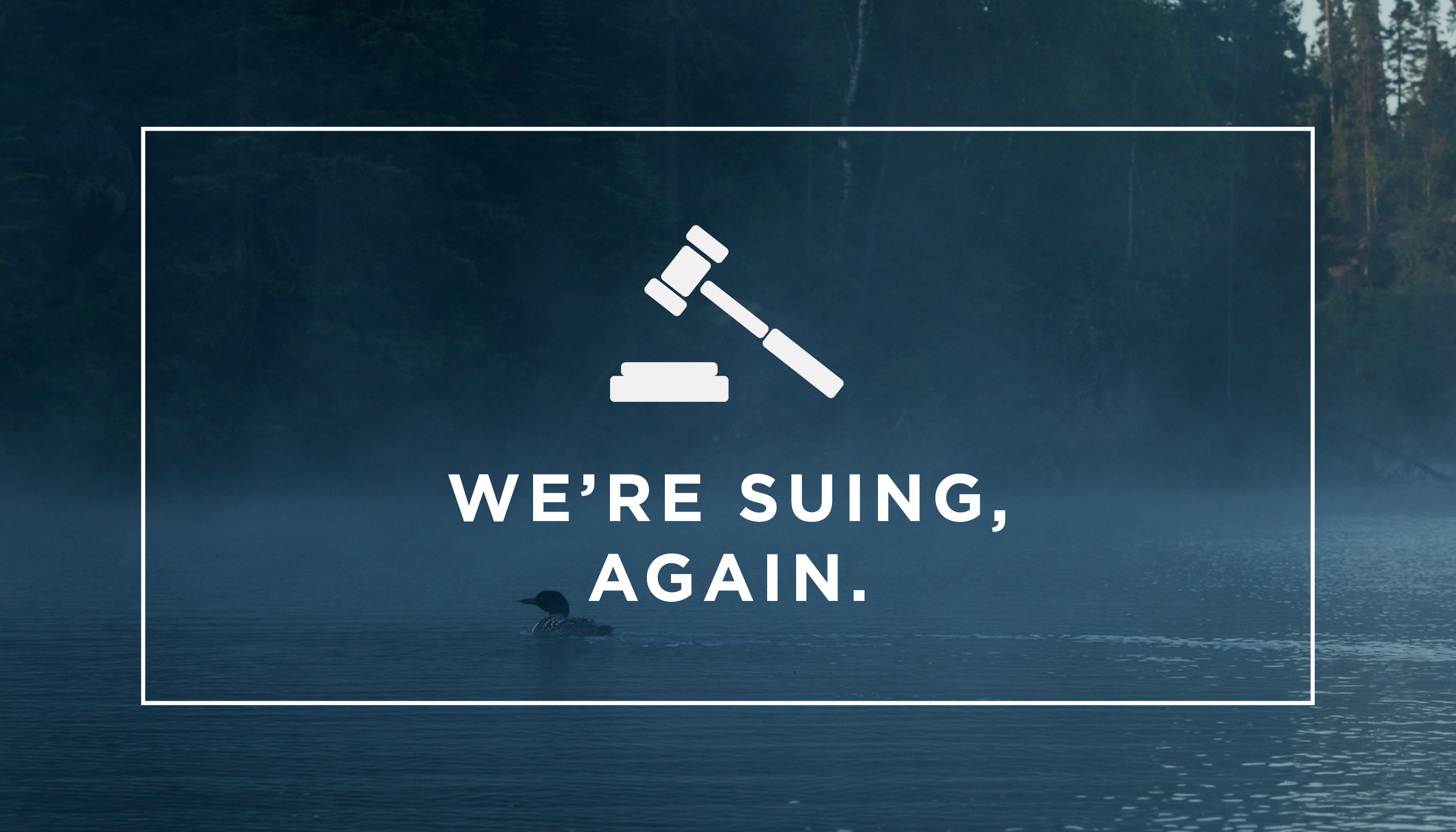 Today (May 6, 2020) Northeastern Minnesotans for Wilderness, the leader of the Campaign To Save the Boundary Waters, nine Minnesota outdoor recreation businesses, and four conservation groups filed a new federal lawsuit. Today's lawsuit challenges the recent actions of the federal government to facilitate the unconscionable development of a sulfide-ore copper mine on the edge of the Boundary Waters Canoe Area Wilderness (BWCAW). 
As the plaintiffs, we allege that the defendants - the Departments of Interior and Agriculture and their agencies the Bureau of Land Management (BLM) and the U.S. Forest Service - prepared a completely inadequate Environmental Assessment (EA) to renew two federal mineral leases held by Chilean mining giant, Antofagasta, through its subsidiary, Twin Metals. Federal law - the National Environmental Policy Act - requires that a comprehensive Environmental Impact Statement (EIS) be completed. Such an analysis would demonstrate the significant and harmful environmental, social, and economic impacts this proposed mine would have on the Boundary Waters, and the air, land, water, wildlife, and people, and clearly show that sulfide-ore copper mining is unacceptable in the watershed of the Boundary Waters. Instead, the BLM prepared a wholly inadequate short Environmental Assessment which completely ignored scores of scientific studies, including dozens of reports previously considered by the Forest Service and many additional directly relevant scientific and economic reports brought forward by the Campaign. Like the "report" prepared recently by the U.S. State Department in response to federal legislation requiring a study of impacts to Canada from a Twin Metals mine, the EA was comparable to a grade school student's book report.
WE ARE LEADING THE WAY
Our staff led a strong working group of partners, who together developed and submitted a comprehensive set of comments and dozens of scientific documents that were submitted to the BLM during the EA comment period. Thanks to our partners The Wilderness Society, Center for Biological Diversity, Sportsmen for the Boundary Waters, National Parks Conservation Association, Earthjustice, and Voyageurs National Park Association for their contributions to the official comment letter on the EA, which laid the groundwork for our lawsuit challenging the EA. Working with our broader coalition of over 350 conservation groups, hunting and fishing groups, and businesses, our staff organized nearly 100,000 people to submit comments - a strong showing despite a comment period that ran over the year-end holidays, during a partial federal government shutdown, with periodic breakdowns of the comment submittal website, and for an unconscionably short comment period. 
In April, we also appealed an unfavorable decision by the United States District Court for the District of Columbia. That case challenges the interpretation of the language of the leases, and is a completely separate issue from this lawsuit.  
The Trump administration has demonstrated, time and again, that it has no regard for protecting the environment.  From gutting bedrock environmental regulations like the Clean Water Act (see StarTribune article here); to fast-tracking catastrophic projects like the Twin Metals mine, the administration has put corporations, including Chilean mining giant Antofagasta, in charge of our public lands and waters. We simply cannot allow that to happen.
Once again, we have outstanding legal representation by the Morrison & Foerster law firm. Two other law firms are also assisting, making this is a very high-powered legal team. Legal representation is on a pro-bono basis on our behalf. We are deeply appreciative of their help.
Even so, the legal challenges require a great deal of resources. Your donations are critical to keeping these challenges going. We are confident we will ultimately be successful, but the legal process moves very slowly. Thank you for your continued support of this precious place, and stay tuned as this case moves through the legal system.
WHAT YOU CAN DO RIGHT NOW
Many have already joined our team. We want you to join our team too! 
Donate ANY amount today and your dollars will be instantly doubled thanks to a generous donor match to help us further our legal efforts and stop a Twin Metals mine in its tracks.
If you want your donation dollars to go to permanently protect the Boundary Waters from sulfide-ore copper mining, click below to donate now!