Check out this detailed map created by Aaron Carapella who is a cartographer of Cherokee and European ancestry. He has heavily researched indigenous history and lands to create many beautiful maps featuring native people and tribes.
We invite you to zoom in, scroll around, and explore this map of tribal nations and indigenous names in what is also known today as North America. Link to PDF of map here. Please be patient as this map loads - it is large and very detailed.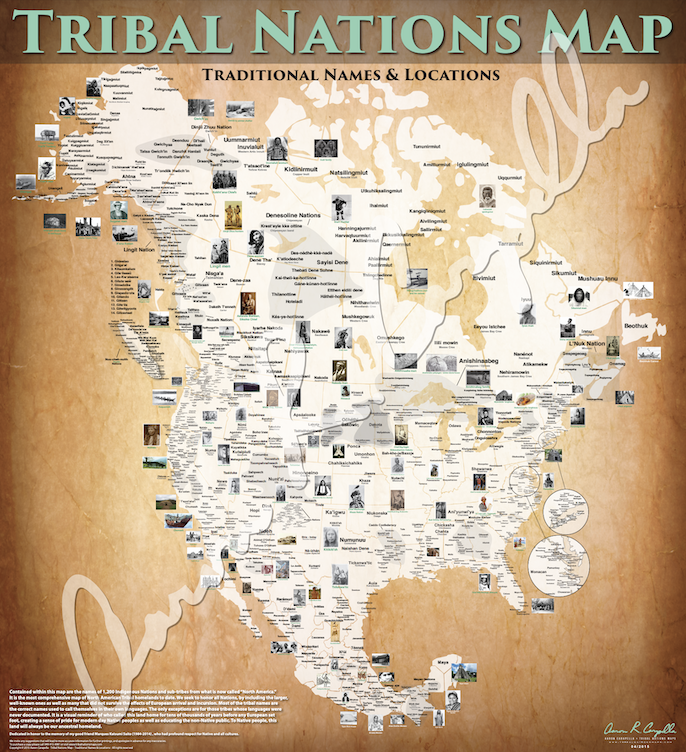 Save the Boundary Waters strives to keep diversity, equity, and inclusion at the forefront of our work and when our DEI team came across this map, we wanted to share it with you (with the artist's permission)!

This is also an opportunity to share a bit about tribal nations in northeastern Minnesota where our organization is based, and how tribes have interacted with the Boundary Waters sulfide-ore copper mining issue.

Indigenous people have lived in the Boundary Waters region for countless generations. Much of Minnesota's "Arrowhead" region, including the Boundary Waters, is within the 1854 Ceded Territory, where Anishinaabe people (also known as Ojibwe or Chippewa) retain hunting, fishing, and gathering rights. Hunting, fishing, and gathering activities of two northern Bands are coordinated by the tribal government-run 1854 Treaty Authority - read more about the Treaty Authority here.

On the east side of the Boundary Waters lies Grand Portage Indian Reservation which contains Grand Portage National Monument, and to the west of the Wilderness are the three sections of the Bois Forte Reservation.
In 2016, three Chippewa Bands (Fond du Lac, Grand Portage, and White Earth) and one Canadian First Nation Community (Lac La Croix) requested that the U.S. federal government ban sulfide-ore copper mining on federal public lands on the U.S. side of the Rainy River Drainage Basin. The decision by the U.S. Forest Service Chief in December 2016 to recommend a 20-year mining ban was in part a response to the request of the three Bands and the First Nation Community.
In 2016 and 2019, Campaign to Save the Boundary Waters staff and board members paddled to the Lac La Croix Village as guests during the community's annual PowWow. During the 2019 visit, we learned about how Basswood Lake, located in the Boundary Waters and Quetico Park and along the international border, is an ancestral homeland of the Lac La Croix First Nation Community and a sacred place for Anishinaabe.
In 2019, the Minnesota Chippewa Tribe (consisting of 6 Minnesota Chippewa Bands) stated its support for legislation introduced in the U.S. House of Representatives by Congresswoman Betty McCollum that would ban sulfide-ore copper mining on federal lands in the Rainy River Drainage Basin, part of 1854 Ceded Territory. This bill would permanently protect areas where the Minnesota Chippewa Tribe exercises its treaty rights of hunting, fishing, and gathering.
Unfortunately, the Bois Forte Band, a member of the Minnesota Chippewa Tribe, received blowback from some mining proponents who launched a boycott of Bois Forte's Fortune Bay Resort because of support by the Minnesota Chippewa Tribe for protection of the Rainy River Drainage Basin. This blatant attempt to silence the Tribe - who derive food and medicine from areas that would be degraded by sulfide-ore mining - is regrettable. We encourage people to support the Bois Forte Band and the Boundary Waters by enjoying leisure time at Fortune Bay Resort on Lake Vermilion in Tower (resort temporarily closed during Minnesota's Stay At Home order due to COVID-19 - check with Fortune Bay for opening information and safety.)
Explore the map to see whose ancestral and current-day lands you live or recreate on.
This Tribal Nations Map is not to be printed or reproduced. Support a native-owned business by purchasing this or other maps and browsing the selection of books and other resources from Tribal Nations Maps.