On a sunny afternoon at the end of July, five of my closest friends and I launched from Burntside lake and set out on our two-day camping adventure–destination: Crab lake in the Boundary Waters. I was the only native Minnesotan on the trip, and in fact none of my friends had ever been to Minnesota before! It was a great pleasure to introduce my friends, whom are also students at DePaul University in Chicago, to the wonderful treasures that Minnesota has to offer.
Our group had varying levels of camping experience, and we quickly realized that this trip would require a lot of learning on the fly. The majority of the ladies learned to paddle moments before setting out onto Burntside, and all of them were taught how to portage earlier that day at my uncle's home. Despite having little to no experience each member of the trip proved how resilient and innovative they could be in an unfamiliar environment. The girls have told me they now feel mobilized to protect this wilderness after basking in the Boundary Waters' expansive beauty; they have all formed deep personal connections and memories with this place. They all remarked at how powerful a feeling it is to put yourself into a situation that is new and challenging. Each of these women learned just how far they could be pushed in the expansive wilderness that makes up the Boundary Waters.
We were all extremely grateful for the experience to get to know each other better and bond in a setting as awe-inspiring as the Boundary Waters. Plans are already underway to make this an annual trip, and the humbling influence of the Boundary Waters' beauty will be extended to my friends' friends, mobilizing to protect this special place. These testimonials speak volumes to the power a place can have on a person, even after just one visit.
---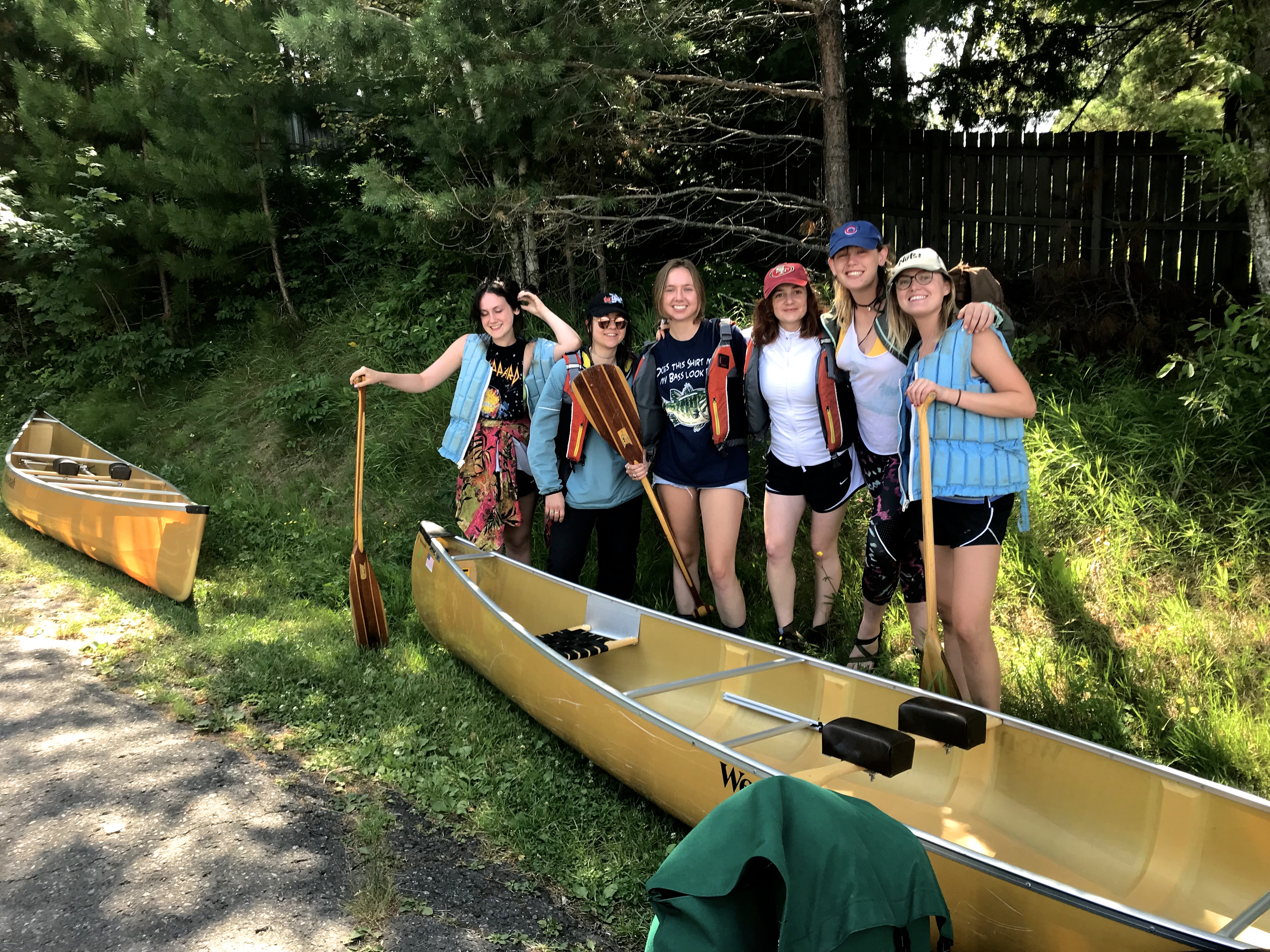 The whole group before we paddled out from the public landing on Burntside Lake, just 15 minutes away from Ely. The girls and I would soon go on to problem solve as a team to so we could find the portage entry behind many, many, islands.


---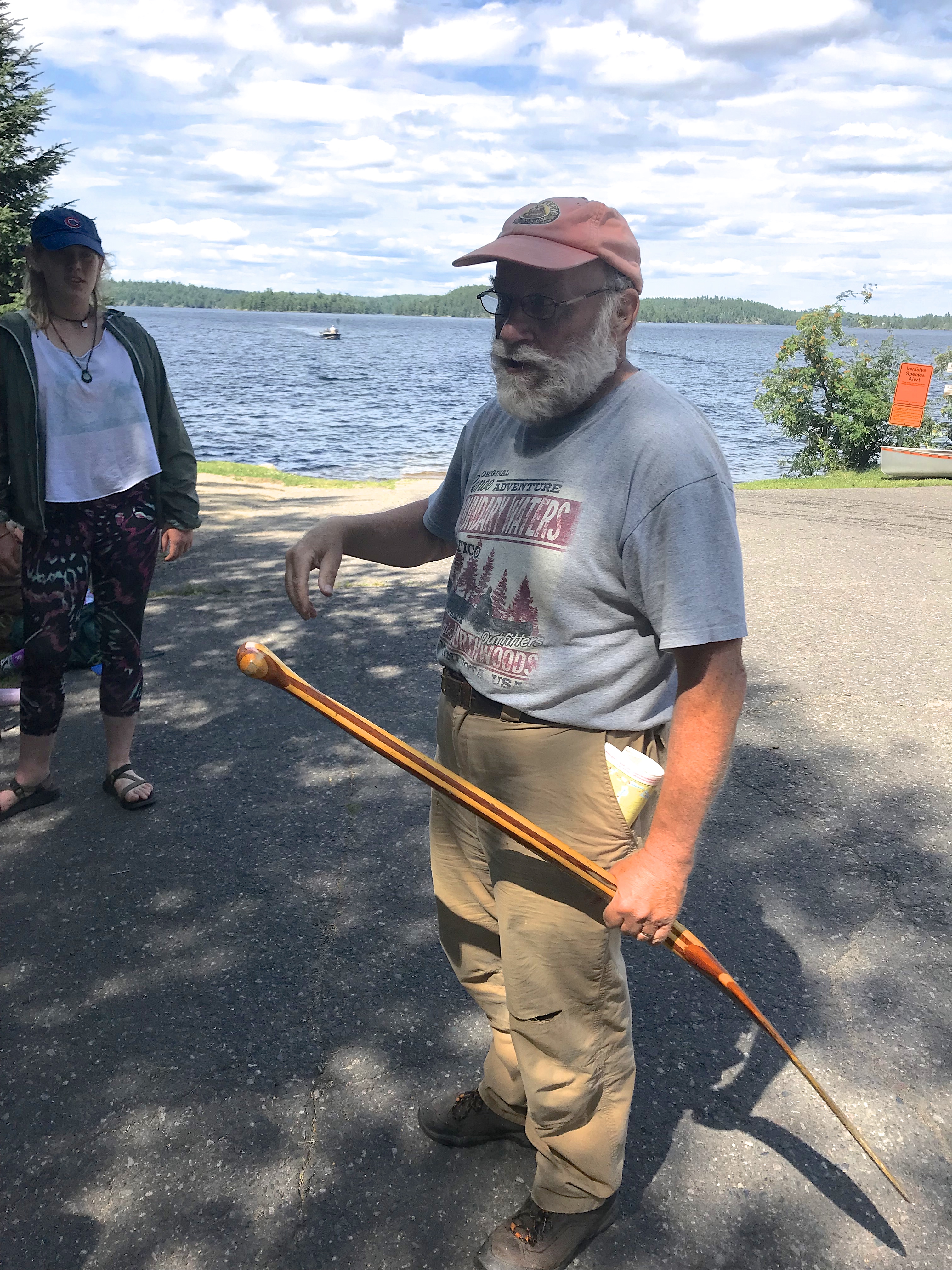 This trip report must kick-off, of course, with my uncle, Steve (and also, not pictured, my Aunt Annie) for providing most of our gear and for effectively and efficiently explaining everything we would need to know about our trip. We are so thankful and grateful to Steve for his expertise and support for our adventure!


---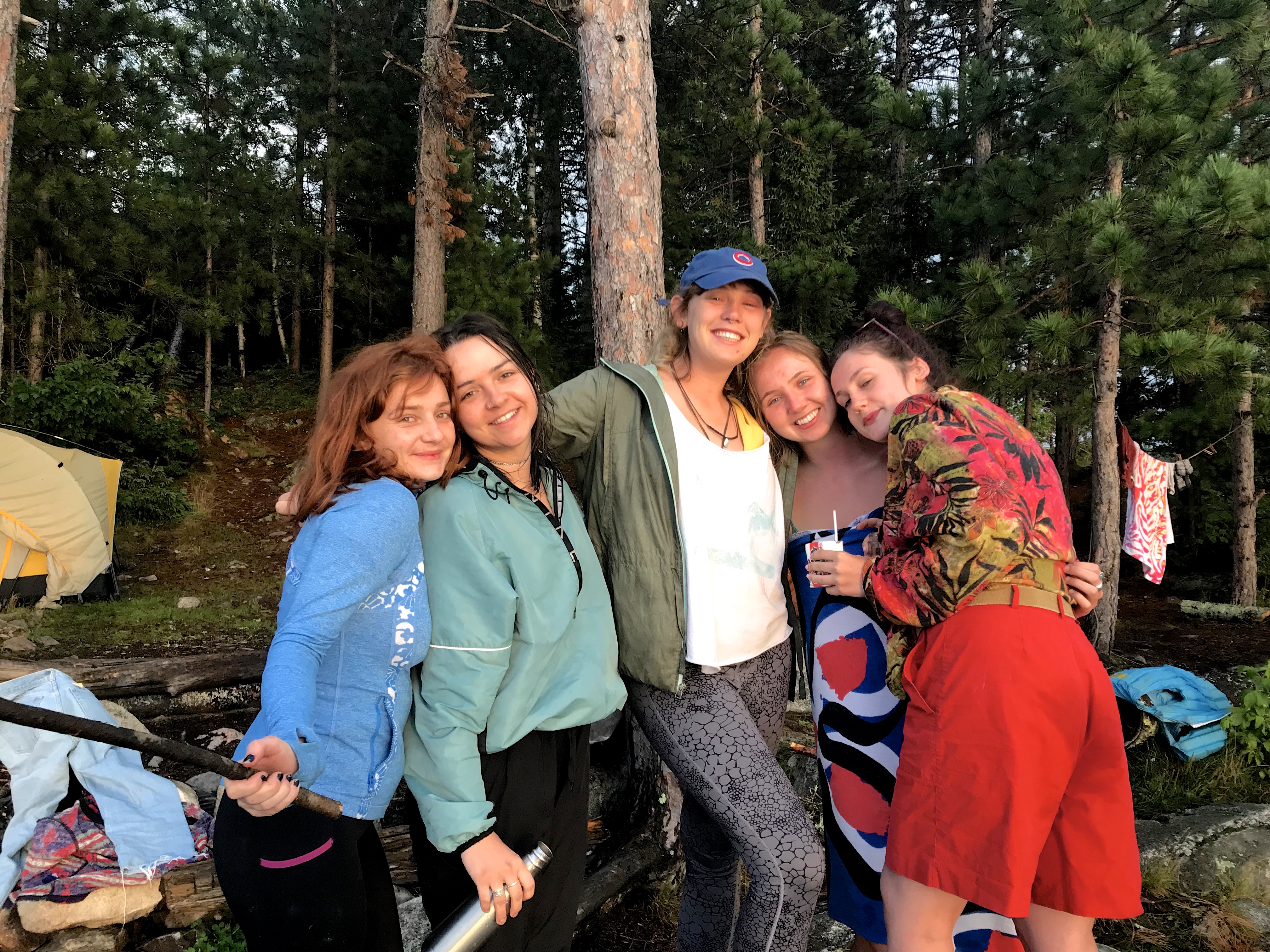 The instant wave of relief that washed over everyone was evident as we arrived at our campsite, two hours before this photo was taken, leaving us plenty of time to set up and go for a quick dip in the lake before dark.


---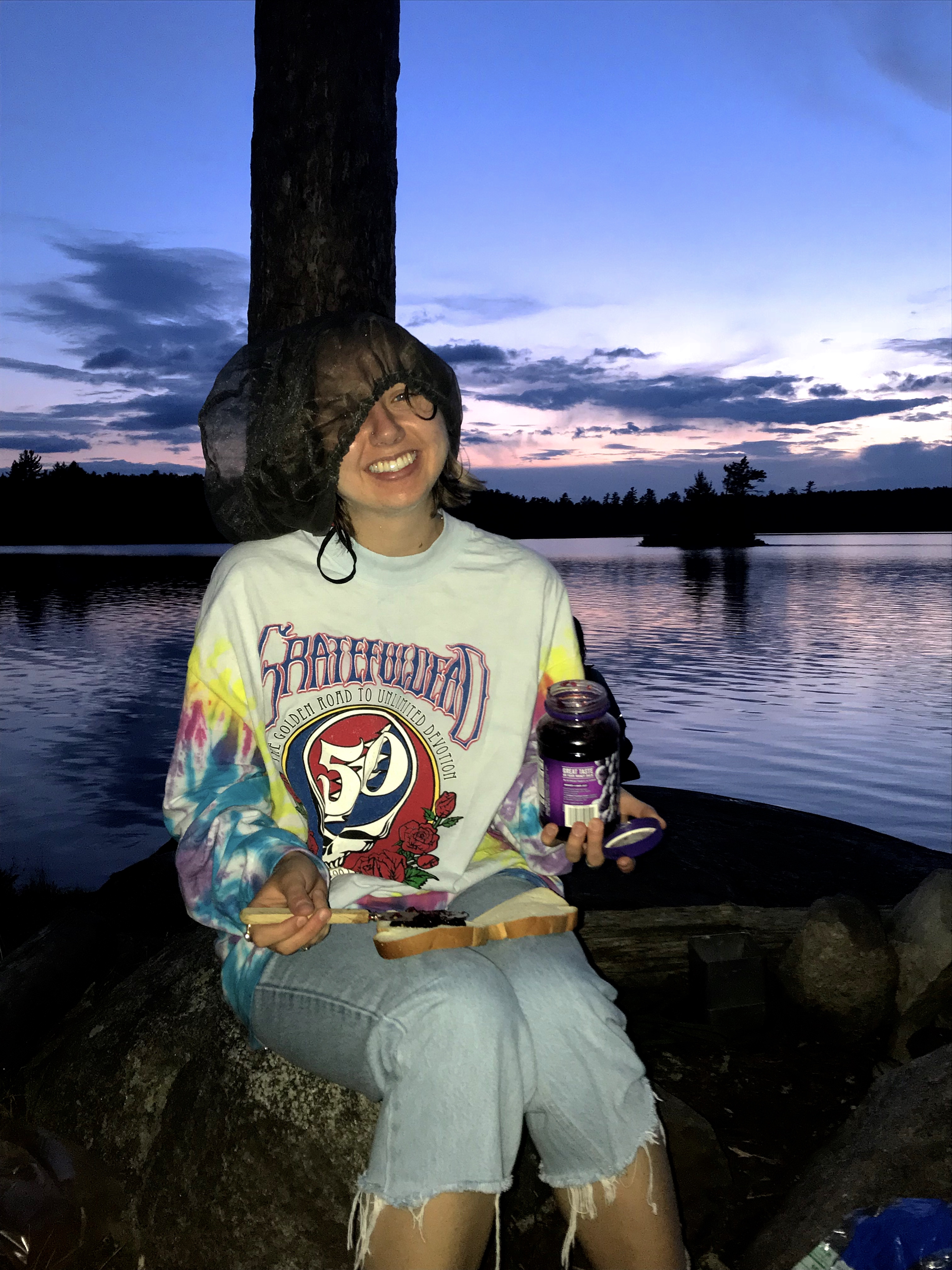 The propane camp stove that uncle Steve had so graciously supplied to us was not working in our favor on the first night, so we gladly opted for PB&Js. Here is Lorissa thoroughly enthused about her camp dinner.


---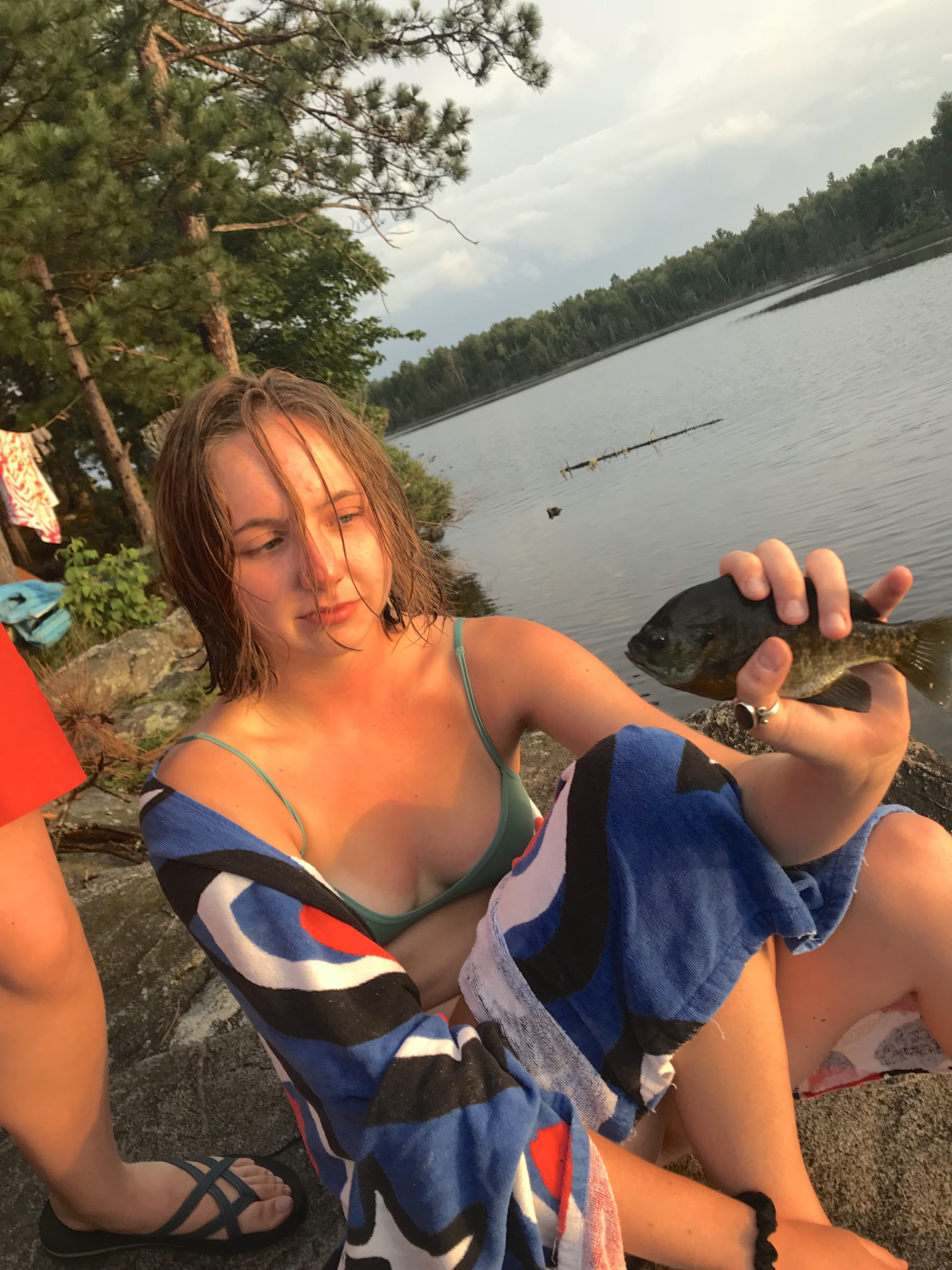 There is really an interesting story behind this photo…but in short, Megan crafted a fishing pole and hook from the bare elements and managed to catch this fish against all odds. Thanks Lori for being brave enough to hold this lil' guy for the photo!


---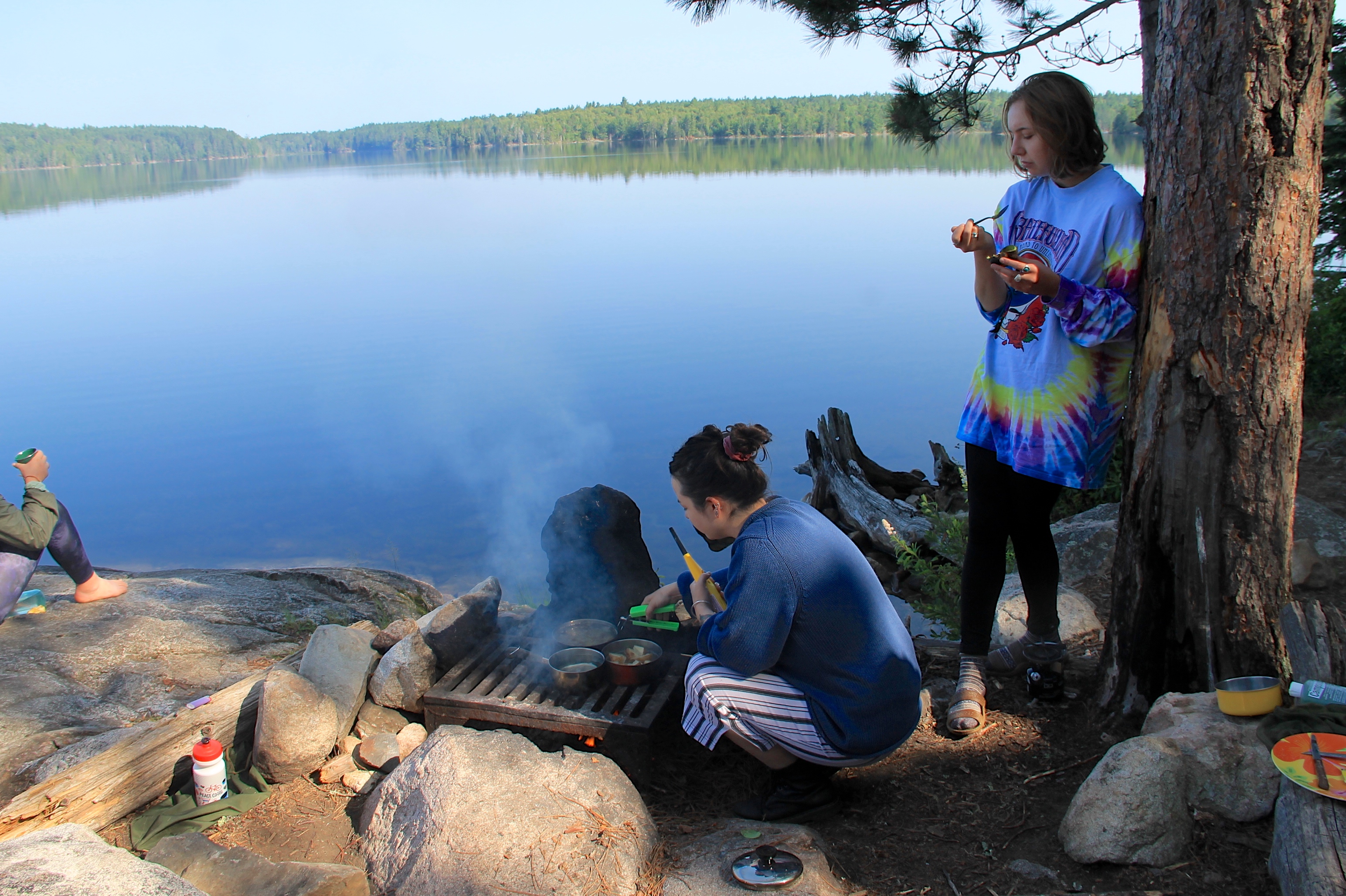 Mattox asserted herself beautifully in many aspects of the trip, but took extra special care and direction when the coffee making was at hand. As you can see, our camp kitchen was really top notch, as was the view from the dinner table.


---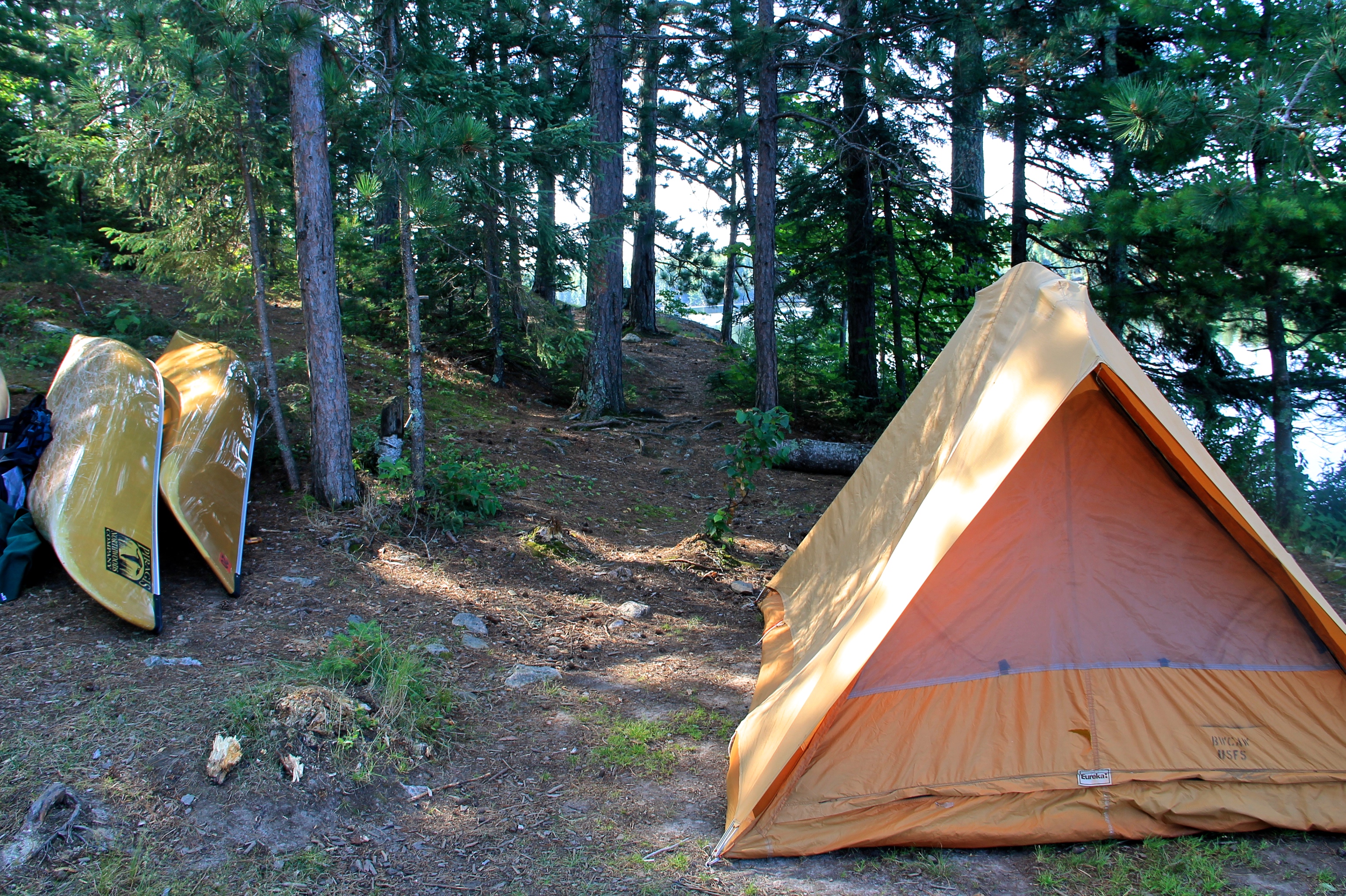 One of our tents with the two Wenonahs. Not pictured – the aluminum canoe that I got the privilege of portaging on the 420-rod path from Burntside Lake to Crab. That being said, every person had an intensely difficult task on the portage, and we conquered the second longest portage in the BWCA with 5 first time visitors to the Boundary Waters.


---
Luna enjoying her breakfast potatoes.


---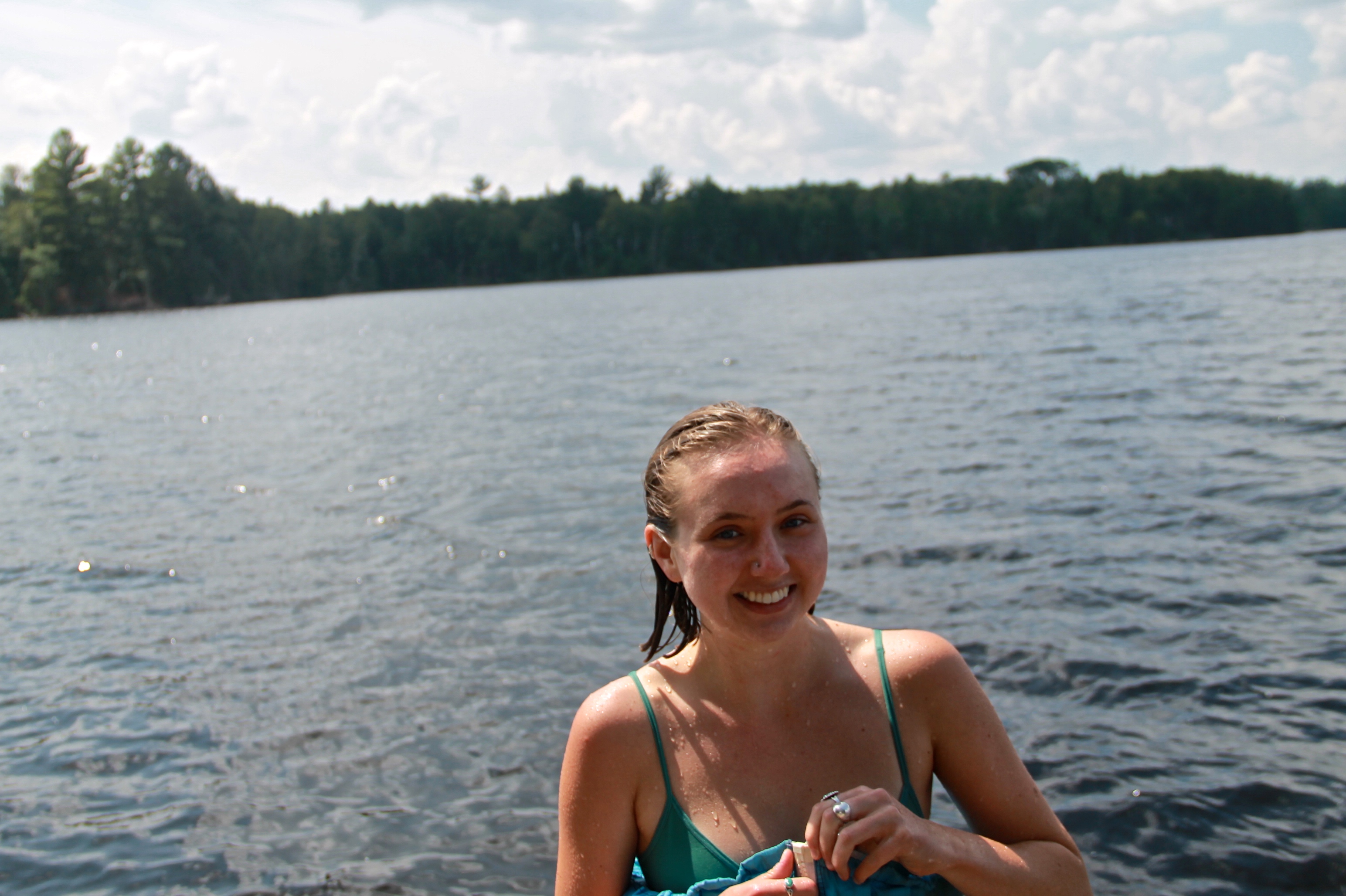 Lorissa coming up from a casual swim to a nearby island. The best kind of BWCA camping trips focus on relaxation in my opinion, so this was one of our most challenging activities of the day.


---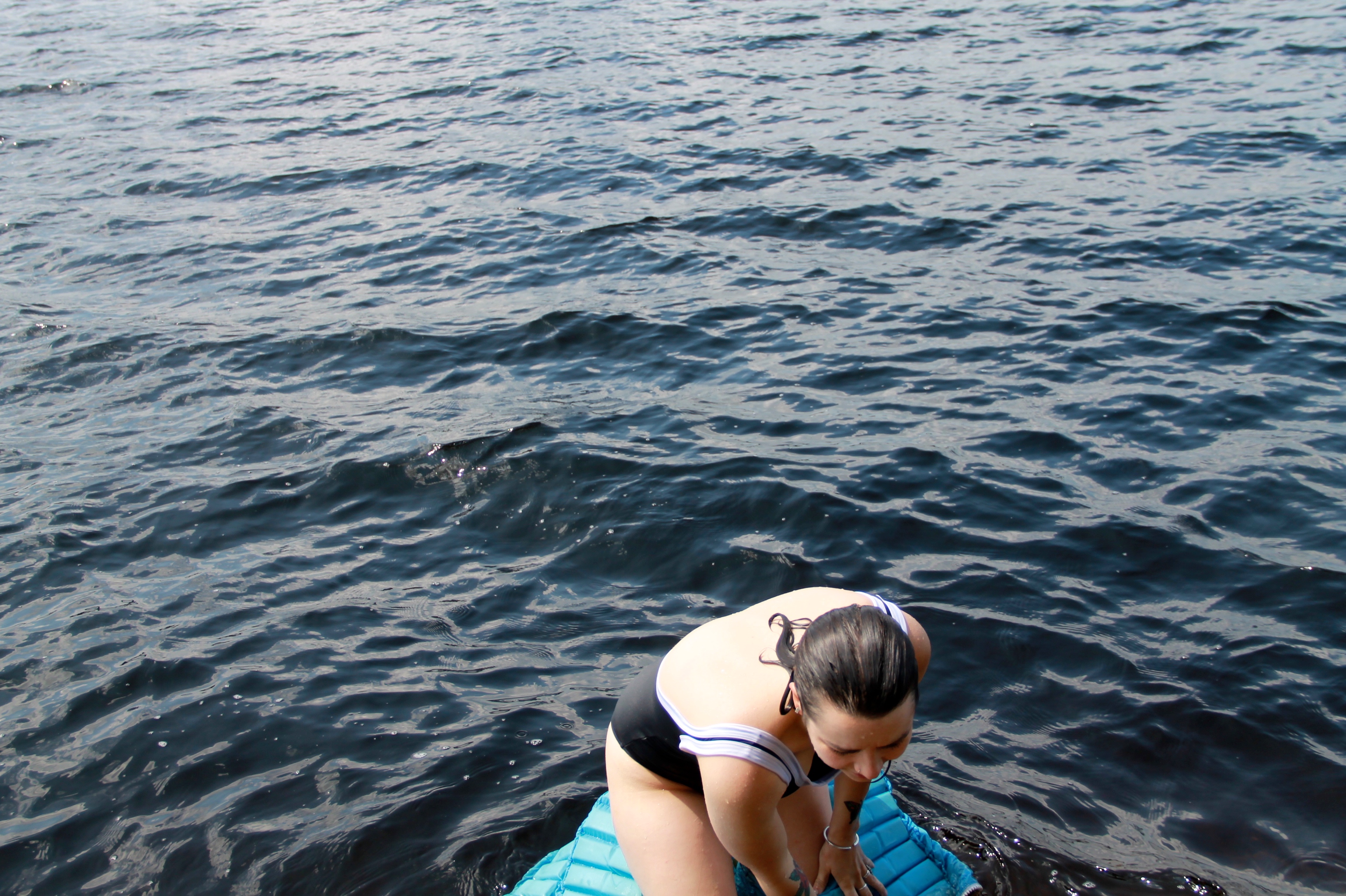 Mattox climbing up our lovely landing rock after a long soak in the lake. Crab lake was wonderfully warm.


---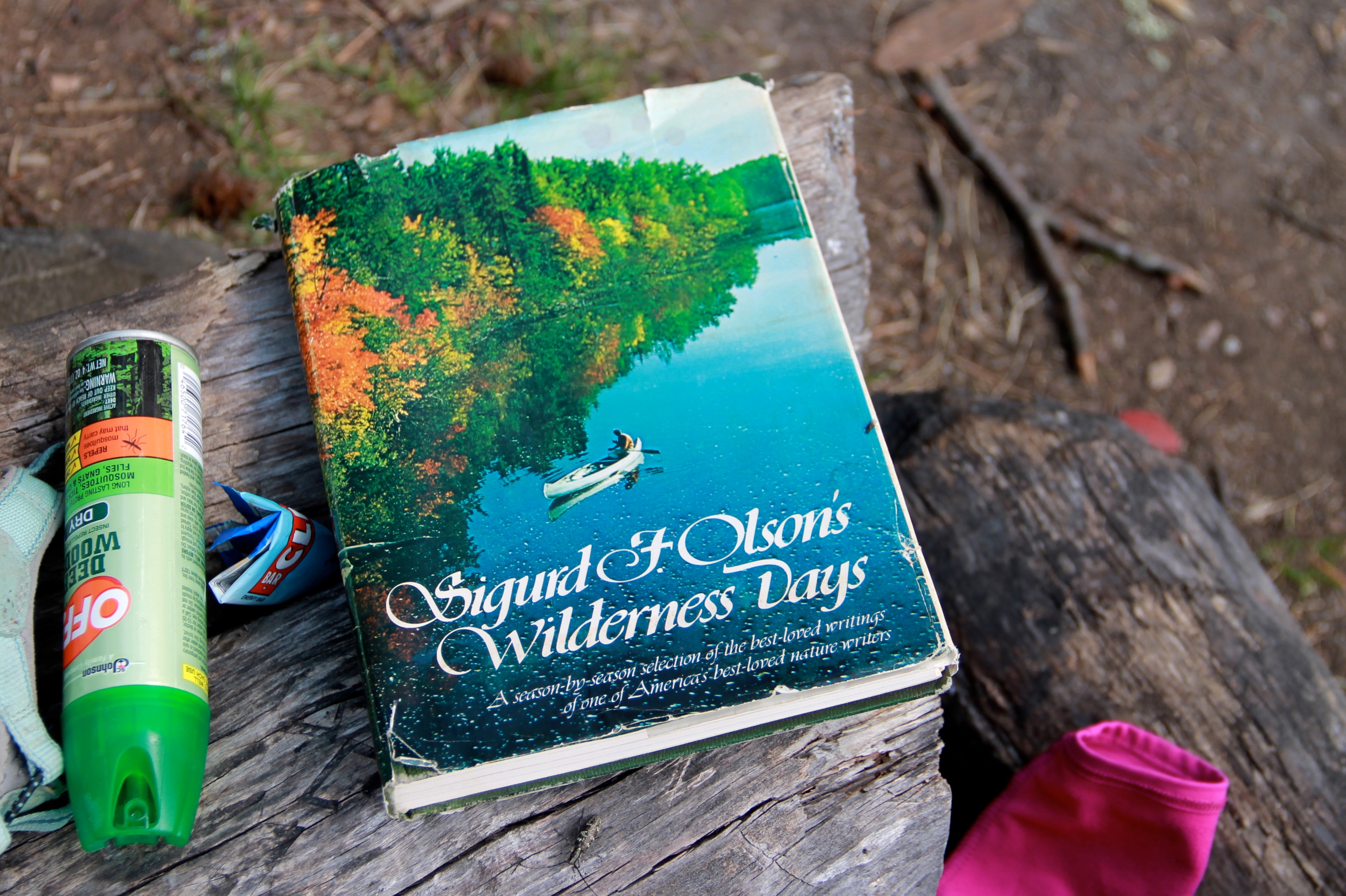 Some BWCA camping essentials. We had an exciting thunderstorm and rainstorm on Saturday night, but luckily we had snacks and some legendary camping stories from Sigurd Olson to get us through it.
---
Audrey grew up in the Twin Cities, and is now a development intern at the Save the Boundary Waters Campaign in the Minneapolis office. She has always enjoyed summer trips up to Ely to visit her aunt and uncle and explore the surrounding area, so she jumped on the opportunity to share these experiences with her out-of-state friends.
Looking to swap stories? Do you have some sweet photos to share from a recent Boundary Waters trip? Send your stories our way and we might just feature them on the blog!