Dave and Amy Freeman—2014 National Geographic Adventurers of the Year— are paddling from Ely, Minnesota to Washington, D.C. to protect the Boundary Waters Canoe Area Wilderness.
The weather is getting colder and the days are noticeably shorter than when we left the Voyageur Outward Bound School on August 24th and paddled down the Kawishiwi River in shorts and t-shirts. Crawling out of our warm sleeping bags and packing the tent takes a little more willpower on chilly mornings! We have come a long way, over 1,000 miles, moving ever so slowly across the landscape from one watershed to the next, towards Washington DC.
As we approached Montreal two days ago, we were blown off the water by winds gusting to 25 miles an hour and building waves. We spent a good portion of the day walking along a road to make slow, but steady progress with Sig. At one point we had to cross a highway overpass that was under construction. The walkway was just wide enough for Sig and our wheeled car. It took some tricky maneuvering, but we were able to speak through! We are entering more urban areas now, which will allow us to reach more people, but will also complicate things a bit and provide us with some new challenges. Today we did another long portage from Montreal to the Richelieu Canal, which will take us to Lake Champlain.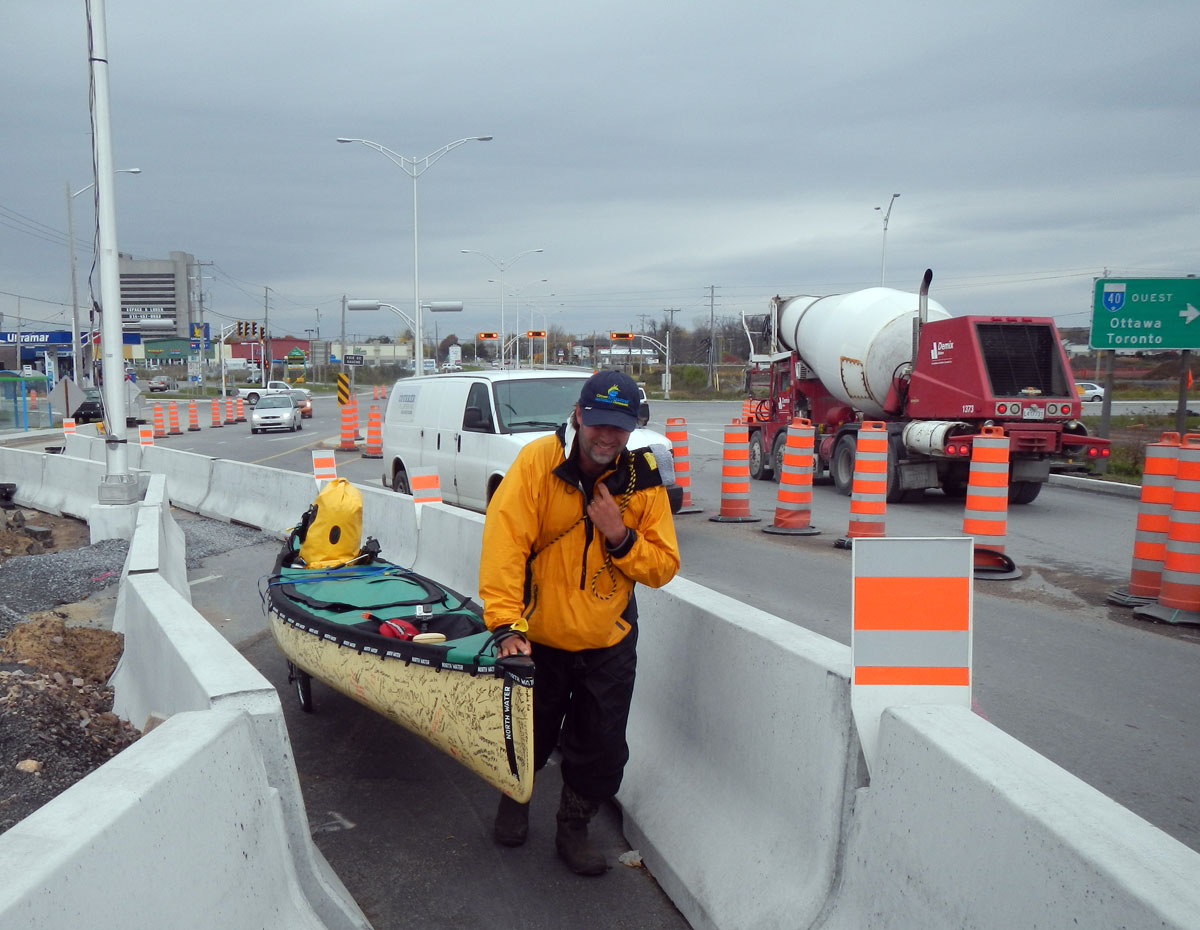 The ends of our portage wheel were worn down by scrapping the barriers. Much different kind of portage for us.
We have left the wilds of the BWCA behind and now the sound of traffic is always apparent and city lights are always on the horizon. It makes me appreciate the Boundary Waters more than ever. Now we have been told we shouldn't even cook with the water in the Ottawa River and that we should carry all of our water with us for drinking, cooking and washing dishes. That is a long way from dipping my cup into the middle of Basswood Lake and taking a drink. I did a quick calculation in my head today while we paddled and I would guess that combined, Amy and I have taken approximately 1.5 million paddle strokes so far during Paddle to DC and we will take over 3 million before we reach DC. Like our paddle strokes, your signatures and numerous actions to protect the Boundary Waters are adding up. Please sign the petition.
Paddles Up!
Dave Freeman