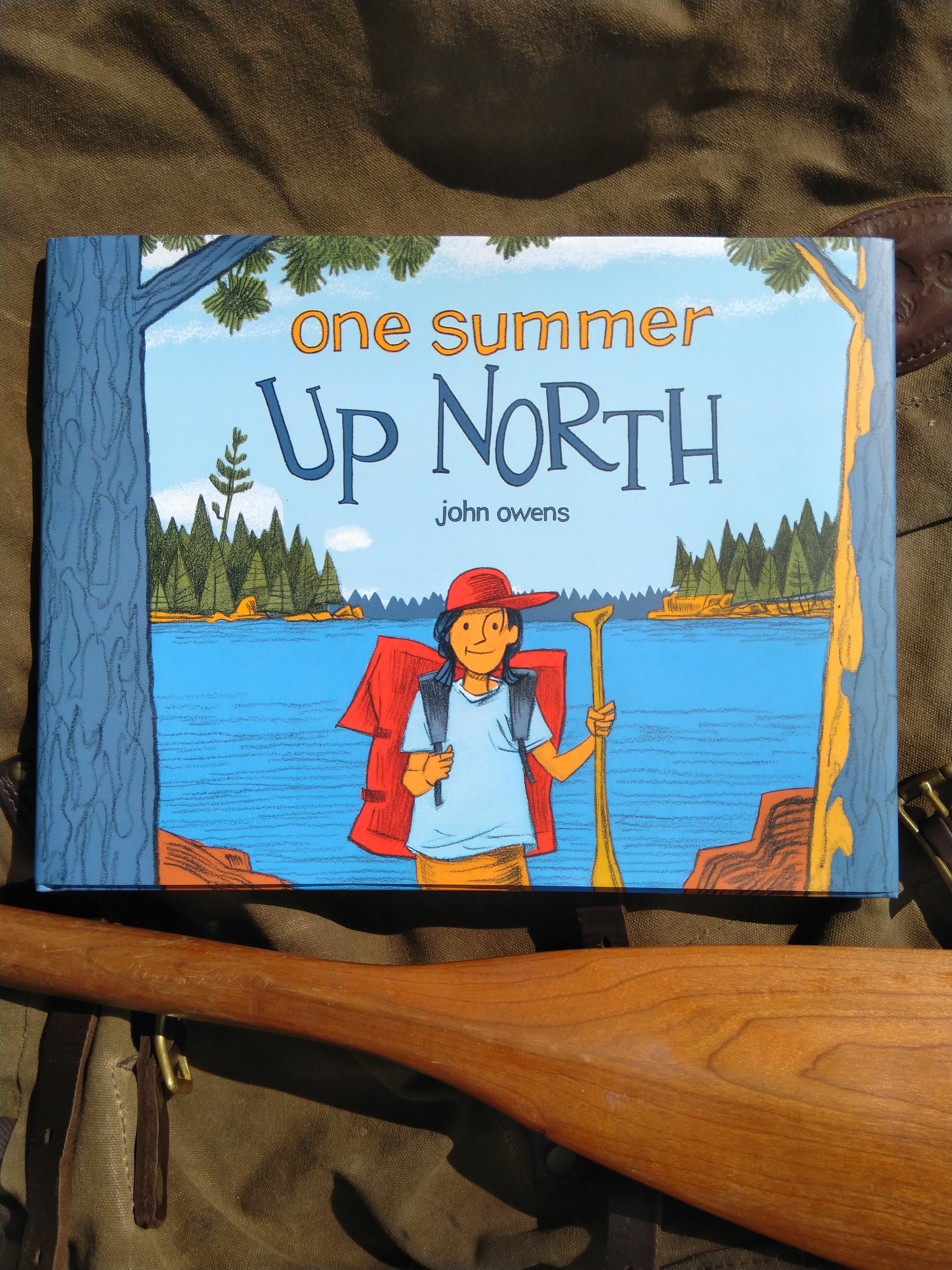 Sign up for a chance to receive a free signed copy of the book "One Summer Up North" here!
We chatted with author and Save the Boundary Waters volunteer John Owens who recently published the picture book One Summer Up North (University of Minnesota Press) following a family's canoe trip in the Boundary Waters.
Q: Tell me about your personal connection to the Boundary Waters
A: Six years ago I took my first trip into the Boundary Waters Canoe Area Wilderness for a half-day paddle with my wife, and some old friends from college. The next year I went along on a guided trip for a week. That was my first overnight experience in the BWCAW. Since that year, I have been back at least once, if not two or three times a year. Summer, Autumn, and Winter.
Q: How'd you get the idea for this picture book? What was your inspiration?
A: A summer trip inspired me to illustrate what would become my picture book, "One Summer Up North." My friend Steve and I put in at entry point #16 - Moose River North, and paddled our way up through Agnes, then over into Iron Lake. We took in Rebecca Falls and Curtain Falls ( Curtain Falls inspired a spread in the book), then paddled back across Lac La Croix visiting Warrior Hill, and the pictographs along the way. Paddling west we ended up turning south into Gebeonequet, Green, Rocky, and then Oyster Lake for our last night. This was my first trip moving daily and exploring a variety of spectacular sights in a week-long trip. I told Steve at the time, "I'm going to illustrate a book!"
Q: What was the process like to create and publish the book?
A: The illustrations took a little over three years to develop and create. They started out as small thumbnail sketches, then turned into full-size sketches that were eventually transferred to Bristol board and then finalized as drawings. I then added the color digitally. It took another year for the University of Minnesota Press process to develop into publishing the final book. If you want to check out the book, go to: https://www.upress.umn.edu/book-division/books/one-summer-up-north

Q: What are you hoping people take from the book?
A: I'd like people who have never visited the Boundary Waters to come away with an idea of what it's like, hopefully inspiring them to visit. I think people who have visited the Boundary Waters will recognize something about their own experience in this story and the scenes portrayed. The one thing I hope stands out is the evocative nature of the images.
Q: You volunteered with Save the Boundary Waters – say more about that, and what inspired you to get involved.
A: After my first weeklong trip, I visited Save the Boundary Waters office in Ely and found out about the fight against sulfide-ore copper mining. I did more research and that's when I started making contributions and volunteering. I have volunteered at the State Fair booth a few times, and when the book was published I donated a percentage of my advance for this cause. I hope the book in turn becomes one more way that inspires readers to get involved with Save the Boundary Waters.
Q: Do you have any advice to others wondering what they can do to help fight for something they think is important?
A: I would encourage anyone that wants to help fight for something they think is important to simply start where they can. Whether that is time, or money, or in some other way. Any contribution whether big or small can help.